1 September 2014 Edition
Support the locked-out Greyhound workers
Millionaire owners' unilateral pay cut
Greyhound has clear parallels with the 1913 Lockout and will be opposed today as it was back then' – Councillor Daithí Doolan
THE LOCKOUT of workers at Greyhound Recycling and Recovery in Dublin enters its fourth month in September with no resolution in sight.
Staff at the company, which is contracted to provide waste services for Dublin City Council after the service was privatised in January 2012, have been locked out of their jobs and replaced with strike-breakers since June when they refused to accept unilateral pay cuts of up to 35%.
Musicians Christy Moore, Don Baker and Eric Fleming have all come out in support of the workers while the TEEU, Mandate and the Supervalu store in Blackrock have all made generous donations to the SIPTU Greyhound Workers' Support Fund to financially support the workers' families during the lockout.
Towards the end of July, one of the workers on the picket was injured and left with a severe spinal injury from a vehicle leaving Greyhound's Knockmitten depot. It was the third incident of a striking worker taking part in an official picket being hit by a vehicle being driven out of a company facility.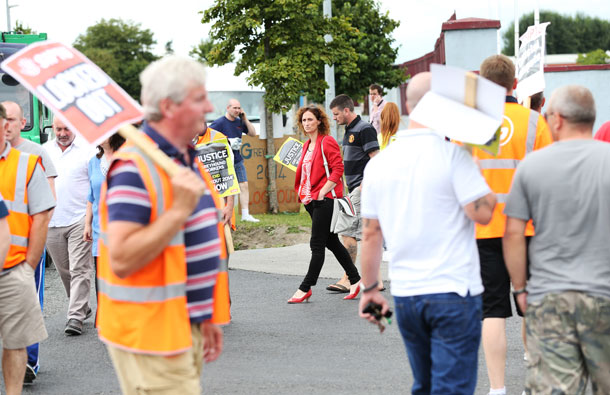 • Sinn Féin MEP Lynn Boylan joins workers on the picket line
In some parts of Dublin City, Greyhound collection trucks driven by strike-breakers have been blocked by protesters and local residents.
Speaking at the picket of the Greyhound depot in Clondalkin on 25 August, Sinn Féin Dublin City Councillor Daithí Doolan said:
"Since June, Greyhound has brought in untrained and inexperienced agency workers to break the strike. This is unacceptable.
"This has clear parallels with the 1913 Lockout and will be opposed today as it was back then."
SIPTU Greyhound shop steward Jesse Hughes says the workers have no option but to continue their peaceful picket.
"We want to return to work while talks progress on any possible changes to our agreed terms and conditions of employment. However, the management of Greyhound Recycling and Recovery has repeatedly refused to allow us to carry out our duties collecting refuse from the residents of Dublin.
"My colleagues and I do not earn large amounts of money to carry out the essential task of collecting domestic refuse in Dublin. Greyhound operatives earn between €9.50 and €11.45 per hour. Drivers earn €15.66 an hour. It is these wages that the company is seeking to cut by up to 35%."