1 September 2014 Edition
What is this blanket defence of which you speak?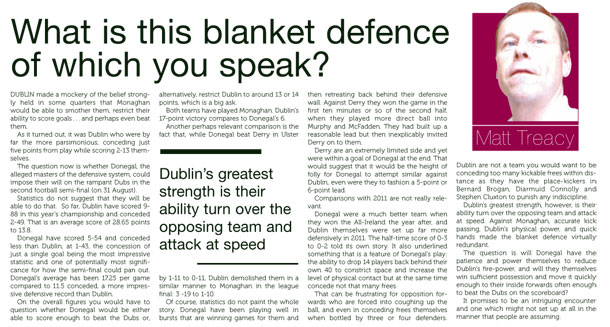 Dublin's greatest strength is their ability turn over the opposing team and attack at speed
DUBLIN made a mockery of the belief strongly held in some quarters that Monaghan would be able to smother them, restrict their ability to score goals . . . and perhaps even beat them.
As it turned out, it was Dublin who were by far the more parsimonious, conceding just five points from play while scoring 2-13 themselves.
The question now is whether Donegal, the alleged masters of the defensive system, could impose their will on the rampant Dubs in the second football semi-final (on 31 August).
Statistics do not suggest that they will be able to do that.  So far, Dublin have scored 9-88 in this year's championship and conceded 2-49. That is an average score of 28.65 points to 13.8.
Donegal have scored 5-54 and conceded less than Dublin, at 1-43, the concession of just a single goal being the most impressive statistic and one of potentially most significance for how the semi-final could pan out. Donegal's average has been 17.25 per game compared to 11.5 conceded, a more impressive defensive record than Dublin.
On the overall figures you would have to question whether Donegal would be either able to score enough to beat the Dubs or, alternatively, restrict Dublin to around 13 or 14 points, which is a big ask.
Both teams have played Monaghan. Dublin's 17-point victory compares to Donegal's 6.
Another perhaps relevant comparison is the fact that, while Donegal beat Derry in Ulster by 1-11 to 0-11, Dublin demolished them in a similar manner to Monaghan in the league final: 3 -19 to 1-10.
Of course, statistics do not paint the whole story. Donegal have been playing well in bursts that are winning games for them and then retreating back behind their defensive wall. Against Derry they won the game in the first ten minutes or so of the second half, when they played more direct ball into Murphy and McFadden. They had built up a reasonable lead but then inexplicably invited Derry on to them.
Derry are an extremely limited side and yet were within a goal of Donegal at the end. That would suggest that it would be the height of folly for Donegal to attempt similar against Dublin, even were they to fashion a 5-point or 6-point lead.
Comparisons with 2011 are not really relevant.
Donegal were a much better team when they won the All-Ireland the year after, and Dublin themselves were set up far more defensively in 2011. The half-time score of 0-3 to 0-2 told its own story. It also underlined something that is a feature of Donegal's play: the ability to drop 14 players back behind their own 40 to constrict space and increase the level of physical contact but at the same time concede not that many frees.
That can be frustrating for opposition forwards who are forced into coughing up the ball, and even in conceding frees themselves when bottled by three or four defenders. Dublin are not a team you would want to be conceding too many kickable frees within distance as they have the place-kickers in Bernard Brogan, Diarmuid Connolly and Stephen Cluxton to punish any indiscipline.
Dublin's greatest strength, however, is their ability turn over the opposing team and attack at speed. Against Monaghan, accurate kick passing, Dublin's physical power, and quick hands made the blanket defence virtually redundant.
The question is will Donegal have the patience and power themselves to reduce Dublin's fire-power, and will they themselves win sufficient possession and move it quickly enough to their inside forwards often enough to beat the Dubs on the scoreboard?
It promises to be an intriguing encounter and one which might not set up at all in the manner that people are assuming.