1 September 2014 Edition
Antrim's date with destiny
Between the Posts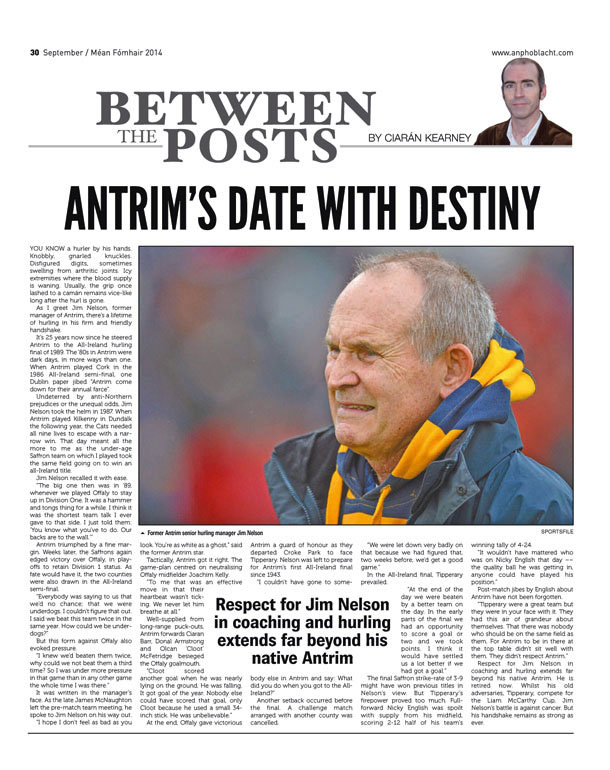 Respect for Jim Nelson in coaching and hurling extends far beyond his native Antrim
YOU KNOW a hurler by his hands. Knobbly, gnarled knuckles. Disfigured digits, sometimes swelling from arthritic joints. Icy extremities where the blood supply is waning. Usually, the grip once lashed to a camán remains vice-like long after the hurl is gone.
As I greet Jim Nelson, former manager of Antrim, there's a lifetime of hurling in his firm and friendly handshake.
It's 25 years now since he steered Antrim to the All-Ireland hurling final of 1989. The '80s in Antrim were dark days, in more ways than one. When Antrim played Cork in the 1986 All-Ireland semi-final, one Dublin paper jibed "Antrim come down for their annual farce".
Undeterred by anti-Northern prejudices or the unequal odds, Jim Nelson took the helm in 1987. When Antrim played Kilkenny in Dundalk the following year, the Cats needed all nine lives to escape with a narrow win. That day meant all the more to me as the under-age Saffron team on which I played took the same field going on to win an all-Ireland title.
Jim Nelson recalled it with ease.
"The big one then was in '89, whenever we played Offaly to stay up in Division One. It was a hammer and tongs thing for a while. I think it was the shortest team talk I ever gave to that side. I just told them: 'You know what you've to do. Our backs are to the wall.'"
Antrim triumphed by a fine margin. Weeks later, the Saffrons again edged victory over Offaly, in play-offs to retain Division 1 status. As fate would have it, the two counties were also drawn in the All-Ireland semi-final.
"Everybody was saying to us that we'd no chance; that we were underdogs. I couldn't figure that out. I said we beat this team twice in the same year. How could we be underdogs?"
But this form against Offaly also evoked pressure.
"I knew we'd beaten them twice, why could we not beat them a third time? So I was under more pressure in that game than in any other game the whole time I was there."
It was written in the manager's face. As the late James McNaughton left the pre-match team meeting, he spoke to Jim Nelson on his way out.
"I hope I don't feel as bad as you look. You're as white as a ghost," said the former Antrim star.
Tactically, Antrim got it right. The game-plan centred on neutralising Offaly midfielder Joachim Kelly.
"To me that was an effective move in that their heartbeat wasn't ticking. We never let him breathe at all."
Well-supplied from long-range puck-outs, Antrim forwards Ciaran Barr, Donal Armstrong and Olcan 'Cloot' McFetridge besieged the Offaly goalmouth.
"Cloot scored another goal when he was nearly lying on the ground. He was falling. It got goal of the year. Nobody else could have scored that goal, only Cloot because he used a small 34-inch stick. He was unbelievable."
At the end, Offaly gave victorious Antrim a guard of honour as they departed Croke Park to face Tipperary. Nelson was left to prepare for Antrim's first All-Ireland final since 1943.
"I couldn't have gone to somebody else in Antrim and say: What did you do when you got to the All-Ireland?"
Another setback occurred before the final. A challenge match arranged with another county was cancelled.
"We were let down very badly on that because we had figured that, two weeks before, we'd get a good game."
In the All-Ireland final, Tipperary prevailed.
"At the end of the day we were beaten by a better team on the day. In the early parts of the final we had an opportunity to score a goal or two and we took points. I think it would have settled us a lot better if we had got a goal."
The final Saffron strike-rate of 3-9 might have won previous titles in Nelson's view. But Tipperary's firepower proved too much. Full-forward Nicky English was spoilt with supply from his midfield, scoring 2-12 half of his team's winning tally of 4-24.
"It wouldn't have mattered who was on Nicky English that day –– the quality ball he was getting in, anyone could have played his position."
Post-match jibes by English about Antrim have not been forgotten.
"Tipperary were a great team but they were in your face with it. They had this air of grandeur about themselves. That there was nobody who should be on the same field as them. For Antrim to be in there at the top table didn't sit well with them. They didn't respect Antrim."
Respect for Jim Nelson in coaching and hurling extends far beyond his native Antrim. He is retired now. Whilst his old adversaries, Tipperary, compete for the Liam McCarthy Cup, Jim Nelson's battle is against cancer. But his handshake remains as strong as ever.