1 September 2014 Edition
Spelt incorrect – The measure of wealth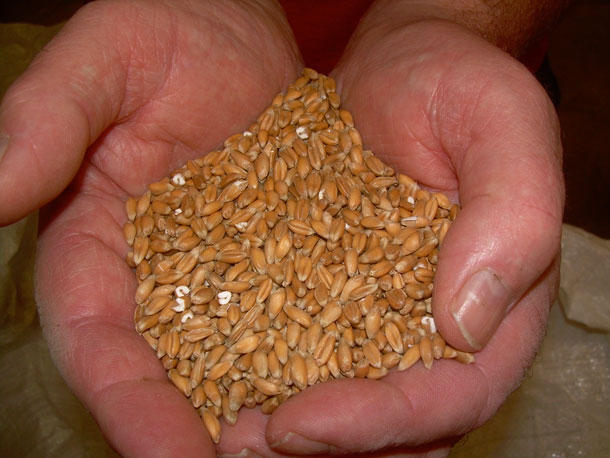 EXILED BY CLAUDIUS to Corsica, where he wrote his tragedies, Lucius Annaeus Seneca was the most distinguished of the Spanish writers of the Roman imperial age.
Born in Corduba in Andalucia to a Roman equestrian family, Seneca was brought to Rome as a child and seemed destined for a political career. Instead, he became a stoic philosopher, producing wise words that carry moral echoes down the ages to us.
So it is a crying shame that all the young people who study the classics at college never seem to learn the words of Seneca and ancient scholars like him nor apply that wisdom when they get into positions of power.
Seneca understood that, of all human vices, the pursuit of wealth is the most destructive, for the fault is not in the wealth but in the mind itself.
 "The man who needs wealth is afraid for it, and no man enjoys an asset that is a source of trouble. He is eager to add something to it, and while he is concentrating on the increase he has forgotten to use it.
"He makes up his accounts, treads the marketplace, and keeps turning over his calendar.
"Instead of a master, he has become an accountant."
• Lucius Annaeus Seneca 
FLORIAN SCHUI is among a number of modern economic thinkers who agrees with Seneca. Instead of hoarding wealth we should spend it, but spend it wisely.
The notion that individuals, states and societies benefit from limiting their consumption is almost as old as humanity, writes Schui, who argues like Seneca that accumulation and greed are historic dead ends.
Wealth in Ireland in recent decades has become dangerously imbalanced, and successive governments have been criticised for not doing more to create artisanal businesses that would spread that wealth more evenly.
Free-market corporate capitalism works when it provides jobs and stimulates economic activity. It doesn't work when its sole function is based on selfish greed and unsustained growth, and needs to migrate when profits fall.
Stephen D. King blames the economics profession – a dismal science that has become a dismal failure. Rapid economic growth is not guaranteed, he writes, arguing that history has taught us that lesson.
History has also taught us that small generally succeeds and large generally fails (or is acquired or merged or liquidated) because quality usually keeps the customers happy and coming back for more.
There are as many commentators who believe we are greedy, suspicious and selfish as there are commentators who insist that we have lost none of the argumentativeness, gregariousness and selfless attributes we are famous for.
No one suggests we are idiotic and stupid, yet there is an increasing band of critics who believe that those who hold the state's purse strings are dumb and getting dumber.
These critics say funds are awarded to those who fulfil a particular personal political function. They also say that state funds are used to create monopolies.
They say the money-bureaucrats have an irritating habit of supporting entrepreneurial and corporate activity that fails.
And they ask why the criteria for funding only fits into one business model – big growth and large export.
Above all, they ask why the various measurements of wealth are based on flawed policies that appear to lurch from austerity for the poor to extravagance for the rich.
Artisan foods
One measure of wealth right now is artisan food production and food tourism. It creates jobs, distributes the wealth from production and supply within local communities, and boosts the country's image around the world.
Dermot Seberry, a chef, educator and food consultant who runs food tours, insists the state does back all kinds of food artisans and entrepreneurs.
It has supported almost every artisan business that exists with funding and opportunity, especially in the last five years. Only those who cannot develop a good business plan or who do not research the market find it difficult.
Many expect but few deliver.

• Spelt berry can be used in salads and stews, to make risotto and soaked whole to be baked in bread
His book, A Culinary Journey in the North-East* provides a snapshot of this kind of activity, with every type of foodstuff, including flour made from the ancient grain known as spelt.
And the story of spelt, the grain that saved Seneca's Roman Empire, now has an Irish chapter.
Seneca would approve because it tells a moral story about society.
Boyne Valley
Andrew and Leonie Workman grow, mill and package spelt from their farm in Dunany, on the coast below the ancient land of Oriel above the Boyne Valley.
Among their products are spelt berries.
Here history is repeating itself.
Nearly one thousand years ago, Abbess Hildegard von Bingen of Rupertsberg wrote enthusiastically about spelt. It makes people cheerful with a friendly disposition. Those who eat it have healthy flesh and good blood.
Two thousand years earlier, river valley communities in the south of Ireland were cooking with spelt berries.
An ancient hardy grass thought to be native to both Persia 8,000 years ago and south-eastern Europe 4,000 years ago, spelt was cultivated throughout the continent from the Caucasus to Scandinavia.
Grown largely as a cereal by ancient civilisations, the Greeks and Romans expanded its use. Roman armies lived on spelt (along with barley), making an early version of polenta.
Spelt, with barley, einkorn and emmer wheat, remained a staple in Europe until the 20th century, when it fell out of favour for numerous reasons, not least the problems associated with harvesting, separating and milling it into flour.
The Workmans have got round these problems with modern machinery.
Now spelt is one of their biggest sellers and they have high hopes for the berries, which can be used in salads and stews, to make risotto and soaked whole to be baked in bread.
From Donegal to Dungarvan, spelt bread is now a daily favourite, the majority being made with imported spelt.
•  Andrew Workman grows, mills and packages spelt on his farm in Dunany
The next big little food!
Dominick Gryson, a Louth man who has experimented with ancient grains to find strong shafts for thatching, believes the Workmans have found a great artisan product. Spelt does not give the same yield as modern wheats, which do not grow well here in our climate, he says. Spelt, on the other hand, is suited to the soil and the climate and can be sold as a high-value organic product.
Seberry, who champions the Workmans produce in his book, agrees. Their grain is hulled, which not every producer can do. They have hit upon a simple new product.
He is determined to promote spelt berries through his Food Educators business. They fit in with the 'super food' group and are a substitute for risotto rice and barley in the likes of stews and black pudding, he says.
For me, it is personal. They are low-gluten and have high nutritional content, particularly for the over-30s, who have become hyper aware of inner health. Not a trending product but very much the next big little food!
Spelt contains beneficial minerals, unsaturated fatty acids, vitamins (B and E), and has six of the eight essential amino acids that stimulate the production of happiness hormones.
But it is the low GI (glycaemic index of carbohydrates) that makes spelt a primary health product. With 35 compared to 40 for wheat and 70 for rice, spelt releases glucose more slowly into the bloodstream, balancing out blood sugar levels.
Seneca grew up in a Rome that distributed welfare in the form of free grain, spelt among barley and emmer, an expedient consequence of the food riots, 60 years before he was born, in 59 BC.
Spelt saved the early Roman Empire but it also sustained the tribes of barbarians who brought about the fall of Rome and allowed their descendants to supplant Roman power throughout Europe.
Something that powerful is worth promoting, especially now that modern wheat has lost its allure and ancient wisdom is finally being listened to.
A Culinary Journey in the North-East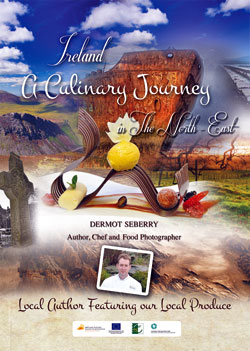 NOT SINCE Theodora Fitzgibbon compiled A Taste of Ireland in the 1960s has a food writer produced a book that can be described as a cultural event even before the first page is turned.
Chef, food photographer and writer Dermot Seberry doesn't suffer fools in the food industry. After several years working as a chef (in Ballinahinch Castle in Galway, Mount Juliet Hotel in Kilkenny, Cascades in Sun City, the Savoy and Smollenskys in London), he found himself training the chefs of the future.
As a head chef he had been unhappy with the standard of trainee chefs from the London colleges and when he approached them to ask what they were teaching he was asked to take some classes.
After a spell as a manager in Westminster-Kingsway College of Catering in London, he was invited to lecture in the advanced culinary arts course at DIT, Cathal Brugha Street in Dublin, where he helped set up the artisan entrepreneurship course.
Meanwhile, back in his home county of Louth, the landscape had changed. Seberry was philosophical. The M1 put many pubs and restaurants out of business for sure but also put an end to rubbish 'family run food'.
Restaurants were now using fresh, local produce cooked by knowledgeable and imaginative chefs who understood seasonality and knew that was the key to taste.
This quiet revolution had started in the Scandinavian countries, where the artisans and chefs set the agenda and the menu, which always stated where ingredients were from.
Imaginative cooks, visionary chefs and innovative bakers gave preference to indigenous produce and products with their own distinctive flavours. Ultimately this approach began to influence those who ran the catering colleges.
Peer pressure has forced some colleges to rethink their approach to training chefs. It is not good enough to accept that old classical French methods are standard teaching practice.
It's simply nowhere near the norm today.
According to Seberry, many chefs are restricted to the methods and recipes of old and lack creativity of the mind. They don't love food; they just do the job of cooking. They know what local produce is but don't know how to use it.
In the north-east, the culinary mood has been set by the artisans and chefs, and the locals and tourists have not been slow sensing the wind of change.
When Seberry was approached by the county tourism board to represent food, the idea of a colour book featuring maps and photos, local producers and restaurants using indigenous produce to make traditional recipes grabbed the imagination.
This book proves that artisan food from the north-east is now established.
It is available throughout the north-east and online at www.northeastculinaryjourney.ie