1 September 2014 Edition
Russian sanctions herald push to a new world order

Will Europe continue to imitate Britain as a US poodle, with Ireland cringeing around like a toy Chihuahua?
RUSSIA'S retaliatory sanctions against the West because of its sanctions imposed on Russia as a result of the Ukrainian crisis seem to have taken Western policy makers by surprise – not only because of their immediate impact but, more importantly, because of the long-term significance of the move.
Russia is a huge country that is immensely rich in natural resources, as shown by its crucial position as a supplier of gas and energy to Europe. Its domestic market is one of the fastest-growing in the world and co-operation between Russia and Europe would be of obvious benefit to both.
But such a scenario would weaken Europe's dependence on the United States, which is why the US was to the forefront in promoting a confrontational attitude to Russia over Ukraine.
Europe, while willing to talk tough, has been reluctant to take any real action, especially Germany. It is worth noting that the retaliatory sanctions announced by Russia will barely affect Germany but will hit the rest of Europe hard.
Irish politicians have tried to play down the impact of the move, pointing to the relatively low level of Irish trade with Russia. But we have only just begun to move into that market and, in any case, the banning of other European produce (for example, cheese from the Netherlands) will lead to countries dumping their now-surplus produce on markets that we currently hold.
In addition, stock markets throughout the world have shown the worry that Russia's move has engendered, and this is a major factor in the economic contraction in Germany and stagnation elsewhere. Europe's 'recovery' (much heralded by our own gang of wasters) is now very much in doubt.
The major factor underlying all these trends is that the old world order can no longer be taken for granted.
Clearly, when the West first imposed its sanctions, Russia began to line up alternative markets and alternative trade treaties, giving a surge to existing trends for the BRICS countries (Brazil, Russia, India, China, South Africa) to operate independently of the US-dollar-based system.
Already Brazil has announced a new beef deal with Russia, Argentina a general agricultural deal, and China is swooping in to sell industrial machinery and retail goods.
Pointedly, the US dollar is no longer to be the currency for this trade as the BRICS (who together are larger economically than the US and Europe) break free of US control.
Haplessly, European policy makers talk about finding alternatives to Russian energy but where are such alternatives to be found and on what terms? For the US is not willing to sell cut-price energy to Europe as it wrestles with its own massive deficit problems.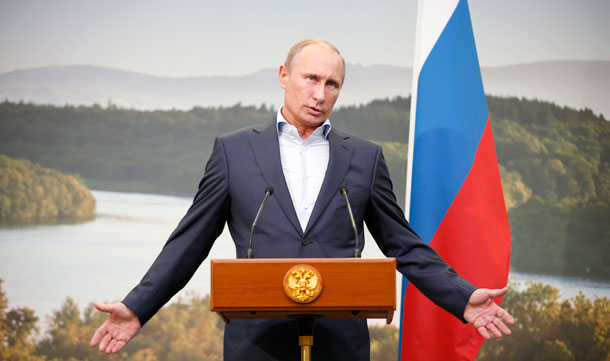 •  Putin has shown that sanctions against such a powerful state are a two-edged sword
The fact is that while the US remains the dominant global power, it has noticeably begun the process of going into decline. Will Europe join it on that downward slope?
The problem for the US is that it is buying more from abroad than it can sell, and it has been financing the whole shebang by using the petrodollars that OPEC was constrained to use to fund its living standards. In other words, oil-producing countries deposit their earnings in US banks who use these funds for domestic requirements.
Economists like the Zambian analyst, Dambisa Moyo, in her famous book How the West Was Lost, have shown how this process has been developing for some years. Russia has now been forced to make a decisive leap away from Europe towards the East.
The implications for Ireland are quite disconcerting. Firstly, there is the immediate economic impact of Russia's potential disengagement from Europe and the loss of potential development opportunities.
Secondly, there is the big question mark that has been placed over European recovery.
Thirdly, there is the question of the global market itself.
Will Europe continue to imitate Britain as a US poodle, with Ireland cringeing around like a toy Chihuahua? Or will Germany continue its potential rapprochement with Russia?
And the second option there will increase the focal shift to Eastern Europe away from the original Western nexus that has been evident ever since the reunification of Germany.
Russia's President Putin may well abandon the anti-fascist and anti-NATO communities in eastern and southern Ukraine; then again, he may go in to defend them.
Either way, 'the Russian Bear' has shown that sanctions against such a powerful state are a two-edged sword and that Russia has non-European options that leave it immune to serious reprisal.