1 September 2014 Edition
Lining out for Gaza
Ireland rugby international Trevor Hogan talks to An Phoblacht about standing up for Palestine
TREVOR HOGAN stands out in more ways than one. Being an Ireland rugby international, he's big. And he isn't afraid to stick his neck out – especially when it comes to the Israeli Occupation and the onslaught on Gaza.
The 34-year-old has played for Munster (56 games between 2002-2006) and Leinster (53 matches from 2006-2011) and won three caps playing for Ireland before a knee injury forced him to retire in 2011.
Holding an honours degree in Journalism from Dublin City University, he's just completed a degree in History and English at University College Dublin and will start training in September to become a secondary school teacher. He still coaches rugby teams in his home town of Nenagh in Tipperary and Dublin.
Trevor joined the the "Freedom Flotilla" trying to break the Israeli blockade of Gaza in June 2011. His  retirment made it possible by giving him the time, unburdened by Irish Rugby Football Union or club demands. He laughs: "There was always the threat by Israel that they'd arrest you and lock you up so that wouldn't have been ideal for a professional player and a club schedule."
It may be argued that Gaza is a humanitarian issue but Trevor is adamant that it is also political.
"I think politics is linked in with every aspect of our lives. I'm not someone who thinks that politics and sport don't mix. They do. Politics reflects society. There's no avoiding it."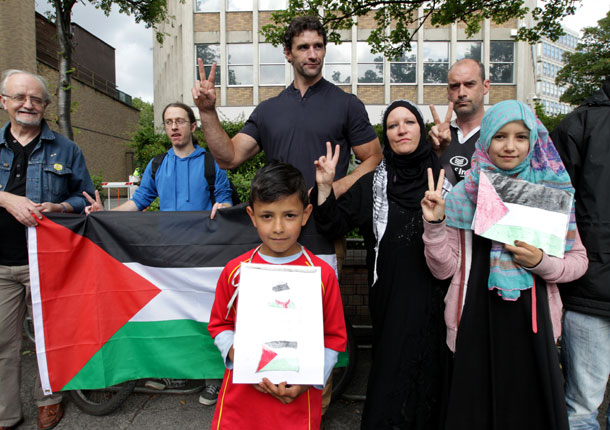 • Trevor at an Ireland Palestine Solidarity Campaign protest outside the Israeli Embassy in Dublin
Shared history
Growing up, he says his brothers were always talking about Irish history.
"It was our history as victims of imperialism that initially drew me to Palestine. There were so many parallels with our past in terms of occupation and oppression."
He's keen not to over-exaggerate the similarities between Ireland and Palestine into making the mistake of "trying to impose our own solutions from the Peace Process here and expect that to work there". There are possibly some ideas or lessons to be drawn from Ireland's Peace Process, he tells An Phoblacht, but adds:
"At the moment, it's impossible to have any peace process or any peace while the Occupation, the siege, the apartheid and all the injustices are going on.
"In the Six Counties, I'm not saying we've got the end solution but we have some sort of a solution there. I don't think there could be any hope of a proper peace for Palestine while Israel is continuing its actions."
Ireland's history as a small nation that doesn't have the belligerent baggage of other EU members gives us a different profile which could be better used, the Ireland international says.
He boils with anger at the Irish Government's decision to abstain on July's vote at the UN Human Rights Council seeking a commission of inquiry into Israel's 'Operation Protective Edge' and possible war crimes.
He accuses the Irish Government of hiding behind the "nonsensical" argument that the EU has to speak with one voice.
"What sort of excuse is that? When you have any principles or courage, you have to be able to stand up for what you believe in. The people of Ireland – and I'm sure the people of Europe – would want that. It is so infuriating. Is [Foreign Affairs Minister] Charlie Flanagan saying that we need to speak with one voice continuing to facilitate Israel's war crimes?"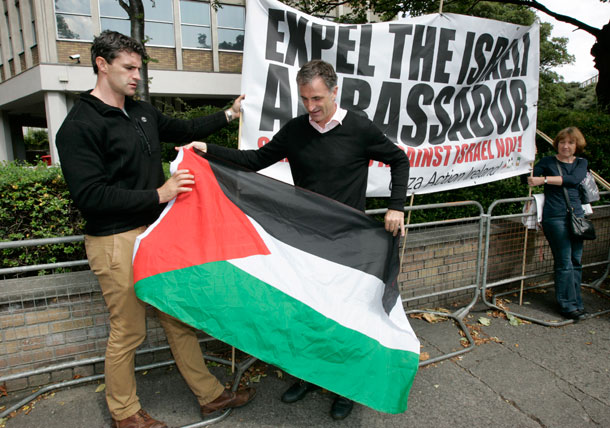 • Trevor and Chris Andrews were arrested by Israeli commandos and held for a week in prison
Gaza Action Ireland
Trevor has been a mainstay of the protests at the Israeli Embassy in Dublin organised by Gaza Action Ireland, one of several active campaign groups here.
"Gaza Action Ireland came about after the Freedom Flotilla experience with the Irish 'Ship to Gaza' in 2011. We realised the flotilla option wasn't going to be viable very soon afterwards because of the logistics involved in terms of finding a port to leave from that wouldn't give in to diplomatic pressure from Israel or even see sabotage, needing a crew with seafaring experience, the time commitment needed by those others taking part, and the sheer cost."
The Irish ship, the MV Saoirse, cost over 180,000 euro and involved a huge fund-raising drive across Ireland.
"You couldn't keep asking people to put their money into a ship that the Israeli military could just land on, smash up and hijack to be kept locked up in an Israeli port."
Then there's also the very real fear that hung over the flotillas after nine Turkish citizens were shot dead by Israeli commandos in May 2010 when they stormed the Mavi Marmara aid ship sponsored by Turkey's Humanitarian Relief Foundation.
A year later, when the Irish ship was 26 miles from the shore and still in international waters, all their radios went dead and they were surrounded by five large Israeli warships and some 20 small assault vessels.
Twenty or more SAS-style heavily-armed commandos in balaclavas swarmed over the aid ship.
They were "hugely aggressive", Trevor recalls, "one big guy" in particular unsuccessfully trying to intimidate the burly rugby player. While they were mistreated, two factors weighed heavily against another massacre, Trevor believes – the presence of prominent political figures and being white, Western Europeans.
The then Socialist Party MEP Paul Murphy and former Fianna Fáil TD Chris Andrews (now a Sinn Féin councillor) being on the Irish ship undoubtedly registered with the Israelis.
"We saw the commandos had a sheet of paper with all our names and details on it, so they knew who we all were," Trevor says.
"They probably could have still pulled the trigger, given an excuse. They're a walking PR disaster, the Israeli military and navy, but they're not that stupid they would shoot Westerners, including Irish politicians, an MEP and a US citizen after the backlash of the previous year."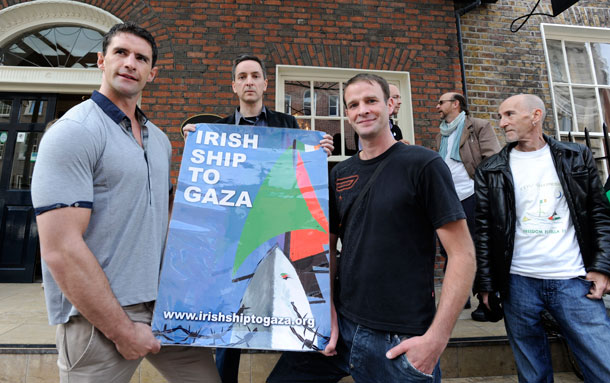 • Trevor takes part in a media event to announce the Freedom Flotilla to Gaza in 2011
Disrespect and disdain
He says the disrespect and disdain the Israelis had for the aid workers was clear from when they were arrested at gunpoint to when they were taken into port in handcuffs.
"At the dockside, there was a big crowd of people cheering the fact that we'd been arrested.
"There was a real sense of intimidation throughout the week we spent in jail. We were manhandled and strip-searched, including the women, put through intensive questioning and disorientation tactics, and our belongings were stolen (we still haven't got them back). It was just a taste of what Palestinian people go through."
Trevor says that the experience of Waterford fishermen Pat Fitzgerald and John Hearne (both also Sinn Féin councillors) and Billy Smyth, along with Sinn Féin activists John Mallon and Phil McCullough from Belfast, helped the Irish crew in coping with the bewildering aggression by the armed military and police that most of them had never witnessed before.
Trevor did make it to Gaza in 2013, overland via Egypt.
Clearly still moved by memories of that week living in Gaza, he recalls:
"That was really eye-opening, inspirational and rewarding, seeing how resilient and determined they are. Despite the odds and power against them, they are trying to keep their dignity and live their lives. That week was life-changing.
"When you see people you know, who you've met, suffering, it does hit you that little bit more. You recognise the names of the places and the faces of the people.
"Even the boys playing on the beach, the Bakr kids [all aged between 7 and 11, killed in an Israeli Navy barrage in July], are relatives of a fishermen's representative we met in Gaza. It makes it more real."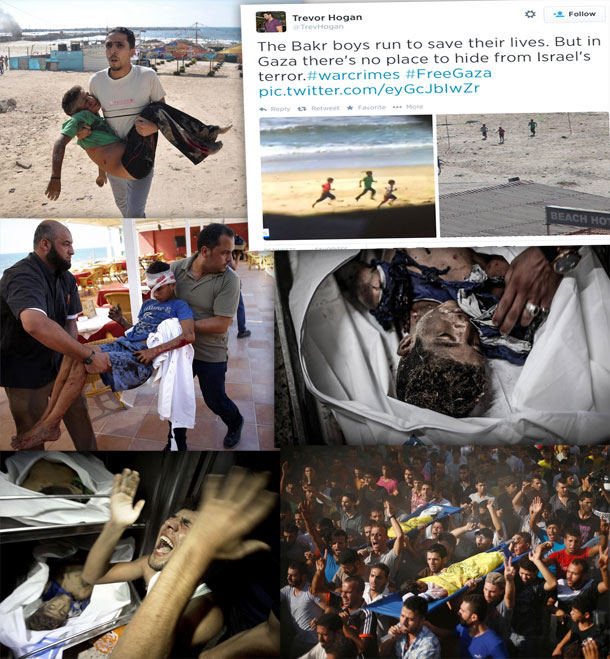 No room for equivocation
He recalls one lighter moment in jail in Israel: "The lads joked to Chris Andrews that it was about time that someone in Fianna Fáil was locked up."
Trevor says it was then a contrast with Fianna Fáil at the time "and fair play to him". Today he pays tribute to Fianna Fáil figures such as Senator Averil Power who have lined out alongside Sinn Féin and other Left parties in standing up for Gaza.
"Sinn Féin's stand in the Dáil was great," Trevor says, referring to Gerry Adams's call for TDs adjourning for the summer recess to rise for a minute's silence in solidarity with the people of Gaza.
"You don't want to pigeonhole Palestine as being the preserve of anyone. It should be something every party should be able to get behind, whatever our domestic politics or differences," he stresses.
"It's really disheartening to see the apathetic stance of the Irish Government. They should come off the fence and stand up for the people of Palestine – stand up on the side of justice. There's no room for equivocation or neutrality in this."
He despairs of the Irish Government but isn't giving up on changing their attitude. He insists the Israeli Ambassador should be expelled "to send out a very strong, clear message" to Tel Aviv.
The response of the public across Ireland has been "really positive", Trevor says, from shoppers to businesses and bars.
"The way forward is the boycott, as the brave Dunnes Stores Strikers showed in the anti-apartheid boycott in the 1980s. That can be done again now.
He praises the example of the County Clare village of Kinvara where businesses and consumers have initiated a boycott of Israeli goods, similarly the Exchequer Bar in Dublin's Temple Bar tourist district and staff at Smyth's Toys in Dublin, who announced a boycott before management reversed the move.
"Hopefully Tesco, Dunnes Stores and the big chains can follow the public mood."
"It shows that people are prepared to go that extra bit that the Government won't, not just against Israeli goods from illegal settlements but all Israeli products. People like that are taking a more courageous stand than Fine Gael and Labour combined. That's definitely where the hope is – in the people of Ireland."