1 September 2014 Edition
Now is the right time – by Dawn Purvis
UNCOMFORTABLE CONVERSATIONS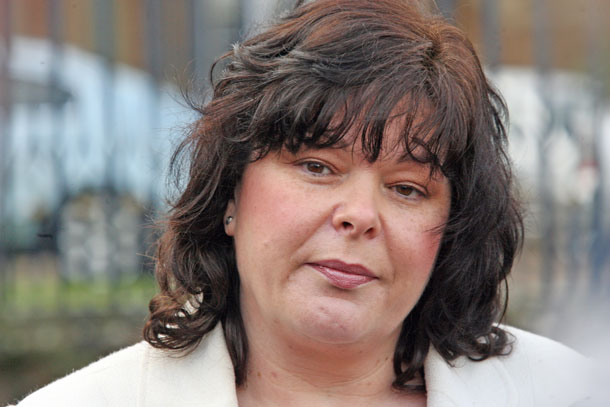 I once heard David Ervine say to a member of Sinn Féin: 'You're going nowhere without me and I am going nowhere without you'
HAVE YOU ever needed to have a difficult conversation with someone and would rather not face it? 
The feeling in the pit of your stomach telling you to run a mile in the opposite direction rather than face what you think might happen? 
Do you ever get that feeling of dread? Does it sometimes go away if you occupy your mind for a while? Or you take on something that will distract you?
Do you find it comes creeping back again at a quiet time? Or when you had thought and hoped, perhaps foolishly, that it had gone for good? 
It could have been when you were growing up and you had to confess to or own up to something you did; it could have been when you had to discuss something wrong in or ending a relationship; or when you had to sit your child down to tell them some bad news.
Did you bottle it and run away? Did someone else do it for you? Did you face it in the end?
We all react in different ways and I suppose much of that is a product of our life experience.
If you have a tendency to face things and (maybe after some time) acknowledge that you need to confront the situation and have the difficult conversation, the process usually involves a lot of nerves, maybe some emotion but – above all – honesty.
Being honest with yourself and honest with the other is where the difficulty comes in having those 'uncomfortable conversations'.
Particularly when you know that the truth will be painful. It will certainly be painful for the person receiving it but could equally be painful for the person giving it. This is then where the fibbing comes in. It is easier to tell a wee white lie to spare someone's feelings. You can justify a white lie so as not to cause someone extra pain and hurt than that they are already dealing with. You can tell yourself you did the right thing in holding back for 'now is not the right time'/'they are going through a tough time at the minute'/'it would tip them over the edge'/'they have enough on their plate to deal with' (delete as appropriate).
The problem with telling a fib or holding off on the whole truth is that you will always come back to it sooner or later and when you do there is a whole host of other complications to deal with as well that make the conversations more and more difficult than they were to begin with.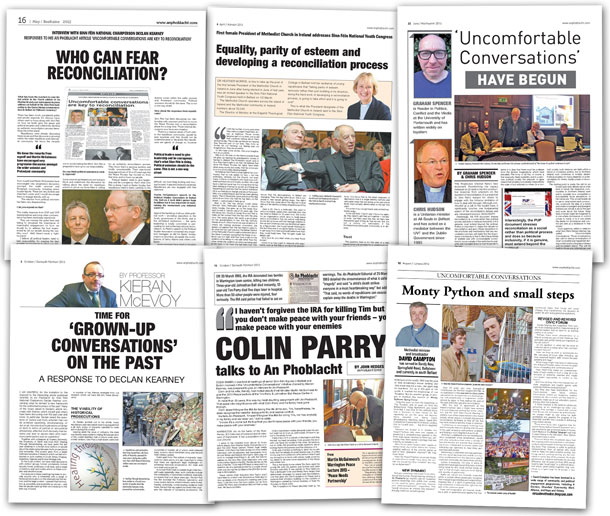 Dealing with the legacy of our past is very much like having firstly to acknowledge and then to have those uncomfortable conversations.
There are those of us who would rather not face it, whether that is because people find it too painful or because they view it as not relevant to them or their lives, or because they are just fed up listening to it.
Some of these individuals leave the country en masse come parades season. Then there are those of us who expect someone else to deal with it, particularly those who seem most interested in it. Initially this was the police and criminal justice system. More recently, the expectation was with those most impacted by the conflict, the victims and survivors. Often it is expected that the former combatants will give us something. More recently, what will the politicians come up with to solve all of our difficulties?
Then there are those of us who face it.
We are having those uncomfortable conversations that involve listening to others who have a different experience from us; listening to stories that seem alien to our own but in many ways mirror our own pain and loss; finding different ways to listen and acknowledge that hurt and exploring opportunities for what we can do together to ensure it never happens again.
Sadly, those involved in listening, those involved in difficult conversations are the smallest of the three examples when really they should be the majority.
Now is the right time.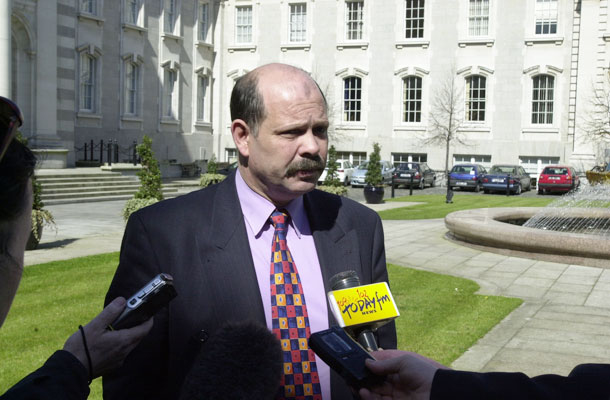 • David Ervine
I once heard David Ervine say to a member of Sinn Féin:
"You're going nowhere without me and I am going nowhere without you. The sooner we face that reality the more we can concentrate on building a better future for everyone in this society."
Dawn Purvis succeeded David Ervine as leader of the Progressive Unionist Party and MLA 2007-2011