1 September 2014 Edition
Unionists surrender to Tory war on the welfare state
'A never-ending catalogue of heartbreaking stories of people losing benefits and facing destitution, homelessness and even starvation'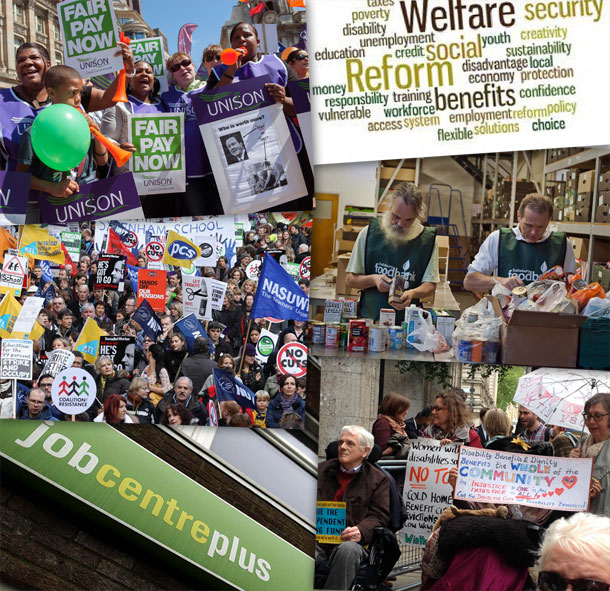 The Macmillan Cancer charity reports that cancer patients are waiting six months or more with no disability benefits. Such stories are as common as they are shocking
BEFORE Westminster's summer recess, I was in London to speak to MPs and lobby groups about the impact of the Welfare Reform Act across Britain. Given that the Tory and Liberal Democrats Government and the unionist parties are adamant that this legislation will be applied in the North of Ireland, it's important to look at the facts of just how these so-called 'reforms' are affecting people in Britain.
Given the Bill was passed in 2012, this debate is not an academic question. There is now a plethora of hard evidence of the effects of the changes right across the British state. In fact, there is so much evidence of how negative it has been, and it is so damning, that it is hard to know where to start. What is crystal clear is that it would be absolutely criminal for any political party to knowingly inflict these measures on people in the North of Ireland. We have the responsibility to make sure that they are stopped and to work with those in Britain who want to also see their reversal there.
The evidence against these particular welfare cuts comes from across the board – from politicians, groups, charities, think-tanks, academic institutions and NGOs.
Much of it makes for alarming reading.
They target the most vulnerable in society, including those with disabilities, children and lone parents. They hit working-poor and middle-income families. It is indeed particularly grotesque that a Cabinet of millionaires and people who have had every benefit of a privileged upbringing are attempting to take away what little those with the very least in our society have.
We know that a whole host of benefits are proposed to be scrapped to be combined as one 'Universal Credit'. The chaos this has brought in Britain has already prompted the British Labour Party to say they would review this if they come into office. Of course, reviewing is not enough but it is an indication of the mess that these changes have brought about.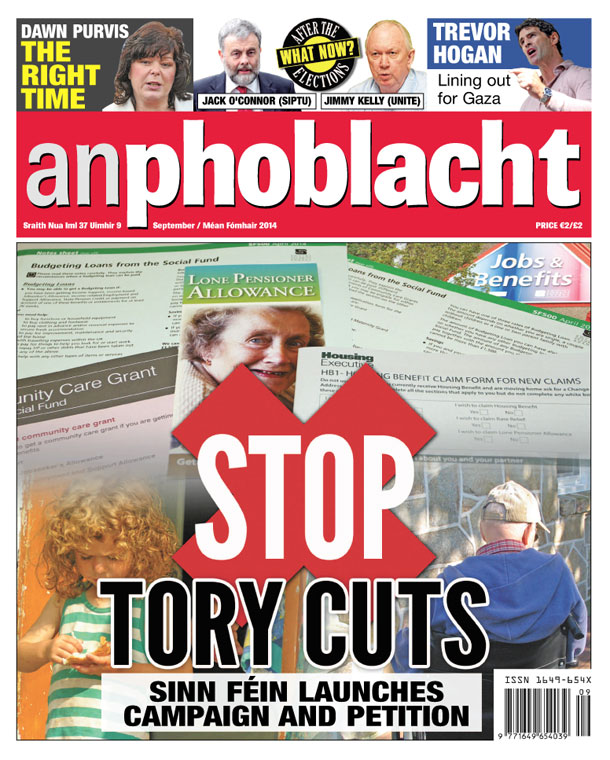 In reality, this Bill is not about making things more efficient. It is all about cutting necessary state spending, disguised as a 'reform' to undermine the welfare state. Here in the North of Ireland, it will damage the economy.
A report was compiled last year by the Centre for Regional Economic and Social Research at Sheffield Hallam University for the North's Council for Voluntary Action on the impact of the welfare cuts programme if applied to the North. It revealed that £750million a year would be taken out of the economy – some £650 for every adult of working age. So this not only hits living standards, it makes no economic sense at all, reducing spending capacity.
The report also found that the financial loss per adult of working age would be substantially larger than in any other part of the British state.
The North has proportionately higher unemployment than Britain and cuts to disability benefits in particular would hit us hard, given we have the highest rates of incapacity and Disability Living Allowance claimants.
Inclusion London, the umbrella body for the city's disabled and deaf people's groups, reported that the abolition of the severe disability premium benefit is costing disabled adults £58 per week. For those on limited incomes, this is huge. Disabled children will get fewer benefits. For example, the change of child tax credit to 'disability additions' means a drop from £57 to £28 – this has affected over 100,000 disabled children.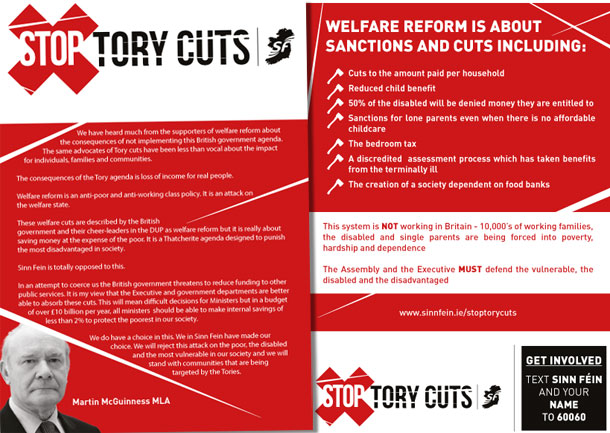 And the ESA so-called "Work Capability Assessment" has hit hundreds of thousands of people with a devastating effect. Disabled couples get £120 less if both are out of work; £33 is lost by lone parents with a disabled child on a low rate of care. Childcare costs are cut to 70% from 95%. These are just a few examples of how the cuts would apply.
Women will also pay a disproportionate price.
For instance, the Universal Credit will be paid to couples and, as the Women's Budget Group reported: "Women tend to be the 'shock absorbers' of poverty' . . . there is no guarantee that money is distributed fairly in households."
The Chartered Institute of Housing reports that some 400,000 low-income families in Britain are worse off under Universal Credit and those on under £247 a week will see a fall in real incomes. Lone parents across the board will lose out. Evidence from groups such as Child Poverty Action and trade unions such as Unison all point to the evidence of detrimental consequences of cumulative cuts. The most vulnerable are particularly hit. The Royal College of Psychiatrists has raised strong concerns over the impact of changes on those with mental health and learning disabilities.
The punitive nature of the proposals and the kinds of benefits targeted reveal the ideological nature of these plans – to transfer wealth to the richest, away from ordinary people and the very poorest, and to dismantle the welfare state. For example, families with children are hit very hard. This will be even more severe for us in the North, as we have the highest percentage of families with children compared to Britain.
Child Benefit and a host of other specific entitlements are to be scrapped. For example, the Child Trust Fund (which gives incentives for poorer families to save for their children's future) will be abolished. The Health in Pregnancy grant (which advises pregnant women on nutrition and other matters) will be gone. And, of course, Child Benefit rates have been frozen. The extra £545 grant for low-income and middle-income families' first year of having their baby is also scrapped.
• British Prime Minister David Cameron, Chancellor of the Exchequer George Osbourne and Secretary of State for Work and Pensions Iain Duncan Smith
The Emergency Social Fund (which finds funding in instances of extreme hardship or other circumstances) will also go. The North of Ireland Commissioner for Children and Young People was among those to raise the alarm over this, arguing that its abolition in the North "could result in cases of severe hardship and make it more difficult for those fleeing intimidation or living with domestic violence to find an escape route". Are unionists really saying that we should go along with this, in a civilised society?
Even former Liberal Democrats leader Lord Paddy Ashdown said of the benefit cap:
"I am President of UNICEF and I think the effect on children across the country of a cap in its present form will be completely unacceptable."
Many Liberal Democrats are very uncomfortable about the role their party is playing in this.
Many mainstream newspaper reports (in the Guardian, Independent, Mirror and even the Daily Mail) have reported the personal plight of families and their desperation. There has been the rise of food banks and, most seriously, suicide levels.
The Guardian leaked Government papers which admitted that at least 100,000 children are being pushed into poverty by the benefits cap alone. Cutting Housing Benefit to £100 a week has meant that, after rent and other utilities, a typical family with four children are having to live on as little as 62pence per person per day. Coupled with the other punitive attacks (such as 'sanctioning' and cuts or axing of Jobseeker's Allowance), the cumulative effect is devastating.
There is a never-ending catalogue of heartbreaking stories of people losing benefits and facing destitution, homelessness and even starvation due to the notorious testing of ATOS, the company which assesses whether the sick and disabled are fit for work according to Government rules.

Labour MP Dennis Skinner was moved to tears when he shamed David Cameron during a recent Prime Minister's Questions, relating the story of his constituent who was forced to live in poverty while suffering from cancer and who died still waiting to have his case resolved. The Macmillan Cancer charity reports that cancer patients are waiting six months or more with no disability benefits. Such stories are as common as they are shocking.
And the appalling rise in deaths and in suicides has been widely documented by journalists and campaign groups such as War on Welfare and the disability campaign group Disabled People Against Cuts.
The British Government bears responsibility for those lost lives, yet, far from learning and reversing this, they want to also impose it on us.
For Sinn Fein, there is no question about not fighting these barbaric cuts which have no place in a 21st century society. Indeed, it is to their shame that the unionist parties and First Minister Peter Robinson are not applying as much zeal in fighting these proposals as they are in attacking Sinn Fein.
It is ordinary communities – including those unionist communities the DUP, UUP and others who claim to and were elected to represent – who will suffer if these cuts are brought in. But unionist leaders prefer to pass the buck and in failing to stand up to the Tory-led coalition's blackmailing tactics, they are proposing to pass on the pain of these cuts to thousands of ordinary people and families.
We have made it clear to politicians and government in Westminster – we will not be party to this and we will fight it tooth and nail.
Moreover, there are many thousands of campaigners, like-minded people and groups such as the People's Assembly Against Austerity who are also fighting the British Government over this. We intend to work with them in our efforts against austerity and in halting these welfare cuts.