1 September 2014 Edition
Mary Lou McDonald and Francie Molloy in Australia
Sinn Féin deputy leader and Civil Rights veteran in five cities tour – 30 August to 7 September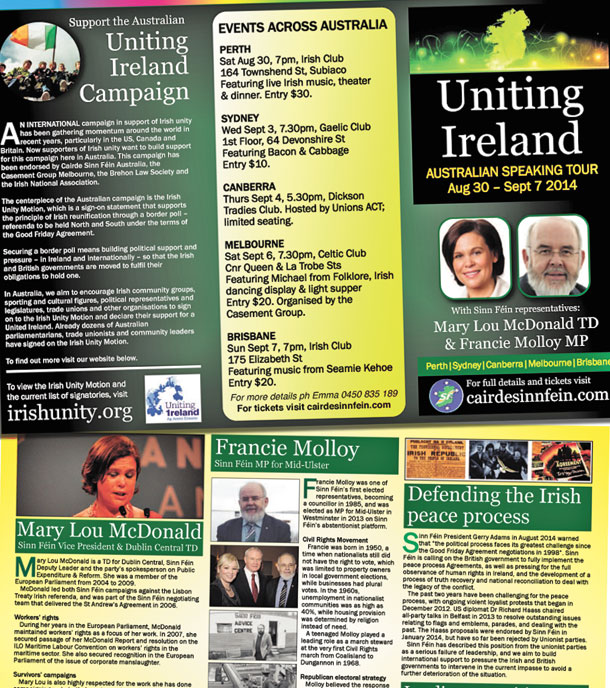 TWO leading Sinn Féin representatives will be on a speaking tour across Australia from 30 August to 7 September, visiting Melbourne, Canberra, Sydney, Perth and Brisbane.
Mary Lou McDonald is the deputy leader of Sinn Féin and TD for Dublin Central. Francie Molloy is MP for Mid-Ulster and became active in politics through the Civil Rights Movement in the North in 1968.
The Sinn Féin representatives will be promoting the 'Uniting Ireland' campaign among Australian political representatives, trade unionists and community leaders.
The campaign is a sign-on statement calling on the British and Irish governments to hold referenda on Irish reunification, North and South, under the terms of the Good Friday Agreement. Already, dozens of Australian MPs, trade unionists and community leaders have added their names to the Irish Unity motion.
Mary Lou and Francie will provide briefings to Australian MPs in parliaments in Canberra, Melbourne, Sydney and Perth on the current challenges facing the Irish Peace Process.
The Sinn Féin representatives will also be continuing to promote awareness among Irish workers on temporary visas in Australia of their rights in the workplace and promoting trade union membership among the Irish community.
The tour aims to engage not only with the thousands of young Irish people who have been forced to emigrate as a result of austerity policies, but also to build connections with progressive parties and unions fighting against austerity in Australia.
Tickets and full details online at www.cairdesinnfein.com