29 April 2014 Edition
Anglo Irish Bank – First bankers convicted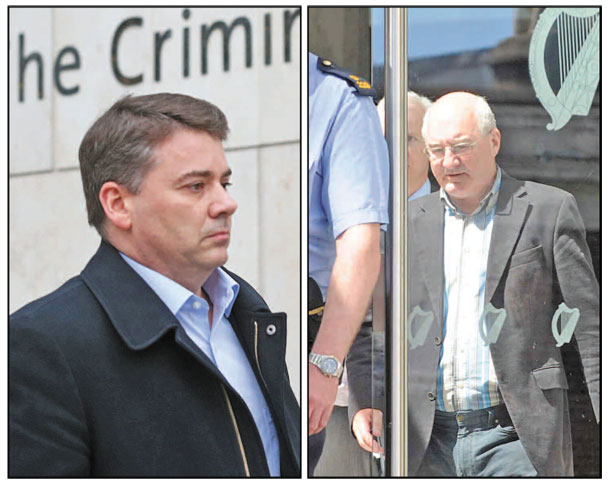 'Many people just saw this as a trial of the bankers who contributed to the crash'
THE IRISH PUBLIC are still waiting for justice to be served on those culpabale for the Irish banking crisis, Sinn Féin's Pearse Doherty said after Anglo Irish Bank former CEO Seán FitzPatrick was cleared of all charges of permitting unlawful financial assistance to the so-called 'Maple 10' or 'Golden Circle' group of investors and members of businessman Seán Quinn's family to buy shares in the bank.
FitzPatrick's co-accussed, Pat Whelan and William McAteer, were found guilty after a 43-day trial in Dublin of giving out illegal loans to the Maple 10 group of property developers. The pair will be sentenced on 28 April (after we go to press) and face up to five years in prison. They too were cleared of allowing illegal loans to members of the Quinn family.
The two became the first bankers in Ireland convicted of giving illegal loans. The 'Maple 10' borrowed €450million from Anglo Irish Bank to purchase Anglo shares in what is believed to have been an attempt to reduce Seán Quinn's holding in the bank and to help artificially protect the bank's falling share price.
Reacting to the ruling, Sinn Féin Finance spokesperson Pearse Doherty TD said there would be mixed emotions to the verdict:
"Though Judge Nolan quite correctly pointed out that these men were facing technical charges and weren't answering for the problems of the entire banking system, many people just saw this as a trial of the former bankers who contributed to the crash."
Pearse Doherty hit out at the failures in Irish banks, regulators and the reckless loans availed of by developers, combined with the policies of Fianna Fáil, for causing great long-term economic suffering for the Irish people.
"Austerity budgets, unsustainable debt to GDP level, emigration, poverty, unemployment and repossessions have been the sentence handed out to ordinary people," the Sinn Féin TD said.