29 April 2014 Edition
Lining out for the dark side
Between the Posts
'We talk about black cards . . . about giving respect, and the elephant in the room is the refereeing'
AS COUNTIES across Ireland put the finishing touches to their championship preparations, 2014 is already raising new questions about our national games.
The premier competition in schools' Gaelic football is the Hogan Cup. This year, the finalists were St Patrick's Maghera from County Derry and Pobalscoil Chorca Duibhne from County Kerry. The Kerry college won in the end by two points in what was a mostly sporting encounter in Croke Park. However, the real talking point of the game was the description used by Radio Kerry to describe the Ulster champions from County "Londonderry".
A small editorial error, some may think.
Six years ago, my eldest daughter joined other children from Irish-medium schools across Belfast to play a friendly game against their Gaelscoil counterparts from Dublin. The annual event is played as part of a challenge match in each code: boys' and girls' Gaelic, hurling and Camogie. This particular year was no different and had the added attraction of being staged in Casement Park. However, as the girls game got underway, my attention was drawn away from the pitch to the Dublin schoolchildren cheering on teammates. "You'll never beat the Irish!" they sang.
Attitudes are learned and enculturated within the GAA over many years. It is not restricted to school teams either. During one of last summer's televised games, RTÉ commentator and former Defence Forces army officer Kevin McStay described Cork as Ireland's "second city" (his 'tours of duty' never brought him as far as Belfast, it seems).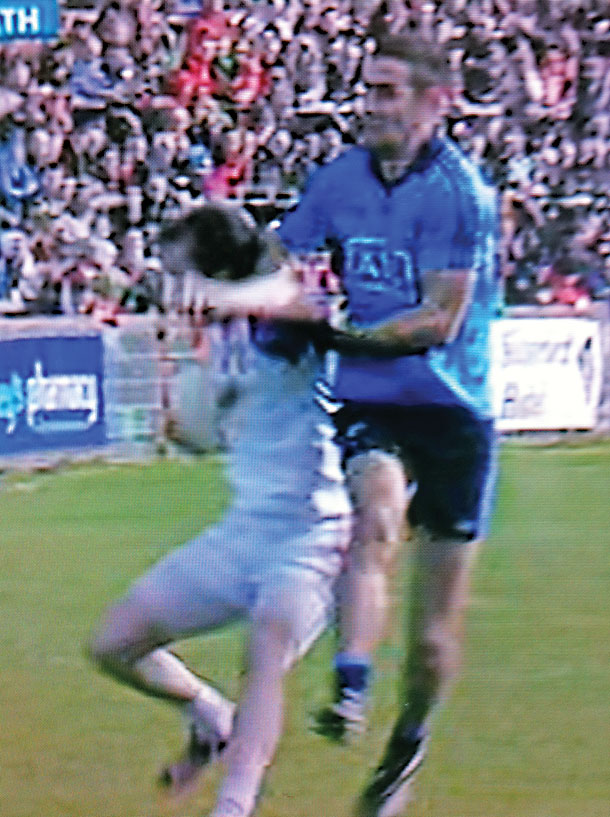 • Dublin's Jason McCarthy armlocks Tyrone's Collie Cavanagh
Bias towards players appears to be worse than fans.
Last year, Tyrone star Seán Cavanagh was publicly flogged for an unforgettable and unacceptable foul. Later in the same competition, Dublin were eulogised as a team with the Midas touch: their management genius; their extensive, multi-disciplinary backroom team; their limitless financial resources; their canny decision-making and their massive panel. No mention of the ugly last quarter of the championship final where the boys in blue shamelessly hauled their Mayo counterparts to the ground.
Now we face into the 2014 championship and referees are equipped with the black card. The signs so far are not good. When Dublin travelled north to meet Derry in Division 1 of the National Football League, the only person to get a black card was one of the Oak Leaf team. This was despite the fact that TG4 footage showed the boys in blue throwing punches with closed fists at their Derry opponents. Dublin full-back Philly MacMahon had such fast hands he was able to land two punches to the back of his opponent's head before their feet touched the ground. The Derry player was taken off with concussion. The Dublin man stayed on – until he got caught out later in the match.
A  couple of weeks later, the Dubs played Tyrone. The outcome paved Dublin's way into the 2014 National League Final. However, the match stats were more interesting for the display by the referee. One black card was shown – to a Tyrone player. In the first 35 minutes, Dublin got four yellow cards. No black card was shown to anyone wearing blue that day.
Perhaps Dublin are not to blame. Maybe the change in rules has confused referees as well. When Armagh lost to Donegal, the Orchard County manager, Paul Grimley, was outspoken: "We talk about black cards . . . about giving respect, and the elephant in the room is the refereeing."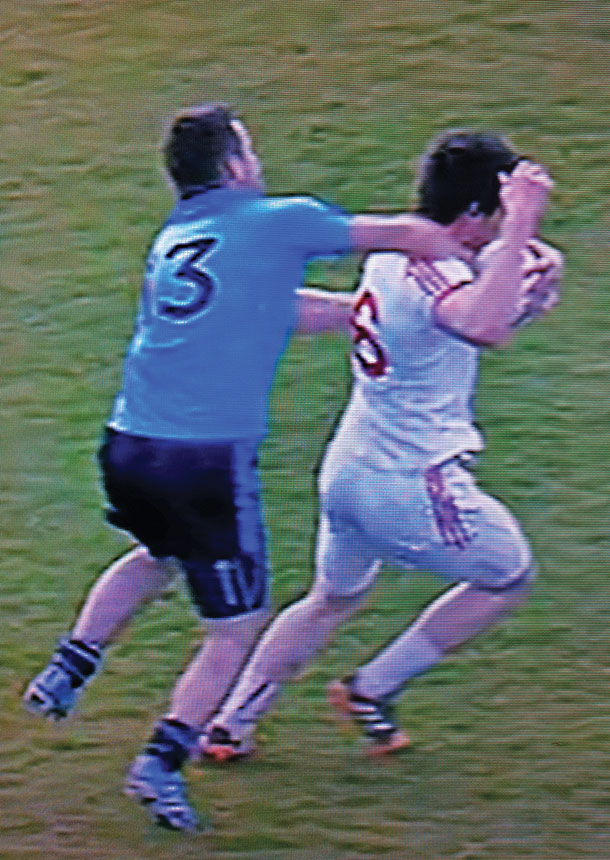 • Dublin's forward Kevin McManamon necks Mattie Donnelly
Donegal's Colm McFadden was more content: "It was a tough game with a lot of pulling and dragging but I suppose from our point of view that's what we want at this time of year."  McFadden's candour about Donegal's comfort on playing with the rules, rather than with the ball, is enough to test any referee's consistency.
Oddly enough, the closing stages of the National League provided some foresight of what may be to come. At half-time in their Croke Park contest against Mayo, Derry's management spotted a pattern of fouling against their players:
"A lot of people are questioning what is this black card . . . Enda Lynn had been fouled personally 12 or 13 times in the first half . . . He received a number of personal fouls. The number of times Kevin Johnston was going through and was taken out and nothing was given."
To say Derry players were personally targeted by their opponents seems unreal. Yet there were other signs that day of this phenomenon. Even the Oak Leaf analysts didn't see the members of the Donegal backroom team sitting in Croke Park. Each one held a mini-camera and iPad trained on one of three Derry players involved in the Mayo match. Those intent on bringing the dark side of sport into gaelic games haven't been deterred by black cards. For the sake of player safety, let's hope match officials start catching on.