29 April 2014 Edition
'Only their rivers run free'
Bik McFarlane in Switzerland on the historic struggle in the H-Blocks, Long Kesh and Ireland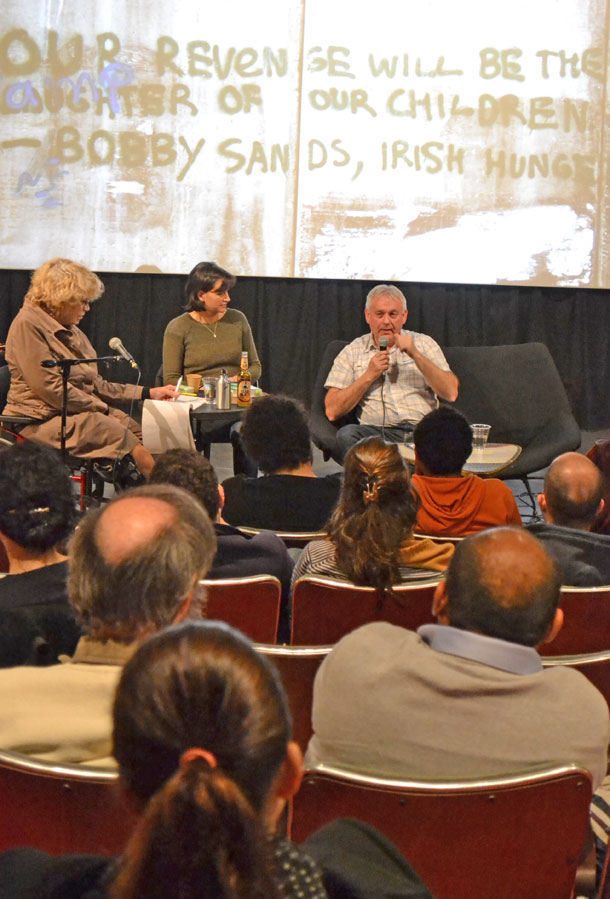 BIK McFARLANE, former Officer Commanding the IRA prisoners in the H-Blocks of Long Kesh, was invited by the '100 Fuegos Collective' to Geneva in March 2014 for a discussion and a concert around the 1981 Irish Hunger Strikers and Irish republicanism.
L'Usine, where the event took place, is a famous 'alternative' place in Switzerland and Europe where independent music bands can perform on three stages.
There are also a self-managed theatre, cinema, radio, record shop and bar. Affordable shows, activism, alternative and counter culture, and solidarity are some key words to describe the atmosphere at l'Usine.
Introducing Bik to an enthusiastic audience eager to learn about the Irish struggle for freedom, I explained that, through Bik's account, we would find ourselves in the core struggle that took place in Long Kesh.
We would face an account about the worst prison conditions in the heart of Europe, about the tangible violence of the British imperialism and the means used to try and break the political prisoners' conscience, their will and their bodies. His presence would also stand for a straight testimony regarding the unimaginable trial the Hunger Strike represented. It is still very hard and almost impossible to me – to all of us I guess – more than 30 years later, to imagine how Bik and his comrades had to constantly fight against his emotions by seeing his closest friends and comrades dying one by one, inside and outside the jail.
Through Bik's presence, we were able to 'touch history' that night, so many years after such a sacrifice.
Bik embodies the beautiful Bobby Sands biography Denis O'Hearn wrote a few years ago, which we translated into French.
This evening, we also paid tribute to the nine comrades of Bobby Sands that followed him and laid down their lives. If Bobby Sands remains the most popular and internationally well-known figure, we know perfectly well that there is no cult of personality of any kind in the Irish republican struggle. This is why we wanted to remind new generations of the names, the stories and the struggles of Francis Hughes, Raymond McCreesh, Pasty O'Hara, Joe McDonnell, Martin Hurson, Kevin Lynch, Kieran Doherty, Tom McElwee and Mickey Devine. 
This was a well-attended conference, especially by young people. I said a few words about the historical context and about the Bobby Sands biography. For me it is quite important to read this book as it is not a biography like any other, it invites us to think further and deeper about issues like the artistic creation under the worst conditions of repression and confinement, about the meaning of comradeship and solidarity under repressive situations, about what is at stake when a people's struggle is criminalised (Denis O'Hearn explains brilliantly the way Bobby and his comrades understood their fight in jail was crucial for the republican struggle outside the prison walls).
Bobby Sands belongs to humanity and to something that is way bigger than the Irish struggle. His memory and what he stands for is remembered everywhere in the world, either by the Mapuches in Chile, by women cleaners on strike in Italy (as Joe Austin explained to us one day) or in so many other areas of struggle.
Bik presented to the audience in Switzerland the republican struggle in Ireland before and after the 1981 Hunger Strike and the legacy of hunger strike.
After Bik's contributions and insights into life and death in the H-Blocks of Long Kesh (brilliantly translated into French by Garance), the audience had the opportunity to talk with Bik and ask him in a Q&A about different issues as the South of Ireland, capitalism, the Peace Process, etc.
Then we went to the Makhno bar where a two-hour, fully-packed concert with Bik took place.
It was the end of an event that reminded some and opened the eyes and minds of others to the epic struggle that was captured within the walls of the H-Blocks and Long Kesh throughout all the years and Ireland's struggle.
Thank you, Bik.