29 April 2014 Edition
A challenge for Irish republicans, a gesture of respect to unionists
Irish President's state visit to Britain and Sinn Féin's participation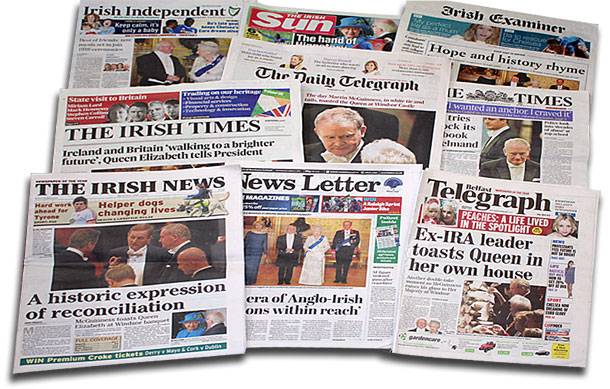 THE presence of Sinn Féin's Martin McGuinness at the state visit of the President of Ireland to Britain in April was a a "significant political and symbolic challenge" for Irish republicans, Martin McGuinness acknowledged, but he added: "My presence alongside Peter Robinson brings an all-island dimension to this historic event which, it is worth noting, has taken 93 years to happen."
The first official state visit from the President of Ireland to Britain saw political leaders from across Ireland attend a number of events at the home of Britain's Queen Elizabeth in Windsor Castle. As well as politicians, over 160 guests from Irish cultural and sporting life (including international rugby star Brian O'Driscoll and his actress wife Amy Huberman, Oscar-winning actor Daniel Day-Lewis, and Eurovision winner Eimear Quinn) took part. Thousands also attended a celebration of Irish music, dance and poetry at the Royal Albert Hall.
Speaking in advance of the visit, Sinn Féin President Gerry Adams TD told reporters:
"This decision by a confident republican leadership is in keeping with the transition that is ongoing within the island of Ireland and between Ireland, including the North, and Britain."
Ahead of the meeting, former Conservative Party Chair Norman Tebbit expressed his hope that Martin McGuinness would be murdered by the so-called 'Real IRA' for taking part in the event. (Lord Tebbit and his wife were injured in the IRA attack on the British Conservative Party conference at the Grand Hotel in Brighton in 1984.)
Responding to the comments, Gerry Adams said that while he understands that Norman Tebbit is a victim of the conflict, for him to advocate the assassination of joint First Minister Martin McGuinness "is a shocking throwback to a violent past from which we are seeking to move on. The state visit is another important milestone in doing that."
Sinn Féin National Chairpreson Declan Kearney said the presence of Sinn Féin at the state visit was a symbolic gesture of reconciliation to unionists and a demonstration of the party's commitment to mutual respect and parity of esteem.
Declan Kearney also noted that it would have been easier for Sinn Féin to have done nothing and not taken part in the event (see his analysis opposite), saying that "initiatives and gestures can also be risky. They often involve making uncomfortable decisions when the safe thing might be to do nothing.
"Sinn Féin believed that going to Windsor Castle could represent a symbolic demonstration of our unambiguous commitment to mutual respect and parity of esteem; and a sincere gesture of reconciliation and respect towards our unionist neighbours."
Reverend Harold Good, former President of the Methodist Church of Ireland, welcomed the visit, saying it is a "further sign of how much things have changed and moved on".
The Methodist Church leader added:
"Obviously, this was a challenging decision for Irish republicanism. But the positive way in which their acceptance of this invitation has been welcomed across the community is a further example of how such gestures can have a positive affect upon attitudes, perception and relationships."
These sentiments were echoed by Derry Presbyterian Minister Reverend David Latimer, who described Martin McGuinness's meeting with Queen Elizabeth as "timely" and "momentous" adding that it "has the potential to be transformational".
"Two very different people deciding to 'Walk the Walk' is remarkable by any standards. Somewhere out at the edges, the night is turning, which should incentivise us to do what deep in our hearts we know needs to be done, and that's to keep moving forward together."