1 September 2014 Edition
One of the architects of the Peace Process
Former Taoiseach Albert Reynolds RIP
'Peace is a continuing process'
FR BRIAN D'ARCY, chief celebrant at the state funeral of Albert Reynolds, has said that the British and Irish governments must act with political leaders to overcome the intransigence that is blocking progress in the North. He also warned about the volatility of the situaton.
"We can never take peace for granted — it is a continuing process," he said on RTÉ Radio the day after the former Taoiseach was laid to rest.
In his funeral eulogy on 25 August, Fr D'Arcy said that Albert Reynolds had the courage to risk everything for peace because "he knew nothing worth having was reached from an island of safety".
Fr D'Arcy spoke of his longstanding friendship with Albert Reynolds from 1966 when he wrote for music promoter Reynolds's music magazine under a pen name.
"Some say his interest in the North came as a shock and suddenly appeared when he became Taoiseach. Well I beg to differ. As a promoter in show business and showbands, he was in constant contact with the North on both sides. In showbands there was no religious difference."
In the early 1990s, "mysterious letters" would be left for Albert Reynolds at the monastery in County Fermanagh where Fr D'Arcy lives and replies equally mysteriously collected.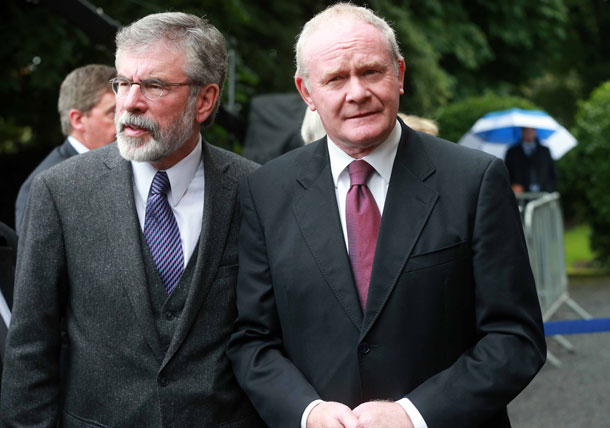 • Sinn Féin's Gerry Adams and Martin McGuinness arrive at Albert Reynolds's funeral
Significantly, Fr D'Arcy also noted to mourners containing many Establishment figures, the contribution of others to the Peace Process which Albert Reynolds was committed to.
"We owe an enormous debt of gratitude as a country, North and South, to Albert Reynolds, of course, but to others too: to John Major, John Hume, Gerry Adams, Alec Reid, and all the others who were so unfairly criticised at the time for trying to bring peace."
Sinn Féin figures who attended the funeral of Albert Reynolds in Dublin included Gerry Adams TD, joint First Minister Martin McGuinness MLA, Pat Doherty MP, Rita O'Hare and Lucilita Bhreatnach.
Martin McGuinness said:
"Albert Reynolds played a critically important role in building the embryonic Peace Process in Ireland.
"His decision to open up direct dialogue with Sinn Féin was a crucially important development which led ultimately to all-party negotiations and agreement.
"His courage in initiating political dialogue as an alternative to conflict is a model that should be followed across the world."
Cavan/Monaghan TD Caoimhghín Ó Caoláin, who met Albert Reynolds a number of times in the early days of the Peace Process, described the former Taoiseach as "one of the architects of the Irish Peace Process".
And Sinn Féin leader Gerry Adams summed it up when he said:
"Albert acted on the North when it mattered."