26 June 2003 Edition
An Phoblacht Magazine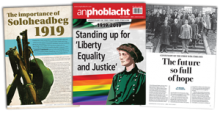 AN PHOBLACHT MAGAZINE:
Don't miss your chance to get the first edition of 2019 published to coincide with the 100th anniversary of An Chéad Dáil and Soloheadbeg.
In this edition Gerry Adams sets out the case for active abstentionism, Mícheál Mac Donncha takes us back to January 21st 1919, that fateful day after which here was no going back and Aengus Ó Snodaigh gives an account of the IRA attack carried out on the same day of the First Dáil, something that was to have a profound effect on the course of Irish history.
There are also articles about the aftermath of the 8th amendment campaign, the Rise of the Right and the civil rights movement.
26 June 2003
Iranian dissidents set themselves on fire
A dozen Iranian opposition protestors took the desperate step of setting themselves alight outside European embassies this week to highlight the undemocratic nature of the Iranian regime. One woman in Paris died, while others suffered horrific injuries.
The supporters were protesting raids by French agents in Paris last week, which saw 1,300...
Free article
26 June 2003
This week, AN DRAOI RUA congratulates Nelson Mandela on receiving his honorary doctorate from NUI, Galway, his acceptance speech on that occasion and for the oration he gave on the opening night of the Special Olympics. Free article