2 February 2006 Edition
2 February 2006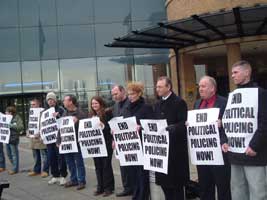 IMC - fiction and lies
Where does the Independent Monitoring Commission get its information?
That is the most important question and the only one of relevance arising out of the latest disgraceful pack of lies from the biased body.
Who do John Alderdice, Joe Brosnan, John Grieve and Dick Kerr talk to when compiling the rubbish they claim as objective... Free article
An Phoblacht Magazine
AN PHOBLACHT MAGAZINE:
Don't miss your chance to get the second edition of the 2019 magazine, published to coincide with Easter Week
This special edition which focuses on Irish Unity, features articles by Pearse Doherty, Dr Thomas Paul and Martina Anderson.
Pearse sets out the argument for an United Ireland Economy whilst Pat Sheehan makes the case for a universally free all-island health service.
Other articles include, 'Ceist teanga in Éirinn Aontaithe', 'Getting to a new Ireland' and 'Ireland 1918-22: The people's revolution'.