2 February 2006 Edition
IMC - fiction and lies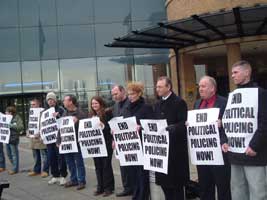 IMC - fiction and lies
Where does the Independent Monitoring Commission get its information?
That is the most important question and the only one of relevance arising out of the latest disgraceful pack of lies from the biased body.
Who do John Alderdice, Joe Brosnan, John Grieve and Dick Kerr talk to when compiling the rubbish they claim as objective analysis?
Well, one of their main sources is the PSNI/RUC. Their intelligence is excellent of course. They knew exactly who pulled off the Northern Bank job, knew in fact that it had been in the planning for months. Yet they couldn't stop it from happening.
They do appear, however, to be fond of handing over information to anybody who asks for it. It had no problem providing personal information on Patrick Finucane to loyalists who subsequently murdered the defence solicitor.
Then there's British Intelligence, also trusted implicitly by the IMC. MI5 does not exactly have a reputation of fairness and honesty when it comes to Irish republicans or the nationalist community. These are the forces behind countless deaths of Irish people over the last three decades. As recently as last year, British secret service bugs were being found in democratically elected Sinn Féin members' cars, homes and offices. MI5 have always had a clear agenda in Ireland, but the IMC has chosen to ignore that.
Meanwhile, Michael McDowell has accused the IRA of smuggling, extortion, you name it, in the 26 Counties. But even with his vast source of information, he has yet to convict any of the IRA people allegedly roaming the country hijacking oil tankers.
The IMC builds a report every couple of months based on the 'intelligence' it receives from partisan political policing and military intelligence groups and nothing more. These sources are known to be politically motivated and many are out to wreck the peace process at every opportunity.
And that's all that the IMC is - an excuse and an opportunity to scupper political progress and allow the DUP to maintain a veto over the re-establishment of the institutions of the Good Friday Agreement.
Republicans will continue to campaign against this body that was set up outside the Good Friday Agreement.
The IMC must be abolished immediately and prevented from interfering any further in the political process and subverting democracy.