7 April 2022 Edition
We will not let the Tories dismantle the Good Friday Agreement
Michelle O'Neill interviewed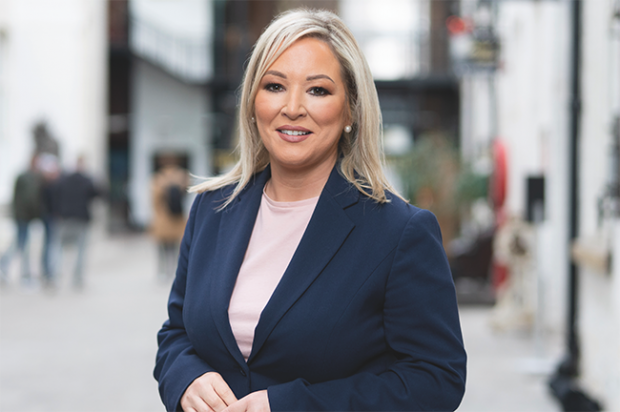 It has been a hectic 2022 for Michelle O'Neill so far. With the Executive stalled, a long Assembly election campaign, and now with Sinn Féin as the largest party in vote share and Assembly seats, the Sinn Féin Vice President is the First Minister in waiting. An Phoblacht caught up with the new First Minister in between meetings with Taoiseach Micheál Martin, Foreign Affairs Minister Simon Coveney, British Prime Minister Boris Johnson, and Scottish First Minister Nicola Sturgeon. 
O'Neill talked about all of this as well as her experience of the election campaign, her plans as the new First Minister, the cost of living crisis, citizen assemblies, and the border poll.
• • • • • • • • • •
The election campaign 
In a broad ranging discussion, we started by asking Michelle about her experience of the canvas as a candidate and party leader. She told us that, "It was probably one of the best canvases I have ever been on to be honest. You could feel a mood with the public that our message was resonating with them, that they wanted the real change we were talking about. It was a powerful canvas on many fronts. People were very engaged. People got the politics.
"We said at the start of this campaign that big picture politics wins elections and brings people with you. People were speaking back to us about our approach. They understood it, they had digested it. They got the historic nature of the election and what could be achieved.
"They very much wanted us to deal with the things that they were genuinely worried about. The cost of living crisis and the need to fix our health service were probably the biggest things that were coming up on the doors.
"It was an election that was like no other for me, because it was a big picture politics election in many regards. You get to see so many people, who do amazing things every day. You get the chance to meet groups and talk to people. It was powerful experience being everywhere from Portaferry to Strangford to Foyle to Strabane, to Belfast, to everywhere. The mood was the same everywhere."
Focusing specifically on the election result and her experience of the count, O'Neill told us that, "For me, this is about the future, what I would want for my children, and my grandchildren. I got that said back to me a lot of times, that people thought that was what I was offering them, a future, a better future. People were saying back to me. 'Didn't we do well. Aren't we great, I like what we are doing. There was a lot of collective ownership of what we were doing. That shone through for me."
• ELECTED: Linda Dillon, Sinn Féin President Mary Lou McDonald, Michelle O'Neill and Emma  Sheerin 
Cost of Living crisis
Moving on to the cost of living crisis, we asked what was Michelle's experience of this on the canvass. She said that: 
"People are genuinely concerned because they are heating reports on the costs of energy every day. The cost of food is going through the roof, clothes, everything costs more. I think that was definitely something people are worried about. They are particularly worried about the winter. They know what is coming down the tracks.
"We have made a commitment to put money into the pockets of workers and families. We stand over that commitment, but we need an Executive in which to do it, so the DUP had walked away before the end of the mandate. People were clearly saying to us to try and make politics work, get back in there and help us."
The Dublin Government
Moving onto the role of the Dublin Government, we asked the First Minister about her meetings with Micheál Martin and Simon Coveney. When we spoke, O'Neill was coming out of a series of meeting with the Taoiseach and she told us that she had specifically arranged to meet with him in advance of meeting Boris Johnson:
"The Good Friday Agreement is under threat and people shouldn't be in any doubt about that. The Tories and Boris Johnson care little for the interests of the people here and they certainly care little for our peace agreement, the Good Friday Agreement. So, it is important that we concentrate, that we constantly make the case to the Irish Government that as co-guarantors of that agreement, they need to step up."
Citing the three relationships of the North, North-South, and East-West that underpin the Good Friday Agreement, O'Neill said, "The DUP have walked away from North-South as far back as last October. They have walked away from the Executive in February. They are still boycotting both of these things."
Focusing briefly on the role of the British Conservative Government in this, O'Neill said, "I think there is a deliberate attempt on the part of the Tories to dismantle the Good Friday Agreement. We cannot allow that."
Returning to Sinn Féin's expectations of the coalition government, O'Neill was emphatic:
"We need a strong Irish Government voice to articulate that vision, or that view as co-guarantor. When I meet with the Taoiseach, that's the kind of conversation we would be putting across.
"Clearly, we want powersharing to work. We do not see any contradiction in wanting powersharing to work and articulating our view about constitutional change. There is no doubt that the Irish Government focus now needs to be on constitutional change, a citizens' assembly, and start to make the proper preparation and planning for what's coming down the tracks.
"There is a really healthy conversation right now about Irish unity, and I think it wasn't the election that brought that about. That is something that has been happening all around us for many years now. Brexit has been a real catalyst in all of that. Now is the time for the Irish Government to plan."
Boris Johnson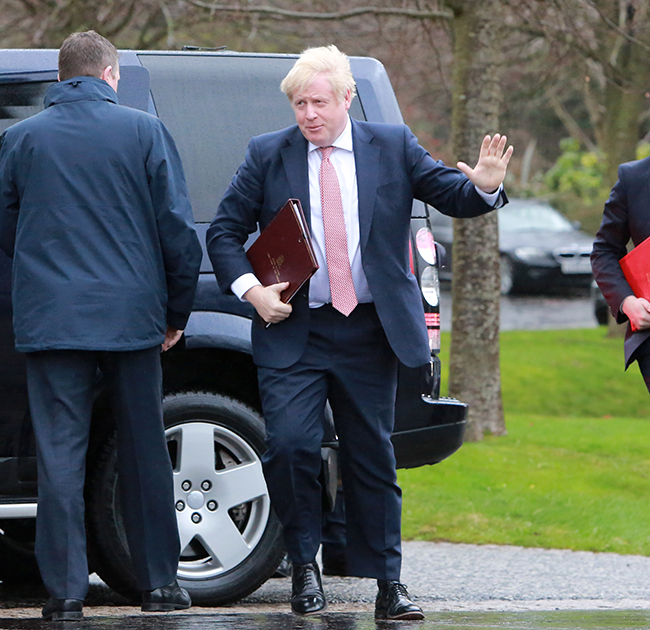 • Boris Johnson
Turning to her experience of Boris Johnson, O'Neill said she believes that, "Boris Johnson cares less for the people here". Turning to the proposed 'Northern Ireland Troubles (Legacy and Reconciliation) Bill', O'Neill pointed out that Johnson "has demonstrated" that "he is prepared to legislate to hide Britain's dirty war in Ireland".
"He has prioritised the wants of British forces over the needs of victims here. It is actually very cruel and unjust what they have announced in the past 24 hours and flies in the face of what was agreed in 2014 in the Stormont House Agreement.
"There are so many families who are now left re-traumatised in the last 24 hours, because after all their campaigning for decades, some for five decades, for Boris Johnson to say, 'do you know what, we are pulling the shutter down, and say no more, you are not getting access to truth and justice. You are not getting your inquest; you are not getting your civil proceedings'. All the things that were open to them legally.
"Boris Johnson and the British Government have decided, hiding from the rest of the world what they have done, despite the fact that report after report has shown there was very clear collusion. The Ombudsman's reports have shown very clear collusion between British Armed Forces and Loyalist death squads killing Irish citizens.
"So that is what Boris Johnson is more interested in. Covering up rather than helping people here to heal in helping victims, all victims and survivors to heal, and to allow them have some sort of closure.
"I think his proposals are ghastly and they are not going to serve reconciliation. They are certainly not going to serve truth and justice for the families, and that's just one of his actions.
"In the last couple of days, he has also continued pandering to the DUP. He is actually facilitating the Executive not being established. He is threatening to override parts of the protocol, threatening to legislate to go against the rule of law, threatening to legislate to undo an international agreement. How anybody can do business with those people."
Turning to the meeting with Boris Johnson, O'Neill said, "We had a very robust exchange with him. Myself, Mary Lou, and Conor Murphy were in that exchange. We put it to him directly that they are pandering to the DUP, that they are actively preventing the formation of an Executive. We put it to him that they are playing a game of chicken with the EU in an ideological war the Tories have with the European project. The North is caught out in the middle of all of that. And instead of sabre rattling, they should put their energies into actually trying to find an agreed way to make the protocol work. We put all that directly to him as you would expect.
"He is here to say that on one hand that they are here to protect the Good Friday Agreement, but their actions have everything to do with undermining the Good Friday Agreement. Their behaviour is just themselves above all else, themselves above everybody else. It is about an English agenda as opposed to anything else."
Turning to the role of the DUP in all of this, O'Neill said, "We have had a meeting with the DUP since the election, but the DUP are playing for time. They are playing a game and holding society to ransom".
The Scottish Nationalist Party
We asked about Sinn Féin's meetings with the Scottish First Minister Nicola Sturgeon. O'Neill responded that:
"In the aftermath of both of our recent election results, we want to advance an already strong relationship that we enjoy with the SNP and Nicola and we want to work together in the time ahead. It is an important relationship in terms of where we are headed. I think that there is no doubt that Scotland are going to have their independence referendum again at some point. We are pushing ahead in wanting to see our unity referendum. I think we have a lot to share and learn from each other.
"I think Brexit has been a catalyst for a lot of conversations and a lot of change, and I think that the conversation that's underway here around constitutional change and unity is just growing, growing, growing every day. You see it all around you. At times you look at Scotland and wonder will they have their referendum first or will we have ours first. Given that they have been here before, there is a lot to be learned from that."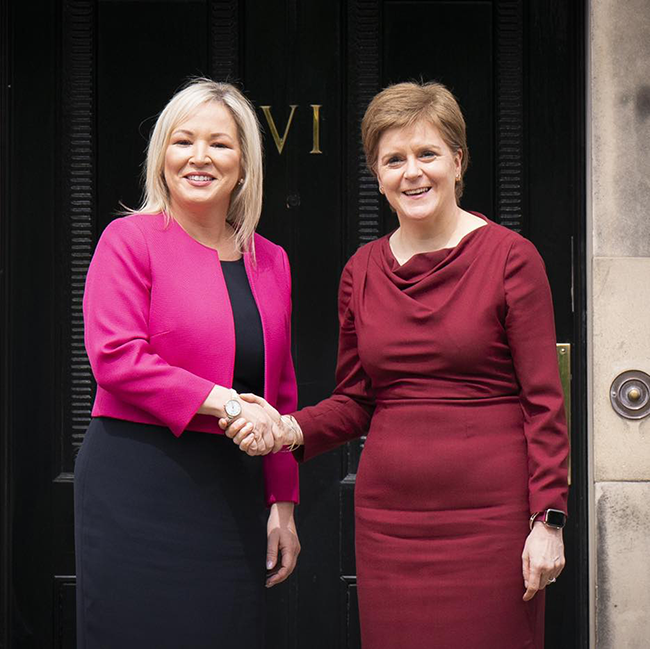 • FIRST MINISTERS: Michelle O'Neill and Nicola Sturgeon
The Citizens Assembly
The case for a citizens' assembly has been a Sinn Féin priority. O'Neill told us that, "In every engagement with the Dublin Government, we make that point", and "They get very sensitive about unionist opinion".
"The space that we are in now it is reckless not to plan. They say they will get there, but it needs to happen now. When you look what happened with Brexit, when people were asked to vote on a question not having the full information. Look at the mess of the economy in Britain now.
"That's actually what is wrong at the heart of the protocol with the Tories. They can see that the protocol has given us economic advantage, and the all-island economy is flourishing. That exposes what they have done in terms of wrecking their own economy in Britain, around what Brexit means to them.
"It is the responsible thing to plan now so we have the information. It is imperative to have this information. They should not be delaying. They should be getting on with it now. It should be happening now, because there are a lot of conversations to be had. What does the health service look like? What does the economy look like? What does education look like? We have to have all of these conversations so people can make informed decisions when the referendum does come about."
First Minister
What would a Sinn Féin First Minister be like? An Phoblacht asked Michelle O'Neill what themes and actions would she prioritise when the Executive is restored. 
"I made the case throughout the campaign that I wanted to be a first minister for all, and that means I have to live up to that promise. I intend to live up to that promise because there is far more in society that unites us than divides us.
"To be a First Minister for all means that you have to reach out to everybody. You have to step outside your own comfort zone and lead from the front. I intend to do that. I will do it with my every word and deed. I have been a Minister for Health. I have been a Minister for Agriculture. I have been the Deputy First minister. Anything I have ever done in any of those leadership roles has been in the interest of what's good for all people, never what's good for one over another. I think that needs to follow through. I think that I demonstrate that to those that come from a British identity, newcomer people, people that have made Ireland their home. I think it is important that they know that I am there for all of them also.
"I would like to do more work to ensure that those from the Black and ethnic minority communities feel that this is their home, that they are valued and have a part in all of this. I think that is really important".
O'Neill stressed that she wanted to be "naturally out there with the people". She said that, "When you take on a leadership position it has to be to do something and I certainly want to be a First Minister who is of the people and for the people. I think that is really important.
"I don't seek to hold a leadership role or political office for myself. It is about what you can do for people. It is about how you can advance things. It is ultimately for me about uniting the country and about uniting the people. I think there is no contradiction in wanting to pursue all of my political aspirations, whilst also understanding others, and being able to find a way forward that lets us all chart a path together."
Historic election result
"I think it is the fact that from the very formation of the state there has never been a nationalist, republican First Minister for all, a leader for all. People understood that. That was in their head. They understood that it was about change that demonstrated a way of change.
"I think people took ownership of that. They were tired of those within the leadership of political Unionism blocking equality, blocking of people's rights, blocking progressive politics people want. The public were saying to us make politics work. They want politics to work. They want politicians to work together. They want us to do our best for them, but they also knew that this election result demonstrated that real change."
Focusing on the result in the context of the Good Friday Agreement and the very first Assembly elections, O'Neill said, "That was a historic time. Here we are 24 years later. Democracy is being denied. The DUP pulled the show down. The public had enough of that approach. They want the mandate that they have given us now respected. That is what I hear back from the public."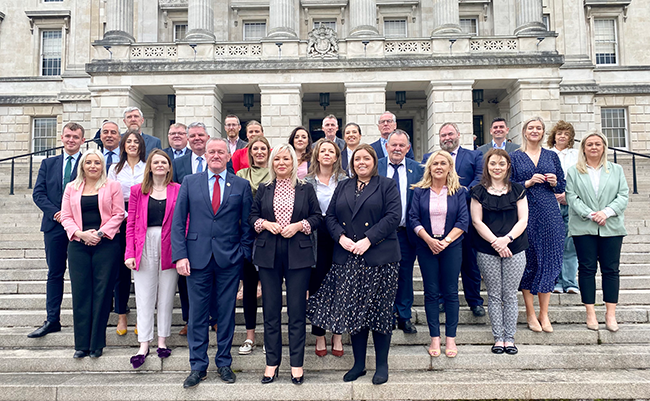 • The new Sinn Féin Assembly team
The Sinn Féin Assembly team
We asked Michelle about the Sinn Féin Assembly team and the 27 newly elected MLAs.
"I was very excited because they are all activists, MLA activists and they are all grass roots people who are determined to do their best. If there is one thing about our team it is that we will work hard for people. I am excited about the team because you have a mixture of experience, or new people coming in. We have the strongest female team.
"It is a very strong team on many fronts, all capable people, and I am very proud to lead them into the Assembly. We also know that we have a lot of work to do and I am confident that those MLA activists are going to make a difference to people, which is ultimately what we are trying to do." •