13 February 2017 Edition
We are in the business of taking power
Feargal O'Hanlon Memorial Lecture, Monaghan 60th anniversary of Brookeborough raid, 1957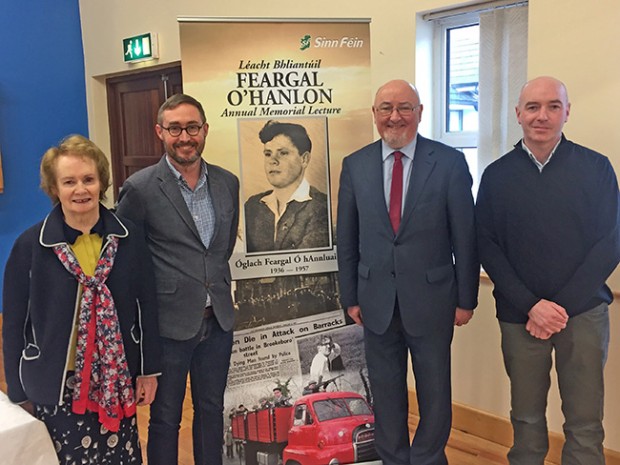 We also need to be part of mobilised, politicised communities and social movements outside of Government, ensuring that promises made during elections are kept and implemented in full
THE 2017 Annual Feargal O'Hanlon Memorial Lecture took place in Teach na nDaoine in Monaghan town on Sunday 22 January. This year's lecture, in a series that commenced in 1982, marked the 60th anniversary of the deaths in action of IRA Volunteers Feargal O'Hanlon and Seán South. This year's guest speaker was Eoin Ó Broin TD.
The event was chaired by Shane Treanor of Monaghan Town Sinn Féin. Dáil Deputy Caoimhghín Ó Caoláin introduced his Oireachtas colleague to the audience, and Pádraigín Uí Mhurchadha, sister of Feargal, was also at the top table.
The subsequent vote of thanks to Deputy Ó Broin was proposed by Seán Ó Murchadha, seconded by Councillor Seán Conlon.
Presentations were made to Deputy Ó Broin of a copy of the recently-published book on the story of Margaret Skinnider, Suffragette, Sniper, Schoolteacher (Margaret's father came from Monaghan) and of a special 1916 centenary limited edition bottle of Monaghan stout.
This is an extract from Eoin Ó Broin's speech.
FEARGAL O'HANLON is not a name in a history book. He is a real person connected to this county and to its republican community. He was a brother and son, a friend, a public servant, a Gaeilgeoir and Gaelic football and handball player – an IRA Volunteer.
From everything I have read, and especially Pádraigín Uí Mhurchadha's moving interview with Ella O'Dwyer in An Phoblacht back in 2007, Feargal sounds like a remarkable young man: a person of real character and integrity; the kind of person who represents everything that is great in our movement.
But what stands out most strongly for me is the bravery and leadership he showed as an IRA Volunteer. 
To have played such an important role at the young age of 20 is remarkable. To have had the courage to risk his own life when that life was only truly beginning is hard to comprehend.
And though Feargal and Seán South tragically lost their lives on 1 January 1957, he is still with us, not just in the memory of Feargal the person but as an inspiration to the generations of republican activists that follow in his footsteps.
Eighteen people tragically lost their lived during Operation Harvest from 1956 to 1962; 256 republicans were interned. 
While the campaign was a military failure, it marked an important turning point in modern Irish republicanism.
It exposed the extent to which we had become isolated from the wider community. We were no longer rooted in or relevant to the lives of the people.
That failure opened up a period of reflection. It led to a period of change, both in the strategy and leadership of the Republican Movement. 
In some respects it marked the beginning of the modern period of republican struggle.
Thankfully, we live in a very different era. Decades of conflict gave way to negotiations and peace agreements. The option of pursuing our political objectives through peaceful and political means was finally opened. 
And today Irish republicanism is stronger that at any point since partition. 
But while the political context has changed, our objectives remain the same. And the character, integrity, bravery and leadership of people like Feargal O'Hanlon are needed every bit as much in 2017 as they were in 1957.
I was especially delighted to have been asked by Caoimhghín Ó Caolain TD to speak here today. I've known Caoimhghín for many years and knew of his long period of service in the Dáil.
But it is only when you are elected to Leinster House you realise the size of the challenge that he and Mícheál Mac Donncha faced when they entered the Dáil in 1997. Our team today wouldn't be able to do what we are doing had it not been for the groundbreaking work of our first TD.
• Seán South 
It was 30 years ago when Caoimhghín first contested the Leinster House seat, winning a respectable 7% of the vote. Over the three decades that followed, republicans in Cavan and Monaghan, through hard work and determination, built Sinn Féin into what it is today – 11 councillors, a TD who has held the seat in five consecutive elections, and an MEP.
When looking for advice on how to replicate this growth in our own areas we asked Caoimhghín what the secret of your success in Cavan/Monaghan was. His answer made it sound so simple. He told us of "The Three Rs" – that we have to be rooted, relevant and republican.
Commemorations are important events in our annual calendar. They are occasions where we remember the contribution and sacrifice of those who gave their lives for Irish freedom.
But they are also occasions for reflection – a chance to stop, to think, to remind ourselves who we are and to ask how we can best advance our struggle in the time ahead.
Our party constitution commits us to ending partition, reuniting our country and establishing a 32-county democratic socialist republic.
That is what we sign up to when we take the Sinn Féin membership card in our hand and commit to playing our part in the struggle.
We are not interested in grafting the Six Counties onto a deeply unequal and corrupt southern state. 
We believe that another Ireland is possible – a better fairer Ireland – and that a crucial element in building this 'Ireland of Equals' involves Irish unity.
We understand that Irish unity cannot be imposed on anyone. It must be agreed and must have room for everyone. After 30 years of conflict, that requires peace building, reconciliation and developing deeper relationships with unionists and with others. 
Equally, we are not simply interested in ending partition. The Ireland we want to create is one where every person has the chance for a bigger and better life. 
A democratic socialist republic is not an empty slogan. 
It means access to well-paid, good-quality employment. 
It means fair taxation. 
It means world-class universal public services in health, education and childcare. 
It means the right to a home. It means people having a real say in how their lives are governed. 
It means civil and religious liberty for all. 
• Caoimhghín Ó Caoláin and Sinn Féin have given a greater voice to republicanism in Cavan/Monaghan
It means Ireland playing a positive role in EU and world affairs, promoting peace, eradicating poverty, tackling climate change and providing a safe home for those fleeing war.
Achieving these goals means on the one hand building alliances with other progressive forces and at the same time challenging those who are opposed to change.
Sinn Féin is no longer a party of protest. We are in the business of taking power – in our communities, on our councils and in the Assembly and in the Dáil.
But what does this really mean and how can we achieve it?
Many people confuse holding office with wielding power. The two things are not the same. Electing councillors or TDs and MLAs does not give us power.
Indeed, being in Government does not necessarily give us power. 
To wield power we need to be in Government with like-minded allies working to a Programme for Government designed to deliver fundamental constitutional, political, social and economic change.
We also need to be part of mobilised, politicised communities and social movements outside of Government, ensuring that promises made during elections are kept and implemented in full.
Too often our discussion of power is narrowed down to how best to win an election and who to enter coalition with. These questions are important but they are not the only ones we need to be discussing.
Our frame of reference for this discussion is too narrow. We are not learning from the experience of others, outside of Ireland, who have tried and failed to do what we are attempting to do today.
• Operation Harvest re-enactment
Since the 1970s, seven countries across Europe have elected governments committed to fundamental social, economic and political change – 1974 in Britain, 1981 in France, 1996 in Italy, 1998 in Sweden, 2005 in Norway, 2009 in Iceland and 2015 in Greece.
These governments are important because they were coalitions of social democrats, Left socialists, greens and others who were trying to do in their countries what Sinn Féin is looking to do in Ireland today.
While many of them achieved important successes they all ultimately failed to deliver their core objectives. Left parties in each of these coalitions all suffered significant electoral decline as a result of their time in Government.
If Sinn Féin wants to be in government and to use that to build a better Ireland then we need to understand why those who have gone before us have not succeeded.
We need to understand the obstacles – domestic, European and global – that progressive governments face when they try to deliver the change mandated by their voters. 
We need to understand the mistakes they made, in alliances, strategies, tactics and policies. We need to understand this so we can do things differently. 
Learning these lessons is as important to ensuring that any re-established Northern Executive delivers as they are for our future entry to Government Buildings in Dublin.
Failure to learn these lessons will result in failure if and when we are in Government, North and South.
But if we equip ourselves with this knowledge we will be better placed to succeed where others could not.