13 February 2017 Edition
Trump's and Britain's special relationship with torture
British Prime Minister Edward Heath was part of a cover-up of acknowledged torture by the British Army's elite Parachute Regiment
THE TORTURE of west Belfast man Liam Holden is one of the most publicised cases of "waterboarding". 
The 19-year-old was convicted of the 1972 killing of a British paratrooper and sentenced to death. 
His sentence was later commuted to life and he served 17 years. His conviction was quashed in June 2013.
LORD PADDY ASHDOWN, the former leader of Britain's Liberal Democrats and an MI6 agent in the 1970s, sounded outraged on the BBC Radio Ulster Stephen Nolan show after Channel 4's exposé of evidence from Ministry of Defence files of torture by British forces during the conflict accepted by Whitehall.
Ashdown served in Belfast as an officer with the Royal Marines in 1970 after being a commander with the SAS's sister unit, the Special Boat Squadron. The 'good lord' must have known that British soldiers and the Royal Ulster Constabulary were given the green light to torture prisoners. Those not directly involved turned a blind eye. Generals and political leaders in London knew.
A Channel 4 News investigation by Alex Thomson broadcast on 1 February pointed the finger straight at the then British Prime Minister, Edward Heath as being part of a cover-up of acknowledged torture by the British Army's elite Parachute Regiment.
Declassified documents uncovered by the Derry-based Pat Finucane Centre prove that the Paras used "waterboarding" and electric shock methods on young nationalist men in west Belfast in 1972.
The papers show that Taoiseach Jack Lynch raised the matter with Edward Heath, his British counterpart, with documented minutes of the meeting revealing that Lynch highlighted "the treatment of an epileptic who had been interrogated five times" by British soldiers.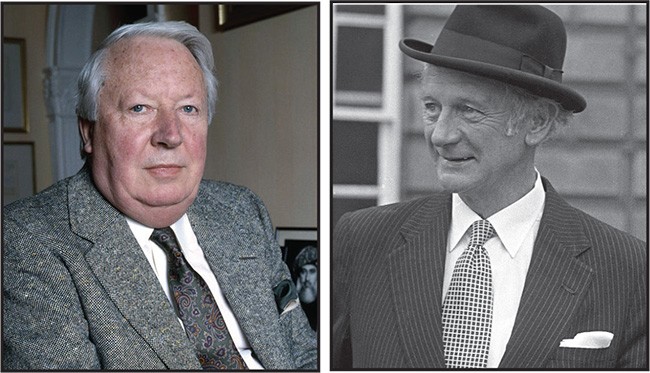 • Prime Minister Edward Heath and Taoiseach Jack Lynch
Of the cases covered in the previously secret cache of documents, one man accuses the RUC Special Branch of holding him over a table and pouring water up his nose, creating a sensation of drowning – "waterboarding".
Another man, aged just 17 at the time, told Channel 4 that, in August 1972, the paratroopers took him to their base in a local primary school in Ballymurphy.
The man said he was brutalised –"a lot of physical beating and kicking". It progressed to other forms of torture, including what is now known today as waterboarding:
"A cloth [was] tied around my head. I was held face down by the two soldiers and water poured over the back on my head which filled up the cloth."
This provoked a sensation of drowning. "Thinking back on it," he said, "it was suffocation."
He was "convinced" he was going to die, he told Channel 4.
That the British Ministry of Defence acknowledged that torture was used comes in documents from June 1975 which indicate that they were anticipating a court challenge. One record reads: "I think we must accept counsel's advice that he was assaulted."
It also referred to other brutality he suffered, adding that he was "subjected to electric shock treatment.
Another memo shows that a Ministry of Defence legal report concluded that "a court is likely to award exemplary damages to mark the improper use of executive power".
The Channel 4 broadcast was doubly awkward for the British Establishment given the reaction of politicians, military personnel and diplomats who baulked when United States President Donald Trump declared that "torture works" within days of British Prime Minister Theresa May's meeting with Trump at the White House.
Labour MP Gisela Stuart echoed many British politicians when she said:
"We have made it absolutely clear that waterboarding is unacceptable. I think we should make it clear don't go there."
But British forces did go there in Ireland.
British intelligence agencies such as MI6 would face a moral and legal obligation not to be involved with torture, diplomats declared.
Westminster and Whitehall saw no moral obligations not to be involved with torture. In fact, the only legal obligation they seemed to countenance was how to cover it up.
The European Commission of Human Rights ruled in 1976 in a case taken by the Irish Government that techniques used by the British Army in Ireland on 14 men chosen for "deep interrogation" (subjected to hooding, prolonged stress positions, white noise, sleep deprivation and denial of food and drink) amounted to torture.
The findings, however, were overturned on appeal two years later when the court ruled that, while the five techniques amounted to "a practice of inhuman and degrading treatment", they did not cause suffering of the intensity and cruelty sufficient to constitute torture.
The 1978 ruling was subsequently used as justification for the George W Bush administration's infamous "torture memos" outlining what interrogation techniques could and could not be used on detainees. Shortly afterwards, the CIA was using the five techniques in Iraq, Afghanistan and around the world – techniques made in Britain and developed in Ireland.
• Sinn Féin President Gerry Adams TD has now written to Taoiseach Enda Kenny and asked him to release the Irish Government minutes of the meeting between Taoiseach Jack Lynch and Prime Minister Edward Heath.