13 February 2017 Edition
Sinn Féin MPs host London briefings on developments
Labour, Tory and SNP MPs and embassies hear concerns over Stormont and Brexit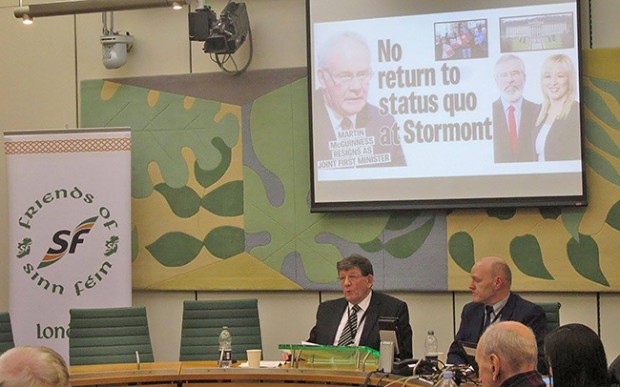 SINN FÉIN MPs undertook a special 'Programme of Engagement' with key people of influence in British politics following the Ard Chomhairle decision to withdraw Martin McGuinness from the role of deputy First Minister.
This complemented the ongoing year-round outreach by Sinn Féin MPs with political and public opinion.
MPs Francie Molloy (Mid Ulster) and Mickey Brady (Newry & Armagh) travelled to London on 17/18 January for a series of meetings with English and Scottish politicians from across the political spectrum. 
They met with members of the British Labour Party, British Conservative Party, and Scottish National Party. In each and every meeting the Sinn Féin MPs reflected the frustration of the nationalist community with the DUP's consistent disregard for the power-sharing structures and the equality agenda. 
They reiterated Sinn Féin's total opposition to direct rule from Westminster and pressed the case for fresh, all-inclusive talks following the new Assembly election.
Francie Molloy said:
"All the issues should be on the table and all the people should be around the table."
• Sinn Féin MPs Francie Molloy and Mickey Brady held meetings in London with English and Scottish politicians
The following week, MPs Pat Doherty (West Tyrone) and Paul Maskey (West Belfast) continued this work. 
On 24 January, Pat Doherty briefed the Trades Union Congress and conveyed to them the risk of direct rule for workers across the Six Counties. Suspension of the political institutions would unleash the worst elements of Tory austerity, including prescription charges, water charges, the Bedroom Tax, travel for over-60s, and a tripling of tuition fees. 
That evening, Paul Maskey and Pat Doherty hosted a public briefing, "No Return to the Status Quo – Defending the Good Friday Agreement" in Portcullis House, Westminster. The meeting attracted political activists and members of the Irish community in London. It was also attended by individual MPs from the British Labour Party and the Scottish National Party. 
The following day, 25 January, Pat Doherty and Paul Maskey briefed 19 London-based embassies from around the world about Sinn Féin's concerns surrounding Brexit and the argument for a special status with the EU. "Running through all of the current events in North is the Brexit issue," Pat Doherty told ambassadors and diplomatic officers from countries that included the United States, South Africa, Cuba, Germany and from across mainland Europe.