1 December 2015 Edition
Una Sloan, South Dublin
Fógraí Bháis
"A comrade described her as someone you could always rely on, no matter what the task. She brought a determination, energy, commitment selflessness and a confidence well beyond her years."
THE death has occurred of Una Sloan  (née Kane) of Ballyboden, Dublin, a committed republican activist and a former Sinn Féin candidate who passed away at a tragically young age at St Vincent's Hospital on 16 November.
A sister-in-law of Seán Crowe TD, Una's husband was former Portlaoise POW Eugene Sloan. She was also the mother of Conor and Eugene.
It was in July of this year that doctors had given her about two months to live. She battled on longer with her bright, good humour.
Seán Crowe described her as "stylish, immaculate and fashionably dressed, a beautiful, formidable and determined woman", someone who cared about her friends and neighbours, about her community, about her country.
A dedicated  Irish republican, Una was involved in all aspects of the freedom struggle, being an active member at different times of Cumann na mBan, Óglaigh na hÉireann, An Cumann Cabhrach and Sinn Féin.
"A comrade described her as someone you could always rely on, no matter what the task. She brought a determination, energy, commitment selflessness and a confidence well beyond her years."
Seán Crowe told of how Una stood as a local election election candidate for Sinn Féin back in June 1999 (narrowly missing a council seat) and working as his PA in the office in St Dominic's in Tallaght for five years, carrying out "life-changing" work. "Thirteen-plus years later, people still talk and ask about her," the Dublin South-West TD said.
She was very much part of the community in Whitechurch and active down the years in various committees, including the building of the community centre.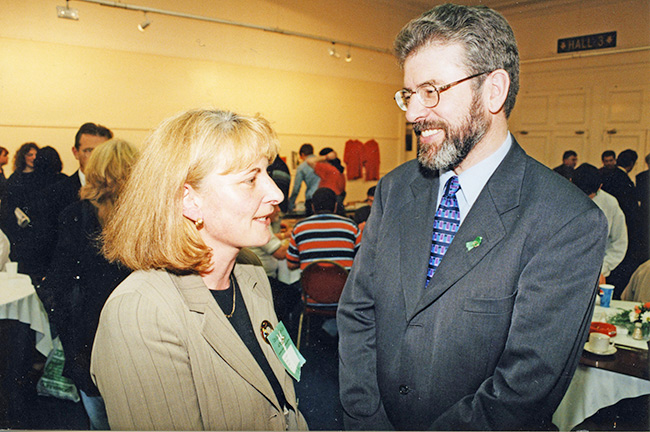 • Una with Sinn Féin President Gerry Adams
A large part of Una's and the family's lives was spent on visits to Eugene, a republican prisoner in Portlaoise who served two long sentences. Throughout that period she was hugely supportive and proud of him and his comrades.
"I have a copy of An Phoblacht at home that shows the two of them in a loving embrace outside Portlaoise Prison following Eugene's release after the signing of the Good Friday Agreement."
Describing how Una faced her final days, Seán Crowe added with unbridled affection:
"We all had some perfect days in the company of Una.
"We have a choice of how we remember Una.
"I will remember her for her sense of fun, her huge energy and, most of all, for the love of life that was Una Sloan."