1 December 2015 Edition
Equality and human rights are for everyone – Fiona McCausland
UNCOMFORTABLE CONVERSATIONS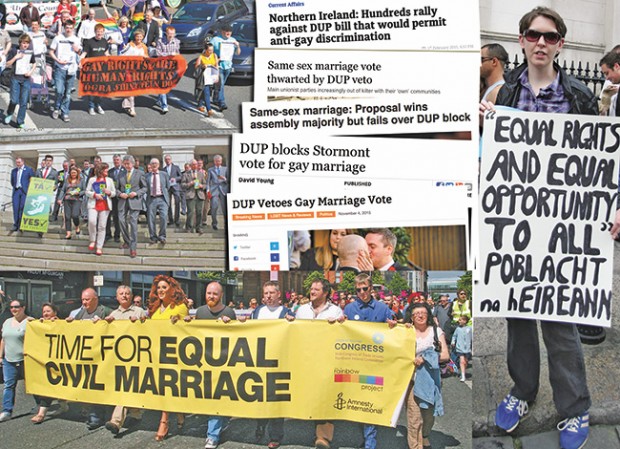 The opposition to the right to marriage of same-sex couples is not the only issue which requires to be addressed relevant to rights and equality
Fiona McCausland was born into the unionist community. She is a human rights activist, having worked closely with the Committee on the Administration of Justice, the Human Rights Consortium, the NI Anti-Poverty Network, and the Social Economy Agency.
AS I WRITE THIS, a gay couple who had been married in England began legal proceedings to have their marriage recognised in Northern Ireland. The Belfast High Court heard that they believed their union had been "devalued, demeaned and undermined" because it is not legally recognised in this region of the United Kingdom.
Amnesty International said it was ironic that a mechanism established to ensure the rights of minorities in Northern Ireland had been used by the Democratic Unionist Party to deny a fundamental right to the LGBT minority in the province.
Equality and human rights were at the heart of the 1998 Belfast  Agreement. How else could two parties in government of diametrically opposing views work together to progress the country without a framework based on international rights?  
The opposition to the right to marriage of same-sex couples is not the only issue which requires to be addressed in Northern Ireland relevant to rights and equality. The lack of an anti-poverty strategy, the difficulties around the gender, race and sexual orientation strategies, persistent inequalities between communities and the reluctance to introduce a Bill of Rights for Northern Ireland demonstrates how far we still have to go.
Equality and human rights are for everyone.  
There has been a little progress made here but has this resulted in a more peaceful and equal society for all or are only certain sections of the community benefitting? Is there, for example,  a form of equality for what are termed "community leaders"  that results in the actual communities having no input relevant to  the needs of their areas and realising that they are no better off after over two decades of the signing of the Belfast Agreement. The progress made regarding human rights and policing do not appear to extend to everyone in the community.
Is there any room in our society for those with an alternative voice or who have opinions which are unpopular, or do those views and opinions have to be made to appear subversive by the state. All democratic societies should be able to tolerate dissident voices as this can serve as a check on the excesses of unfair government legislation and policies. In Northern Ireland, raising a dissenting voice can result in the harassment of those who hold alternative or unpopular views and this can result in tensions within communities.
Again, all democratic societies demand fair and equal policing  but does this exist in Northern Ireland? For example, can women and children violated by state agents expect protection? The recent inquiry by the all-party group at Stormont found that women in some communities had been "intimidated and rendered voiceless". Through fear they could not speak out within their communities and could expect no support.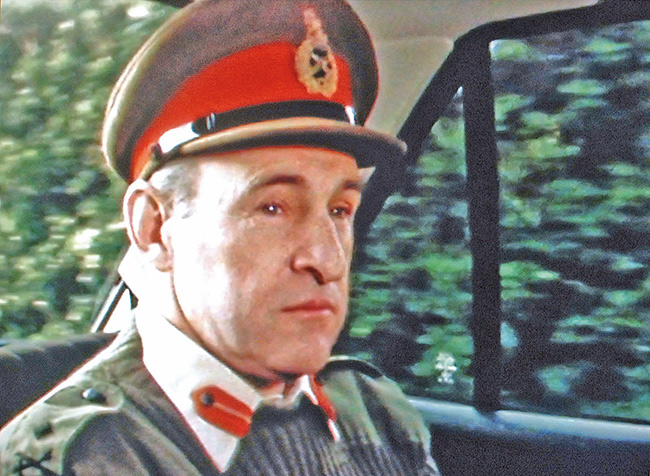 • British Army's Brigadier Frank Kitson
The arrival of General Kitson at the beginning of the Northern Ireland 'Troubles' laid the foundation for a region controlled by state security organisations who exploited the conflict to such an extent that it has left a legacy of collusion and fear throughout the most vulnerable of communities. This legacy continues to affect the democratic development of Northern Ireland and sustains division and fuels sectarianism and racism. 
An imperfect Peace Process emerged from the 1998 Belfast Agreement which has resulted in a succession of political crises which continue and this constant political infighting has hindered progress on rights and equality. It seems that equality and human rights has been undermined in the name of the Peace Process.  The undefined terms "good relations" and "national security" are also used as an excuse not to implement rights and equality.
The recession and austerity take priority in Westminster and the Assembly. Rights and equality have taken a back seat. The Bill of Rights for Northern Ireland has been put on the back burner and for some in the corridors of power it appears to be a step too far. 
I maintain that for the future of this country it is essential that the equality and human rights agenda becomes a line in the sand. It is only thus that a stable government can be achieved. There must be a fulfilment of equality and human rights entitlements. Those entitlements must be enjoyed by everyone – ourselves, our families, our communities and those that oppose us.  
The human rights and equality agenda is not a bargaining chip. It is central to democracy and real peace.
Editor's Note: Guest writers in the Uncomfortable Conversations series use their own terminology and do not always reflect the house style of An Phoblacht.