1 December 2015 Edition
Gerry Adams visits Friends of Sinn Féin in US and Canada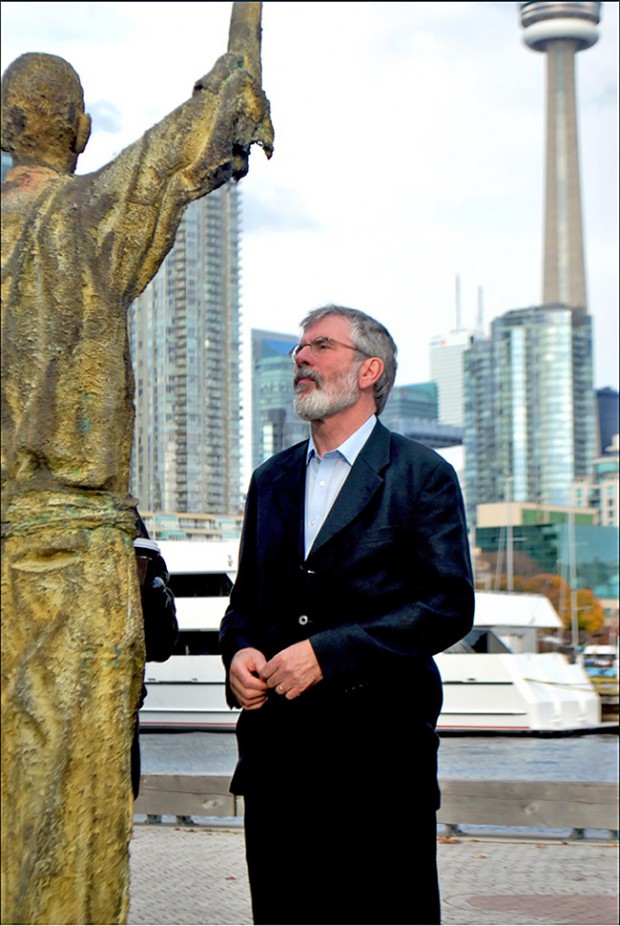 The audience covered the wide spectrum of Irish-America, from longstanding friends of Irish freedom who have risen to the heights of leadership in their communities, trade unions and business to new, young emigrants forced by austerity to seek work away from home
THE 20th Friends of Sinn Féin (USA) fund-raising dinner was attended by 700 people in New York in November where the guests of honour were TDs Mary Lou McDonald and Gerry Adams, who was on a speaking tour that included Canada.
Gerry Adams said that it is a testament to the commitment and hard work of the Friends of Sinn Féin (FOSF) committee that this dinner is now an annual feature on the Irish-American calendar and is such a success.
The audience covered the wide spectrum of Irish-America, from longstanding friends of Irish freedom who have risen to the heights of leadership in their communities, trade unions and business to new, young emigrants forced by austerity to seek work away from home.
• Gerry presents Calgary's Alex O'Donnell with the Rita Adams Saoirse na hÉireann Award for service to the Irish republican cause in Canada
Money raised at the event is used to help finance FOSF's lobbying and education programmes, including speaking tours and briefings by Sinn Féin elected representatives from Irealnd with politicians, campaign groups and opinion formers across the United States.
With the 1916 centenary on the horizon, the Easter Rising was foremost in people's minds and Friends of Sinn Féin and Sinn Féin's representative in the US, Rita O'Hare, provided guests with an acclaimed booklet, America and the 1916 Rising, an account of Irish America's role in the planning and resourcing of the rebellion,  accompanied by a pamphlet, Timeline 1916, which traces the significant dates in the years leading up to April 1916.
The programme for the evening was opened by Friends of Sinn Féin USA President Jim Cullen who introduced Mary Lou McDonald and FOSF founder member Fay Devlin from Tyrone who welcomed Gerry Adams to the podium.
• Gerry Adams at the 20th Friends of Sinn Féin (USA) fund-raising dinner
Smilingly taking a swipe at criticism from Fine Gael and Labour TDs complaining about Gerry and Mary Lou being absent from the Dáil (the same parties whose TDs missed important votes even when they were in Dublin), Gerry Adams said in a stage aside to Mary Lou:
"Just so you know, the Irish Labour Party and the Fine Gael party have been complaining, Mary Lou, about you and I being here.
"And these are the parties that have sent more than half a million Irish people scattered throughout the world, not least here in the United States, because of their disastrous economic policies.
"So I would just like to send a word to the Taoiseach and the Tánaiste: Mary Lou and I are coming back. We'll see you in the Dáil and we'll hold you to account for all the things you haven't done despite all your promises in the last election to do so."