1 December 2015 Edition
Irish Appeal for Release of Arnaldo Otegi and Basque Political Prisoners launched at Dáil
THE Irish Appeal for the Release of Arnaldo Otegi and Basque Political Prisoners was formally launched at the Dáil in Dublin on Thursday 19 November on behalf of a number of Irish parliamentarians, trade unionists, religious figures sports personalities and celebrities in music and the arts.
The event was hosted by Members of Parliament Maureen O'Sullivan, Finian McGrath and Gerry Adams. Lord John Alderdice, former leader of the Alliance Party, has also endorsed the appeal and present at the launch were Thomas Pringle (Independent) and Paul Murphy (Socialist Party) and Sinn Féin TDs Sandra McLellan and Michael Colreavy. (Ongoing Dáil debates prevented other members attending.)
The Irish appeal follows the signing earlier this year of the 'International Declaration to Free Arnaldo Otegi and Bring All Basque Political Prisoners Home'. This was signed by Gerry Adams, Desmond Tutu, Harold Good, Mairead Maguire, Ken Livingstone, Leila Khaled and Tariq Ali among a host of worldwide peace process activists.
Other prominent signatories include former President of Uruguay, Pepe Mujica (imprisoned for 13 years) and former President of Honduras Manuel Zelaya, ousted in the 2009 military coup that was denounced by the United Nations. Also signing is South Africa anti-apartheid activist Ahmed Kathrada, who spent almost 30 years in prison alongside Walter Sisulu and Nelson Mandela before going on to launch the Release Mandela Campaign and becoming President Mandela's Parliamentary Counsellor in democratic South Africa. 
Launched in the European Parliament on 24 March by the Basque Friendship Group in the European Parliament, the declaration calls for:
Release of Basque leader Arnaldo Otegi;
Ending of Spanish Government dispersal policy used against Basque prisoners;
Release of seriously-ill prisoners;
Ending of incarceration of people belonging to political organisations and ongoing legal processes against them.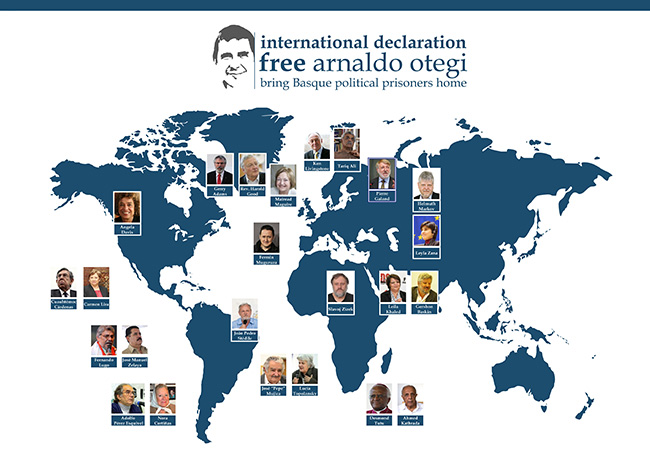 In October of 2011, ETA responded to a call from the Aiete International Peace Conference by declaring a definitive end to its 50 years of armed activity, and opening a process of dialogue. Nobel Peace Prize Laureate Desmond Tutu called Arnaldo Otegi, former spokesperson of Batasuna and now Secretary General of the political party Sortu, "the leader of the peace process". Otegi was the prime mover pressing the independence movement to embrace argument and the power of word as the only means to resolve all conflict.
Regrettably, the Spanish Government responded to Otegi's efforts by arresting him in October 2009. He was sentenced to six and a half years in prison for membership of the political party Batasuna, which had been banned by the Spanish Government. Since then, despite the end of ETA's armed activity – including their demonstrated commitment to disarmament, dialogue and reconciliation, and reflecting recognition of the suffering of all victims – there is still an absence of any positive response from the Spanish State.
Arnaldo Otegi, whose case has been raised to the European Court of Human Rights, is being held in a Spanish prison far away from his family and friends. The same goes for some 500 other Basque prisoners related to this conflict.
They are deliberately dispersed, often in solitary confinement, and all are in prisons long distances from the Basque Country. It is a policy that brings and added punishment to their families, forced to travel long distances to visit their loved ones.
At the launch of the Irish appeal, chaired by Pablo Vicente and Maureen O'Sullivan TD, artist and social activist Robert Ballagh compared Spain's dispersal policy to that of Britain's punitive prison practice of 'ghosting' Irish political prisoners during the conflict, moving prisoners as far away from visiting relatives as possible.
Independent TD Finian McGrath, famous Basque musician Fermin Muguruza, and Gerry Adams all spoke of the importance of people in Ireland and across the globe mobilising to support the Basque peace process in the face of the incomprehensible intransigence of the Spanish state.
In Leinster House at the launch of the Irish appeal, Basque Senator Urko Aiartza, who is also a lawyer, told An Phoblacht that the involvement of the Irish public and politicians was important in trying to encourage Spain, a member of the EU, to embrace the peace process.
Just before the launch, Senator Aiartza gave a briefing to the Oireachtas Committee on Foreign Affairs on the situation in the Basque Country. "TDs and senators are very interested in what is happening and many agree there must be a shift, a change in policy by the Spanish Government. There are elections in Spain in December so let's hope there is a change in attitude."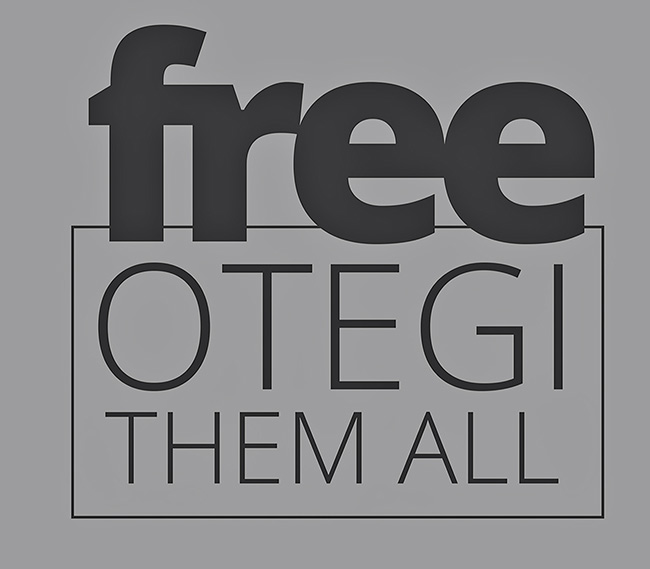 Signatories of the Irish Appeal
Sports personalities
Jimmy Barry-Murphy 
Peter Canavan
Terence (Sambo) McNaughton 
Aisling Reilly
Trevor Hogan 
Lynne Cantwell
Michael Conroy
Paul (Dudey) McCloskey 
Artists
Robert Ballagh
Danny Devenny
Marty Lyons 
Musicians
Frances Black 
Damien Dempsey 
Bréag
Gráinne Holland
Derek Warfield
Barry Kerr 
Eoghan Quigg
Writers, journalists and academics
Tim Pat Coogan
Dr Laurence McKeown 
Tom McGurk
Jude Collins 
Dr Féilim Ó hAdhmail 
Religious leaders
Reverend Harold Good
Rev Bill Shaw
Fr Gerry Reynolds 
Fr Des Wilson
Trade unionists and other well-known activists
Patricia McKeown
John Douglas
Tommy McKearney
James Connolly Heron
Mairead Maguire