1 October 2015 Edition
Jo Spain – 'With Our Blessing'
From writing for An Phoblacht and the Sunday World to working with Pearse Doherty TD, the new Irish murder mystery best-seller's story
'I was in a Sinn Féin meeting in Leinster House about the European and local elections last year and I got an email saying I had been short-listed in Richard & Judy's Search for a Bestseller competition – I just started crying'
HER JUST-RELEASED debut crime novel With Our Blessing is flying off the shelves in the shops. An Phoblacht's MARK MOLONEY caught up with top Irish author JO SPAIN, not just in the Top Ten in TV's Richard & Judy "Search for a Bestseller" but a former Sinn Féin Dáil election candidate – and An Phoblacht journalist!
DUBLIN, and it's a sunny afternoon in September. Jo has just finished an interview with the Irish Examiner at the Merrion Hotel. "I'm knackered, I might just grab a taxi out to Sunshine FM," she tells me. "I didn't expect to be so long. The interviewer kept me talking for two hours but I didn't mind because she loved the book," laughs Jo. Critic Sue Leonard is the latest in a long line to praise Jo's debut novel, which is in the Irish bestsellers chart.
It's the first day in a week she has taken off from her other full-time job, as Senior Economic Adviser to Sinn Féin in Leinster House. For the next five days she will be appearing on radio stations, speaking to journalists and doing book signings as part of a publicity drive.
Her crime-thriller, With Our Blessing, follows Garda Detective Tom Reynolds as he tries to catch the killer of a woman in Dublin's Phoenix Park, a crime he is convinced is linked to historical events at the notorious Magdalene Laundries 35 years previously. 
Joanne admits she is more comfortable and used to being the interviewer than the interviewee. Indeed, she was a long-time journalist writing for papers ranging from An Phoblacht to the Sunday World.
"When I used to write in school, every teacher I had used to tell me I was going to be a writer. I remember in college one lecturer told me: 'You clearly haven't studied this topic whatsoever, but your essay is brilliant'."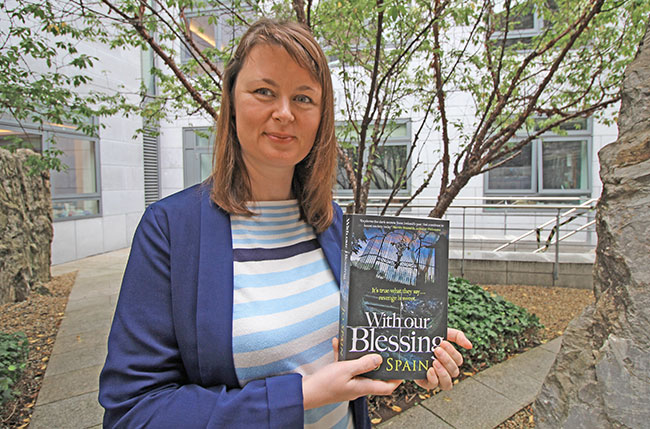 • The plot of 'With Our Blessing', which revolves around the legacy of Ireland's Mother and Baby Homes, is not only unusual – it's also very personal for Jo
She recalls that she was not keen on continuing with writing for mainstream tabloid newspapers, saying she wanted to do something a bit more serious and meaningful. The day after her college exams, she started writing for An Phoblacht:
"Mícheál Mac Donncha said to me, 'An Phoblacht is looking for journalists, I don't know what the pay is like.' So I phoned up the editor, Martin, and went for an interview and started working (unpaid) the day after my last exam in college."
This was the first time Joanne met Martin. He's now her husband but it wasn't a Mills & Boon tale of love at first sight.
"At first I couldn't stand him," she laughs uproariously. "He was a horrible editor – he still is; he edits the books for me. He never learned that teaching thing of 'for every negative you give a positive'. So he'd scroll past loads of great writing and stop on a negative and go 'This is shit'. He was like that then – and he's like that now," she reveals, still laughing. "So I was planning on leaving An Phoblacht after six months and at the Christmas party I had a go at him, saying: 'It wouldn't kill you to compliment a good piece of work.' So I put manners on him, and since then our love blossomed."
She describes An Phoblacht as her "stomping ground".
"It was where I got politicised. They would have me writing pieces on Britain's shoot-to-kill policy in the North, which at the time I wouldn't have known much about. So it was an education in itself being there."
Jo says that, despite her love of journalism, she has always wanted to write a book but only took the decision to make it a reality two years ago.
"I decided to write it in 2013. I always wanted to write a book but so does everybody and everybody has a book in them. I decided I had to be diligent about it."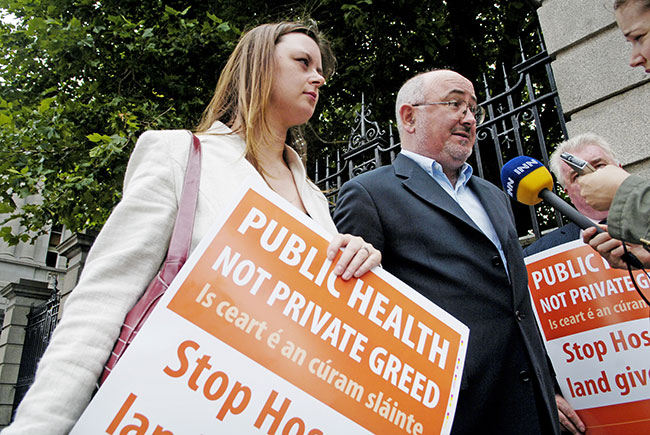 •  Jo Spain stood as a candidate for Sinn Féin in the 2007 general election in Dublin Mid-West, where she polled an impressive 9.3% of the vote
She quickly made the point of telling friends and work colleagues (including Donegal Sinn Féin TD Pearse Doherty, who shares a love for crime fiction) that she was going to writea best-seller. "I knew if I told people I was writing a book, then I'd have to do it. That was my cunning plan," she smiles.
The plot of With Our Blessing, which revolves around the legacy of Ireland's "Mother and Baby Homes", is not only unusual – it's also very personal for Jo.
"I was aware of the Magdalene Laundries because it was all over the news in the last few years and I'd known my dad had been adopted but I never made the link that he must have came from a Mother and Baby Home. When I was doing all the research it dawned on me that he had to have come from one because he was born in 1951."
In 2013, she had found the circumstances of her late father's adoption after contacting the Health Service Executive. It was at this time she wrote her feature for An Phoblacht, "Stolen Babies – The next campaign for justice" (available online).
Her father, Raymond, had been adopted from St Patrick's Mother and Baby Home in 1955. Joanne wrote how her own birth had led to her father becoming "angry, confused and saddened" as to how his own mother could give up her child for adoption. He died tragically in 1995, never knowing the full story.
Joanne took it upon herself to find out what she could. It turned out her grandmother had come from a desperately poor Leitrim family. The youngest of eleven, her parents both died when she was very young and she was taken in by the nuns. Later, single and pregnant, she ended up in a Mother and Baby Home.
"She defied the odds, for a little while at least. After my father was born, she stayed with him until he was 18 months old, at which point she left St Pat's and got a job. The records show she visited him every day and at the end of 1953 she took him out. At the end of 1954 – impoverished, alone and unable to cope – she brought my dad back to the orphanage and allowed him to be placed for adoption. She saw him until he was adopted in late 1955, aged four. All he ever remembered was being given a snow globe by a lady and told it was very important he keep the small gift."
She says the revelations about her father's adoption from such a home made the whole novel-writing process very important.
"It brought a weight to the book. I just had a plot on this fascinating time period but it's like studying the Titanic or the Holocaust; they are fascinating but when you look in detail it's very traumatic. So then when I realised I had a family member who had been through this it was quite distressing. It weighed on me and it made the task a lot more difficult – but it also meant I had to do a better job.
"The best tip I read was to write a book that you would like to read. I wanted to make the lead detective somebody I could relate to."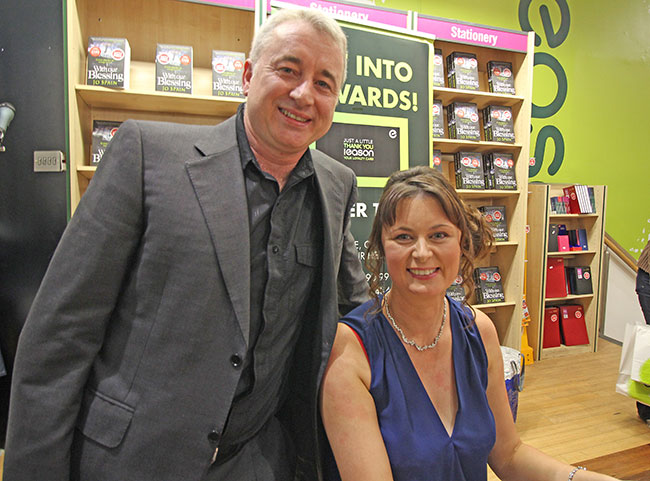 • Jo Spain with husband Martin at a book signing for With Our Blessing in Dublin
She says she felt more comfortable writing the protagonist Tom Reynolds as a man and that some of his traits were certainly inspired by her husband, Martin.
"I think if the main character was a female detective there would have been a bit too much of me in it. I also didn't want him to be some stereotypical embattled alcoholic. Those kind of characters seem a bit ridiculous so I wanted a person who would be realisitic. I did take some of his qualities from my husband. His love of coffee, cigars and staying up late are all Martin's traits – which probably makes them much more authentic."
She had entered TV presenters Richard Madeley and Judy Finnigan's "Search for a Bestseller" competition. There were thousands of entries and she admits she had forgotten all about it.
"I was in a Sinn Féin meeting in Leinster House about the European and local elections last year and I got an email saying I had been short-listed, that my book was in the top seven. I just started crying and everyone in the meeting was clapping and cheering."
• Jo Spain is a senior economic adviser to Sinn Féin in the Oireachtas
Although she didn't win, her book was immediately snapped up by Quercus, the publishing house well-known for books such as The Girl with the Dragon Tattoo by Stieg Larsson.
So how has she managed working as an economic adviser, writing a book and raising four children?
"I'm just really tired. But the one thing about writing a book is that it's not work. It wasn't stressful. I just wrote it at night-time after the kids were in bed, and at weekends. I didn't do much else. I had to go clothes shopping for the book launches and I just realised 'Oh, my God, I haven't done this in ages,'"she says.
So what next for Jo? 
Her next book is in the proofing stage and Detective Tom Reynolds will be back.
"I've already done religion, so my next one is on politics." Though she isn't giving too much away, she reveals it will deal with a murder inside Leinster House.
Pointing to the Sinn Féin landing, she chuckles:  "Our people are going to love it."