3 August 2015 Edition
Gerry Adams and the IRA raid on the Irish Independent
Sinn Féin leader wins Press Council complaint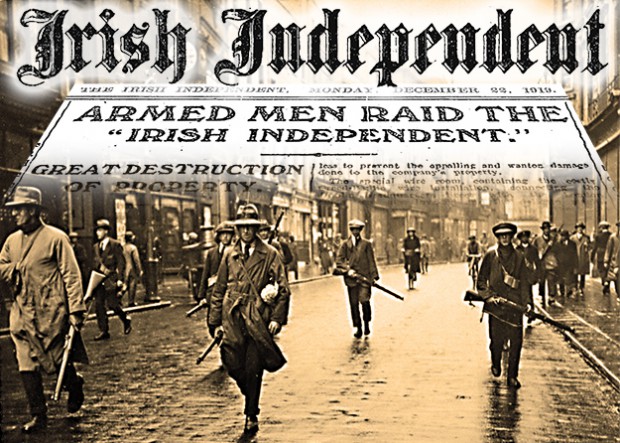 Michael Collins's men said they should have shot the editor of the Irish Independent after it had condemned the IRA
THE Press Council has upheld a complaint by Gerry Adams that the Irish Independent distorted comments he made in relation to the newspaper during a speech in New York last November. 
Adams, commenting on the Indo's virulent anti-republican campaign, noted as  a matter of history that during the Tan War, on 19 December 1919, Michael Collins's response to "the Independent's criticism of the fight for freedom was to dispatch Volunteers to the Independent's offices" who held the editor at gunpoint and destroyed the printing press. 
The Indo was found to have taken Adams's comments out of context and had not made it clear that it was about an incident a century ago – thus making it seem that Adams had threatened the current editor.
The Indo's criticism in 1919 was of the attempted assassination of  the Lord Lietenant of Ireland and Supreme Commander of the British Army in Ireland, Lord John French, as he returned to the Phoenix Park from Ashtown train station. During the attempted ambush, 21-year-old IRA Volunteer Martin Savage was killed. Lord French managed to escape.
Under the editorial title "A deplorable outrage", the Irish Independent condemned the actions of the freedom fighters as "appalling, revolting, immoral, unchristian and reprehensible deeds" which "discredit the country" while engaging in thinly-veiled gloating at the death of Volunteer Martin Savage.
So outraged were the IRA over the coverage of the Ashtown attack and the condemnation of their comrade that they decided to take action.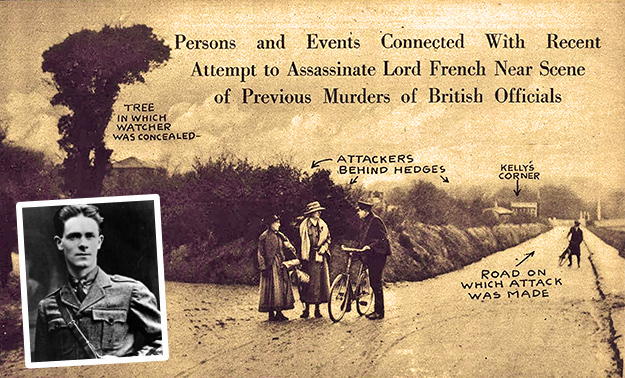 • 21-year-old IRA Volunteer Martin Savage (inset) was killed during a gun battle following the attempt on Lord French who managed to escape
Speaking to the Bureau of Military History, Lieutenant Patrick J. Kelly of the Dublin Brigade said:
"Dick McKee and Peadar Clancy deemed it about time to teach the Independent a lesson," he said, explaining how about 30 Volunteers surrounded the newspaper offices and printers on Middle Abbey Street with 16 (including himself) going inside armed with revolvers, sledgehammers, crowbars and heavy wrenches. "Two DMP [police officers] who were on guard outside bade us goodnight, no doubt mistaking us for workmen," he recalls.
The editor and ten staff members were then held at gunpoint while the Volunteers went to work dismantling the machinery. A statement was also given to the editor with orders that he print it in the following edition. "Peadar Clancy remarked to me later 'We should have shot the editor'."
Reporting on the attack in the Independent on Monday, the paper said that the IRA had "wrecked practically all the valuable machinery on the premises" and that staff were "covered with revolvers" while the printing presses were shattered.
The Indo also complied with demands from the IRA and published a statement from the "raiders" which explained that "to brand with the name of 'assassin' a high-souled youth [Martin Savage] who risked his life and gave it in an endeavour to rid his country of one of these tyrants, you have outraged the sensibilities and endeavoured to misrepresent the sympathies and opinion of the Irish people. This suppression will illustrate to the Irish people that you have been thus reminded."
In a twist of fate, the Volunteer who had held the editor at gunpoint, Bill Judge, was later sent by his business to meet with the editor a week later: "As he entered, the editor looked up from his desk and, seeing Bill, automatically raised his hands. Bill said 'This is a business call' and went on to explain his errand. There was no reference made to his previous visit."