3 August 2015 Edition
Another Europe is possible – Treo eile don Eoraip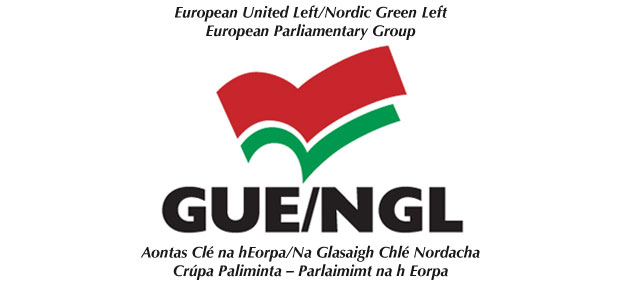 Funded by the European United Left / Nordic Green Left (GUE/NGL) | Aontas Clé na hEorpa / Na Glasaigh Chlé Nordacha Crúpa Paliminta – Parlaimimt na h Eorpa
MEPs ignore European public's opposition to TTIP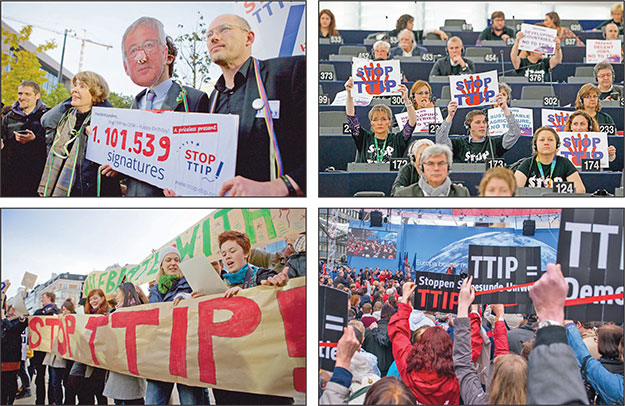 MEMBERS of the European Parliament have voted in favour of a controversial report on the Trans-Atlantic Trade and Investment Partnership (TTIP) – the massive new free trade deal being negotiated between the EU and the US.
Speaking from Strasbourg on 8 July, Midlands North West MEP Matt Carthy, said:
"I am hugely disappointed by today's vote in the European Parliament on the report on TTIP.
"In my view, this vote gives a free hand to the Commission to continue with the approach to these trade negotiations.
"TTIP represents a real threat to our democratic institutions, our standards, our public services, our workers and our agricultural sector. The report adopted today does very little to address these threats in any meaningful way.
"There is little attempt to thwart the handover of power to corporations and investors as the watered-down proposal for an Investor State Dispute Settlement contained in the report still allows democratic decisions to be subverted for the interests of those solely interested in the profit margins.
"Today was an opportunity for MEPs to take a stand and shape the mandate of the European Commission to ensure that the interests of citizens right across Europe were placed at the heart of these negotiations.
"Instead, they have given a green light to the European Commission to sell off our core values and standards to the highest bidder with little thought to the consequences for ordinary people across Europe."
EU should not fund Israeli groups in breach of international law
• Martina Anderson and other MEPs show solidaity with the Freedom Flotilla currently on its way to deliver humanitarian aid to the people of Gaza 
DOZENS of MEPs have demanded an end to EU funding of Israeli organisations involved in breaching international human rights laws. 
Martina Anderson MEP is the Chair of the EU's Delegation to the Palestinian Legislative Council. She wrote and circulated a letter calling for an end to this funding which was signed by 79 MEPs before being sent to Fedrica Morgherni, the High Representative of the EU for Foreign Affairs, on 17 July. 
"There is widespread concern among Palestinian groups about some of the Israeli groups accessing funding from the Horizon 2020 programme," Martina Anderson said. Horizon 2020 is an €80billion EU funding Research and Innovation Programme.
"Those views are shared by a growing number of MEPs who are concerned that current EU guidelines to assist international law do not go far enough. 
"Palestinian groups have brought to our attention a report by the 'Stop the Wall' group detailing financial assistance given to Israeli military and security companies who are involved in violations of international law. 
"The international community and the EU in particular have a responsibility to support the Palestinian people and challenges breaches of international law."
Martina Anderson also hosted a delegation of Palestine solidarity activists from the North of Ireland at the European Parliament in Brussels on 1 July. 
Members of the delegation met a range of Palestinian officials, including Shebli Hadi, the head of Palestine's mission to the EU, to discuss the latest developments in the region. 
European Council calls on Britain to support Irish language rights
• Liadh Ní Riada
THE European Council's Committee of Ministers has recommended that Britain "adopt and implement a comprehensive Irish language policy, preferably through the adoption of legislation providing statutory rights for the Irish speakers" as a matter of priority. 
The call followed the third and fourth monitoring cycles on the application of the European Charter for Regional or Minority Languages.
MEPs Liadh Ní Riada and Martina Anderson met with Thorsten Afflerbach, the head of Secretariat for European Charter for Regional or Minority Languages, on 8 July to discuss this recommendation and how the introduction of legislation can help to protect and develop regional or minority languages.
Liadh Ní Riada said:
"This meeting was a useful engagement and Martina and I, along with Minister for Culture in the North Caral Ní Chuilin, hope to meet with Dr Vesna Crnic-Grotic (Chair of the Committee of Experts of the European Charter for Regional or Minority Languages) in the next few months to discuss this in further detail. 
"Acht na Gaeilge is a commitment under the St Andrews Agreement and it is about achieving rights and equality for those who use the language every day.
"The protection and enhancement of the Irish language does not pose a threat to anybody. In fact, it will improve levels of appreciation for cultural diversity across all communities.
"On 10 February 2015, the Department of Culture, Arts and Leisure launched a public consultation on proposals for an Irish Language Bill and thousands of submissions were made.
"The rights of Irish speakers need to be afforded official protection in legislation."
Youth unemployment delegation in Brussels
• Lynn Boylan 
DOZENS of young people and activists visited the European Parliament in Brussels on 30 June at the invitation of Dublin MEP Lynn Boylan to discuss the issue of youth unemployment.
The delegation met with trade union representatives from Belgium and Germany; the European Youth Forum, which represents 99 youth organisations; and the EU Commission youth employment and entrepreneurship sector.
Speaking following the delegation's visit, Lynn Boylan said: 
"One of our delegates asked an interesting question of the Commission and guest speakers: if any young person in the EU had actually obtained employment out of participation in the Youth Guarantee programme."
(The EU Youth Guarantee is a fund and programme established by the EU aimed at ensuring all young people are in employment, education or training.)
"The European Youth Forum representative explained that a review carried out by the European Court of auditors in March stated that they have yet to see a single person that has got a job from the Youth Guarantee."
Lynn Boylan added:
"When you look at frightening statistics like five million unemployed young people across the EU, not only do we need to develop a comprehensive, well-funded plan to tackle this problem, we need a change of policy.  
"Austerity is not working. Investing in our young people without growing the economy and creating jobs will not solve the problem. We also need to ensure that the jobs being created are quality jobs, not the precarious and low-paid jobs young people too often find themselves in."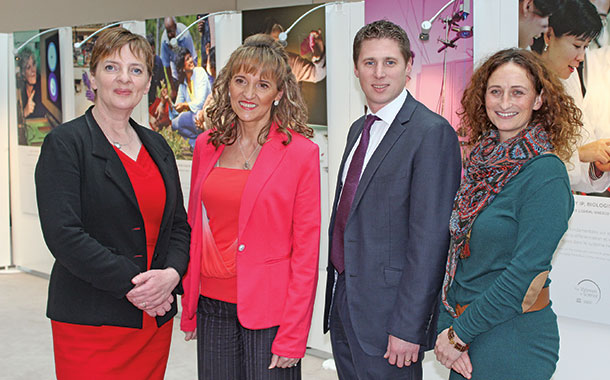 • Liadh Ní Riada, Martina Anderson, Matt Carthy and Lynn Boylan are MEPs and members of theGUE/NGL Group in the European Parliament
Irish Marine Minister refuses to meet sole Irish MEP on Fisheries Committee
LIADH NÍ RIADA, MEP for Ireland South has strongly criticised Ireland's Minister for Agriculture, Food & the Marine, Simon Coveney, for ignoring her repeated requests for a one-to-one meeting to discuss the situation in Irish fisheries.
Speaking on 8 July, Liadh Ní Riada said:
"It is incredible that Minister Simon Coveney has been long ignoring my requests for a meeting considering that I am the only Irish MEP on the European Committee for Fisheries.
"There are pressing issues that we both need to discuss such as how the absence of a commercial quota restricts sustainable recreational practices and the 'catch and release' programmes. I also want to discuss a Single Boat Payment plan with the Minister.
"There is a litany of pressing issues which demands a constructive engagement between the minister and I, so I am once again calling on him to make the time to hold this discussion."
Mobile roaming charges deadline must be enforced
MARTINA ANDERSON MEP has called on the European Council to enforce a new deadline for the abolition of mobile phone roaming charges. 
Speaking on 30 June, she said:
"Last year the European Commission agreed to scrap roaming charges by December this year; however the Council pushed the date back to 2018.
"That delay was unacceptable to us and would have led to people living and working in border areas being hit with unfair roaming charges for another three years. 
"Matt Carthy and I recently met with senior officials from the European Council to discuss this.
"Today's decision by the European Council to bring forward the date for the abolition of roaming charges is welcome but they will still be in place until June 2017.
"The onus is now on the European Council to ensure this deadline is adhered to so that customers, particularly those in Border areas, are not penalised by unfair charges beyond that date."
Ireland should legislate to stop 'vulture funds'
MATT CARTHY MEP, member of the Economic and Monetary Affairs Committee, has highlighted the importance of establishing a new legal framework for sovereign debt restructuring to prevent 'vulture funds' posing a risk to all future debt restructuring processes.
"Vulture funds are predatory hedge funds that buy bonds of debt crises countries at rock-bottom prices on the secondary market," Matt Carthy explained.
"They pose a number of risks to all future debt restructuring processes, for both developing and developed countries.
"It is imperative that safeguards are established to effectively deal with these concerns.
"I'm calling on the Irish Government to follow the lead of Belgium which has passed a law to cap how much these vulture funds can recoup from Government debt."
Lynn Boylan Right2Water report adopted by Environment Committee
THE European Parliament's Environment Committee adopted the Boylan Report on the Right to Water on 25 June. 
The report's author, Dublin MEP Lynn Boylan, said: 
"I am absolutely delighted that the committee has adopted all my recommendations on the European Citizen's Initiative (ECI) on the Right2Water in spite of the attempts by Fine Gael's EPP group to postpone the vote. 
"Almost two million citizens signed this ECI and the Commission's response was simply not good enough.
"Citizens have serious and legitimate concerns regarding the privatisation of water services which I have highlighted in my report. Water is a human right, not a commodity.
"I am especially pleased to see that my amendments excluding water services from internal market rules and trade agreements such as TTIP were successful."