3 August 2015 Edition
Banded hours contracts Bill published by Sinn Féin
Some workers see their hours vary wildly from one week to the next, making the simplest of planning – be it childcare or meeting the bills – unduly difficult
Sinn Féin has published legislation that provides for banded hour contracts which goes some way to address the imbalance between rights and responsibilities pursued by poor employers like Dunnes Stores
A SURVEY of Dunnes Stores workers carried out by the trade union Mandate earlier this year found that two thirds of the successful retail chain's staff are on part-time flexible contracts, yet a whopping 98% of these workers want more weekly hours.
Don't let anyone fool you into believing Dunnes Stores employment model is due to the seasonal nature of the retail sector. Sure, extra workers are taken on over the Christmas and New Year periods, and of course there are peaks and troughs in business during the year but this is not unique to the retail sector. Most businesses have what they call quiet periods. 
In sectors like retail and hospitality, where activity significantly increases during specific times of the year, business owners and management plan their staff requirements by providing a core level of staff throughout the year, and then increasing shifts or taking on temporary staff during the busy periods.   
But be very clear – this is not what has been happening in Dunnes Stores or elsewhere, where similar practices are deployed. 
Dunnes management have very deliberately kept the majority of their staff on short-hour flexible contracts in an effort to limit their obligations. 
Even where some staff regularly work longer hours, they remain on short-hour contracts, making them, in effect, full-time permanent staff on short-hour, insecure contracts. 
Some workers see their hours vary wildly from one week to the next, making the simplest of planning – be it childcare or meeting the bills – unduly difficult.
• Thousands rally in support of striking Dunnes Stores workers
Dunnes is a highly profitable company that has been in the retail business for a long time. There is no sound business case to be made for treating employees in such a draconian manner in a developed 21st century economy. We want businesses to be profitable. We also expect employers to provide fair terms and conditions for their staff, and that they engage with the state's industrial relations mechanisms.
Where companies take the decision to ignore trade unions and the Labour Court, legislators have an obligation to intervene by providing alternative ways to facilitate the relationship between employers and their staff or the trade unions that represent them. 
Sinn Féin has published legislation that provides for banded hour contracts which goes some way to address the imbalance between rights and responsibilities pursued by poor employers like Dunnes Stores.
Banded hour contracts have been successfully negotiated by Mandate with a number of employers so they are already an accepted mechanism by unions and employers alike to provide stability to workers in a way that does not damage the viability of businesses.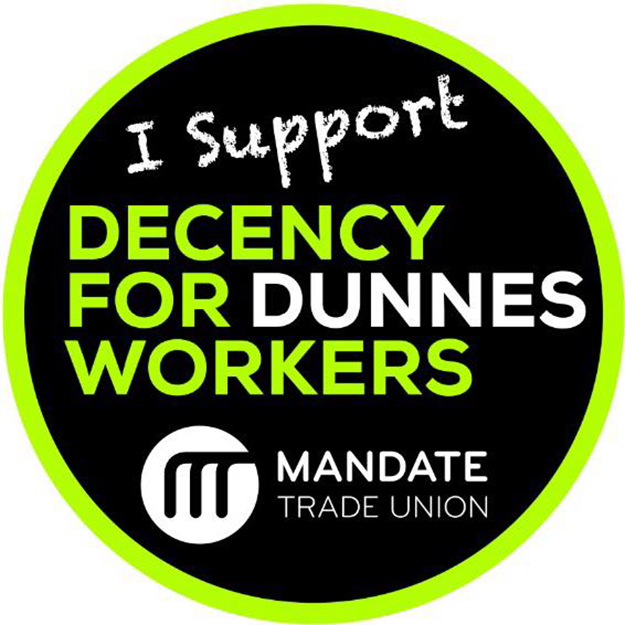 Sinn Féin's Bill (launched by Sinn Féin Jobs spokesperson Peadar Tóibín TD and Workers' Rights spokesperson Senator David Cullinane) enables a worker or their trade union representative to formally request increased weekly hours after six months in the same employment. There are seven bands provided for, from 11.5 hours to 37 plus. An employer must consider the request and can only refuse on the basis that it is not economically viable for the business to do so. Where an employee disagrees with the refusal they can pursue their complaint through the Workplace Relations Commission. Employers must also provide to all employees the overall availability of working hours in the employment.
The Labour Party in Government has failed (or refused) to address the emerging fault lines in Ireland's industrial relations system despite the hoopla around recent legislation regarding Registered Employment Agreements and collective bargaining. With the former they are simply reinstating a mechanism that had been in place as long as my Granny has been alive. 
As for collective bargaining, the Programme for Government even concedes that the Government has only finally delivered on this "to ensure compliance by the state with recent judgements of the European Court of Human Rights". 
We welcome both but those who portray these pieces of legislation as great victories are selling you a pup. To pinch and adapt Fianna Fáil's old election slogan . . . some done – a lot more to do!