3 August 2015 Edition
Sinn Féin shows leadership attending British Legion remembrance ceremony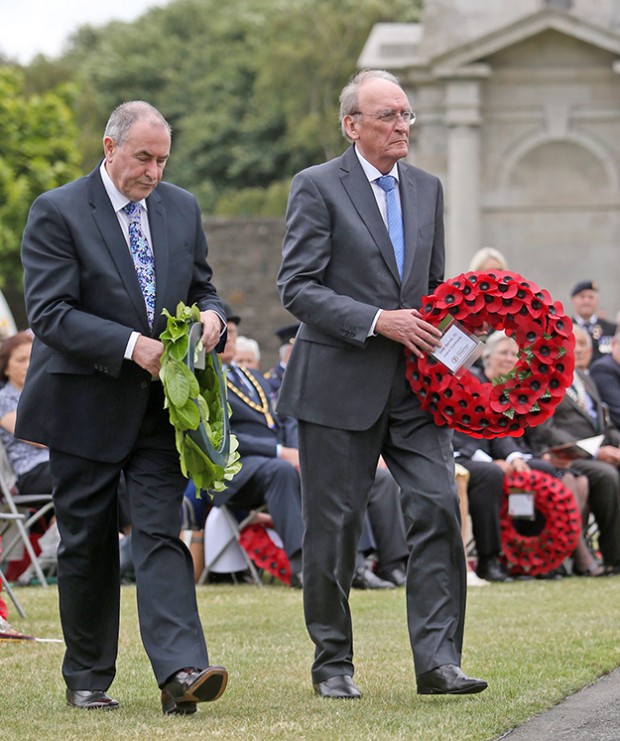 'For too long, remembrance has contributed to existing divisions. There is a need for an agreed culture of remembrance and commemoration which is based upon mutual respect and equality'
SINN FÉIN figures – Assembly Speaker Mitchel McLaughlin, Belfast Mayor Arder Carson and Ard-Mhéara Bhaile Átha Cliath Críona Ní Dhálaigh – laid wreaths at a ceremony in Dublin in July to commemorate the dead of the first and second World Wars.
The ceremony at the National War Memorial Gardens in Islandbridge was organised by the Royal British Legion.
Sinn Féin National Chairperson Declan Kearney said their presence was "an important contribution towards developing a shared sense of history and remembrance across the island".
He added:
"The role played by Irish citizens in WW1 and WW2 needs to be carefully reflected upon by our society going forward. These were epoch-making events in themselves and Irish involvement in both is now part of our collective history. 
"For too long, remembrance has contributed to existing divisions. There is a need for an agreed culture of remembrance and commemoration which is based upon mutual respect and equality."
Mitchel McLaughlin's participation at both the Islandbridge Service of Remembrance ceremony ón 11 July and the National Day of Remembrance the following weekend "should be seen as an example of leadership in terms of mutual respect and parity of esteem", Declan Kearney said.
He concluded:
"Sinn Féin recognises how important these acts of remembrance are for the unionist section of our society. We also acknowledge the role of the British Legion in seeking to make remembrance and commemorative events into more inclusive processes. 
"This period of centenary commemorations allows us all as republicans or unionists, and Irish or British to reflect how respect and parity of esteem can be applied to the challenge of remembrance and commemoration in our society, and managing the legacy of our divided history. 
"There is an urgent need across Irish society, both North and South, for us all to get to the point where our multiple narratives of history and political conflict here are acknowledged and treated with mutual respect. It is only by doing so that greater understanding and tolerance will emerge.
"None of us have anything to fear from the exercise of mutual respect, and much to learn from each other and our respective political and cultural traditions."