1 December 2013 Edition
Sign the online petition for the Cuban Five
International Commission of Inquiry into the case of the Cuban Five – Law Society, London, 7 & 8 March 2014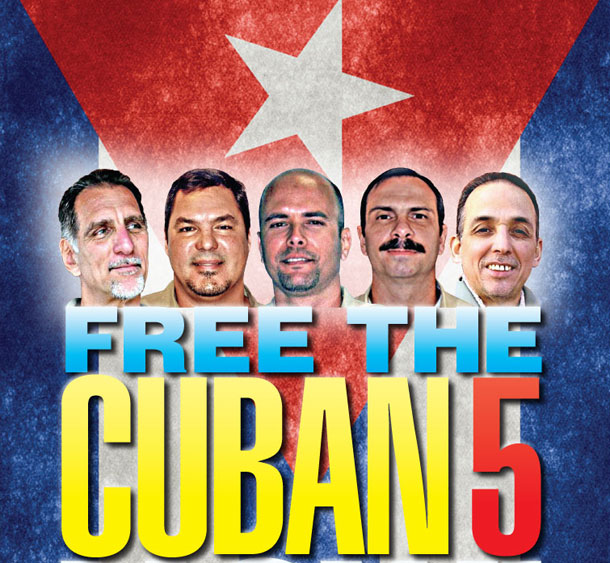 AN ONLINE PETITION in support of the Cuban Five (sometimes known as the Miami Five) is garnering signatures from across the world of leading political, social, trade union and human rights figures as well as members of the public outraged by the jailing of Cuban anti-terrorism agents by the USA.
The 'Voices for the Five' petition includes many prominent people in the US, including Noam Chomsky and former US Attorney General Ramsey Clark as well as Sinn Féin Foreign Affairs spokesperson Seán Crowe TD on behalf of the party.
The drive is ahead of the 'International Commission of Inquiry into the case of the Cuban Five' to be held at the Law Society in London on 7 & 8 March next year.
Among those who have already pledged their support to the inquiry are the International Association of Democratic Lawyers, lawyers Lord Anthony Gifford QC and Michael Mansfield QC, novelist John Le Carré, actors Emma Thompson, Julie Christie and Roger Lloyd Pack, John Pilger and Sinn Féin President Gerry Adams TD (on behalf of Sinn Féin) among a number of TDs.
Also supporting the initiative are the Irish Congress of Trade Unions, Unite the union, Communication Workers' Union of Ireland, and Unison.
The Cuban Five – Gerardo Hernández, Ramón Labañino, Fernando González, Antonio Guerrero and René González — had infiltrated Cuban exile groups in Florida that had either carried out or were planning attacks against Cuban targets. They were arrested by the FBI in Miami in 1998 on espionage charges and sentenced to between 15 years and life. Four are still held in prison; one has been released but with heavy restrictions.
The two-day Commission of Inquiry in London in March will convene a group of internationally-renowned commissioners drawn from legal, human rights, political and academic backgrounds and organisations. The commissioners will hear first-hand evidence from a number of key witnesses on the case, personal experiences of terrorism against Cuba, and the role of US-based organisations in these terrorist acts.
The findings from the commission will be presented to the US authorities and directly to President Barack Obama.
It is a public event and will run concurrently with a full programme of rallies, exhibitions, screenings, media and cultural events, including a gala concert, panel discussions and VIP receptions.