1 December 2013 Edition
Strabane and Lifford say 'Yes'
People's Referendum on Irish Unity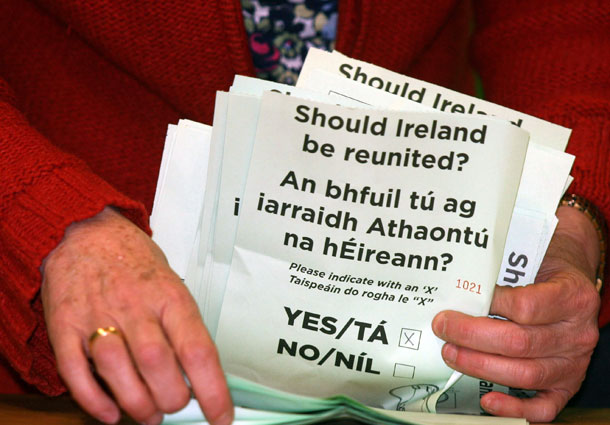 'Our aim is to illustrate that partition is still a big issue for many people, especially in Border communities' – Grace McDermott
NINE OUT OF TEN people voting in the 'People's Referendum on Irish Unity' in the Tyrone and Donegal areas of Strabane and Lifford on Saturday 23 November said 'Yes' to Irish reunification.
Organising committee member Grace McDermott told An Phoblacht:
"Our aim is to illustrate that partition is still a big issue for many people, especially in Border communities. Maintaining the status quo in the form of two competing, fractured economies in Ireland can only perpetuate and increase the obstacles to economic recovery throughout Ireland."
Grace said that the build-up to the vote in the Strabane East Ward and Clonleigh South across the border in Lifford – the campaigning, the canvassing, the debates it provoked in the local media around the event – has highlighted the question of partition and the effects it has "on the everyday lives of ordinary people".
The communities of Strabane and Lifford, which straddle the border at the confluence of the Foyle, Mourne and Finn rivers were to all intents and purposes one community. Each is the natural hinterland of the other. As with many small communities, when partition was imposed as a result of the 1921 Treaty it created a false border and created barriers that saw community, commerce and economic interaction disrupted.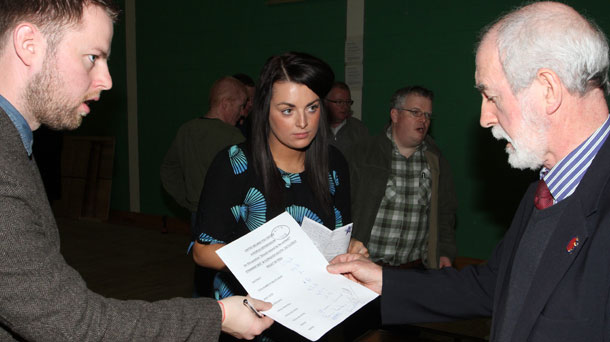 • John McDermott and Grace McDermott are informed of the result by Michael Halpenny
Strabane, being a majority nationalist town, suffered direct discrimination from the unionist and sectarian regime in Stormont. The town topped the list of unemployment figures as the governing unionist party starved it of investment. It was economic apartheid.
Indeed, the unionist opposition to upgrading the A5 road from the border at Aughnacloy to Donegal can only be seen as an extension of that discrimination.
Meanwhile, Lifford reflected the lack of investment and interest that the Dublin-centred 26-County political establishment held and still holds for the North West.
High unemployment and emigration, it seems, are good enough for Donegal, Leitrim and Sligo.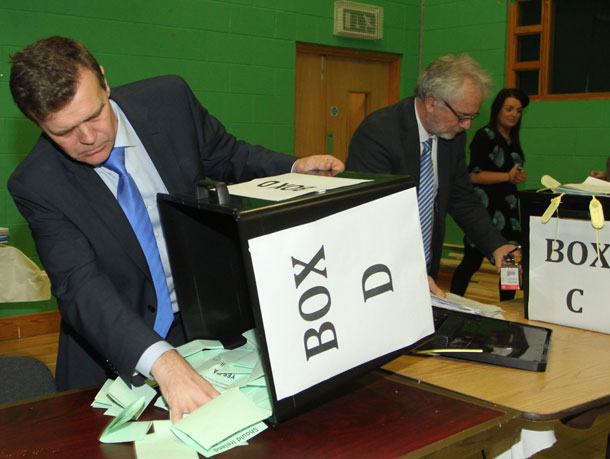 • The count gets underway at the Fountain Street Community Centre in Strabane
Lifford man Fearghal Mac Lochlainn, also of the United Ireland campaign organising committee, said:
"The campaign over the last couple of weeks has raised the issue with a lot of people as we have highlighted the ridiculous situation of two economies, two health and education systems and other effects of partition that impact on people.
"Today was a good day."