1 December 2013 Edition
The challenge in the New Year
Editorial • Eagarfhocal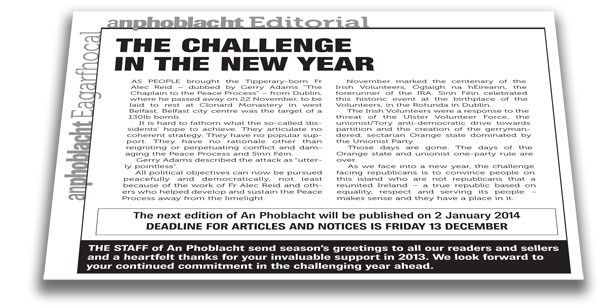 THE STAFF of An Phoblacht send season's greetings to all our readers and sellers and a heartfelt thanks for your invaluable support in 2013. We look forward to your continued commitment in the challenging year ahead.
AS PEOPLE brought the Tipperary-born Fr Alec Reid – dubbed by Gerry Adams "The Chaplain to the Peace Process" – from Dublin, where he passed away on 22 November, to be laid to rest at Clonard Monastery in west Belfast, Belfast city centre was the target of a 130lb bomb.
It is hard to fathom what the so-called 'dissidents' hope to achieve. They articulate no coherent strategy. They have no popular support. They have no rationale other than reigniting or perpetuating conflict and damaging the Peace Process and Sinn Féin.
Gerry Adams described the attack as "utterly pointless".
All political objectives can now be pursued peacefully and democratically, not least because of the work of Fr Alec Reid and others who helped develop and sustain the Peace Process away from the limelight.
November marked the centenary of the Irish Volunteers, Óglaigh na hÉireann, the forerunner of the IRA. Sinn Féin celebrated this historic event at the birthplace of the Volunteers, in the Rotunda in Dublin.
The Irish Volunteers were a response to the threat of the Ulster Volunteer Force, the unionist/Tory anti-democratic drive towards partition and the creation of the gerrymandered, sectarian Orange state dominated by the Unionist Party.
Those days are gone. The days of the Orange state and unionist one-party rule are over.
As we face into a new year, the challenge facing republicans is to convince people on this island who are not republicans that a reunited Ireland – a true republic based on equality, respect and serving its people – makes sense and they have a place in it.