30 June 2013 Edition
Anglo: Who knew then? Why we need to know now
The utter contempt for the taxpayers and citizens is plain to hear in the Anglo Irish Bank chiefs' tapes
WHO KNEW what was going on behind the scenes during the banks crisis in 2008? And why didn't the authorities know about the Anglo Irish Bank executives' tape-recorded phone calls – some would say confessions – before the Irish Independent drip-fed them to the public?
Pearse Doherty TD, Sinn Féin Finance spokesperson, said as An Phoblacht goes to press:
"A journalist said on the radio this morning that there is a lot more information out there and that he has been listening to these tapes for months. This is unacceptable.
"The Government must stop its mock outrage, establish an inquiry immediately and ensure that all of the relevant information in its hands and in the hands of the media is handed over to the inquiry.
"That is the only appropriate response to this controversy."
The utter contempt for the taxpayers and citizens is plain to hear in the Anglo Irish Bank chiefs' tapes.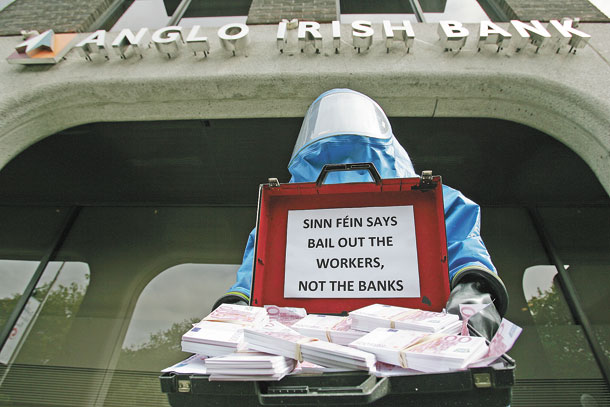 • Sinn Féin protest outside Anglo Irish Bank HQ in June 2010 in opposition to the massive amount of public money being pumped into the toxic bank
While these tapes don't reveal anything that we haven't already suspected, they are still shocking. They reveal a concerted effort by the most senior executives in Anglo Irish to defraud the Irish state.
Dismissive and coarse language is used to describe how executives from the bank made up a figure of what the bank needed to deal with its 'liquidity' issue, knowing that they didn't have a 'liquidity' problem but a much bigger problem and it would cost much more to fix.
The Central Bank was given a made-up figure of €7billion so the bank could reel the state in and make them interested investors ("Have skin in the game" was the saying used). Then, when the real figures could no longer be hidden, the state would have to step in to protect its original investment, the bankers coldly calculated.
This is a crucial point.
It reveals how little the state (in the form of the Central Bank and Government) knew about banking in Ireland in 2008 and how they relied on the information being supplied by essentially conmen in the banking system without ever sending in independent auditors to take stock and protect the taxpayer from catastrophic exposure.
This proves conclusively that an investigation is needed into events surrounding the bank guarantee and subsequently.