30 June 2013 Edition
Exiled – The story of one man's struggle
Book review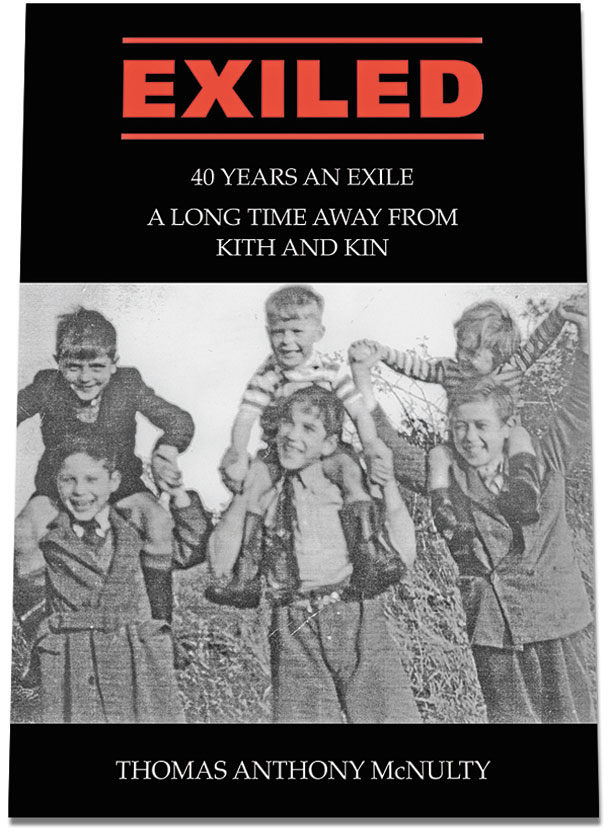 'If I had a son or daughter of 18 years of age I would not let them get involved in a military struggle in the Six Counties. I would tell them to join the political struggle if they want to get rid of partition'
Exiled - 40 Years an Exile, A Long Time Away from Kith and Kin
By Thomas Anthony McNulty
Available from Sinn Féin Bookshop www.sinnfeinbookshop.com and [email protected]
€20 plus postage
REVIEWED BY PEADAR WHELAN
IN Tom McNulty's recently-published book we can clearly affirm the adage that the personal is political.
The actions of the Orange state, its discrimination and sectarianism, defined the lives of many thousands of nationalists, leading them to resistance, imprisonment and, on occasion, death.
In Tom's case he ended up an exile, living away from his County Tyrone home.
Like so many Northern republicans, Tom McNulty was politicised by the Civil Rights campaign of the late 1960s which was answered by the pogroms of 1969 and unionist terror.
His account of those times is a reminder that the eviction of the Gildernew family from a council house in Caledon, County Tyrone, and the first Civil Rights march from Coalisland to Dungannon were seminal experiences that launched Tom on his life-path of activism.
"Suddenly, violence erupted and for the first time in my life I saw naked sectarianism in the eyes of another human being. The hatred was in the eyes of the RUC and it was directed towards us," says Tom, recalling the brutality of the RUC as they prevented the march entering Dungannon town centre.
The unionist response to the modest demands for civil rights set the stage for 30 years of armed conflict.
Tom's own journey led him to prison in the North as well as seeing him become acquainted with Mountjoy and Portlaoise prisons in the 26 Counties.
A brother, Joe, was later imprisoned in the H-Blocks, facing the brutality of the criminalisation regime and the bigotry of unionist prison warders.
While Tom's experience influenced his activism, he realises that armed struggle has had its day.
He is committed to the Peace Process and says:
"If I had a son or daughter of 18 years of age I would not let them get involved in a military struggle in the Six Counties. I think it is futile and therefore I have no right to send them out to fight. I would tell them to join the political struggle if they want to get rid of partition."
It is unquestionably refreshing to read an account of struggle from 'an ordinary activist' and Tom acknowledges the contribution of ordinary people, "the unknown people who must forever remain anonymous".
But the war hasn't ended for everyone and the recent arrests of Mickey Burns in Belfast and John Downey charged in London, tells us that those British securocrats who have been consistent opponents of the Peace Process continue to work to undermine it.
When there is no hierarchy of victims and when all sides have commited to a genuine process of truth and reconciliation, then we might all be free to tell our stories. That day has not yet arrived.