30 June 2013 Edition
Mousa Abu Maria – Shot in the head, imprisoned and tortured
Palestine Solidarity Project peaceful resistance group founder talks to An Phoblacht
'The Jerusalem Post' describes the vocal advocate of non-violent direct action married to a Jewish-American as a 'terror activist' linked to Palestinian Islamic Jihad
I MEET MOUSA ABU MARIA at the Sinn Féin Head Office in Dublin's Parnell Square. Mousa is the co-founder of the Palestine Solidarity Project (PSP) and is in Ireland to speak at a number of events organised by the Ireland Palestine Solidarity Campaign. He's a quiet and softly spoken man and  certainly does not come across as the 'terror leader' that some Israeli media outlets have dubbed him.
Before he arrives I read an article that appeared in the November 2012 right-wing Israeli daily, The Jerusalem Post, with the headline: "Terror activist to speak at British House of Commons." The paper claims Mousa was linked to the extreme militant group Palestinian Islamic Jihad (PIJ). Mousa, who is a vocal advocate of non-violent direct action along with his Jewish-American wife, Rebekah, rubbishes the claim.
"When the Israeli Government wants to justify imprisoning people they just make up whatever allegations they want. I've never believed in violence. I believe in peaceful resistance. Non-violent resistance is how we can show the international community that we are fighting for rights, that we are not a violent people."
Mousa says he has seen many Israeli news reports in recent years describe him as a terrorist or militant.
"The Israelis want to portray us as terrorists to the rest of the world, so they will use propaganda and throw about these phrases."
Mousa lives in the West Bank town of Beit Ommar. The agricultural village is surrounded on three sides by illegal Israeli settlements. Every week, inch-by-inch, more Palestinian land is confiscated by the military. All entrances to the town are controlled by heavily-armed Israeli troops and day by day the town is being engulfed by the continued expansion.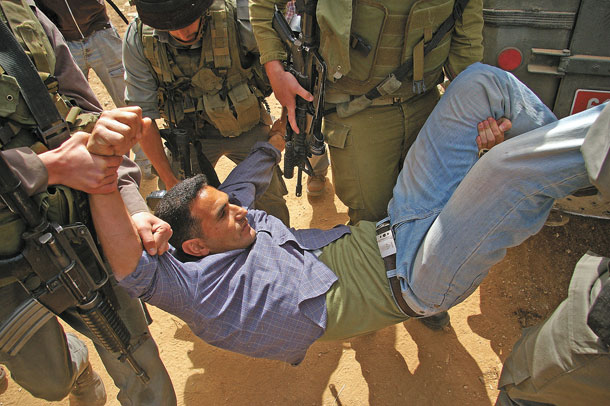 • Israeli soldiers detain Mousa during one of the weekly demonstrations against the occupation in Beit Ommar
Three-quarters of the people who live in the town are farmers. In 2006, 40% of Mousa's farmland was confiscated by Israel. Bulldozers tore up the 100-year-old vineyards and a security wall with CCTV cameras was built through it.
"They told me the land was now a 'closed military zone'. Since then they started building houses on it. I went to the court but they didn't care. The beautiful new houses that were built on my stolen land were given to Jewish settlers from the USA and Russia. Year by year, Beit Ommar is getting smaller."
Mousa also points out how other nearby pieces of stolen land are now used  by settlers to grow fruit that is sold in Europe with the label "Product of Israel".
Mousa tells me his PSP organisation distributes cameras to young people in the town so they can record and expose the violent tactics employed by the military to a wider audience.
"The Israeli Army tries to stop the videos from being uploaded to sites like YouTube, so they arrest the kids. There are a large number of people from my town imprisoned; around 45% of those are children. We are talking about kids as young as 13 and 14. Under international law it is illegal to imprison such young children but Israel has never cared about international law."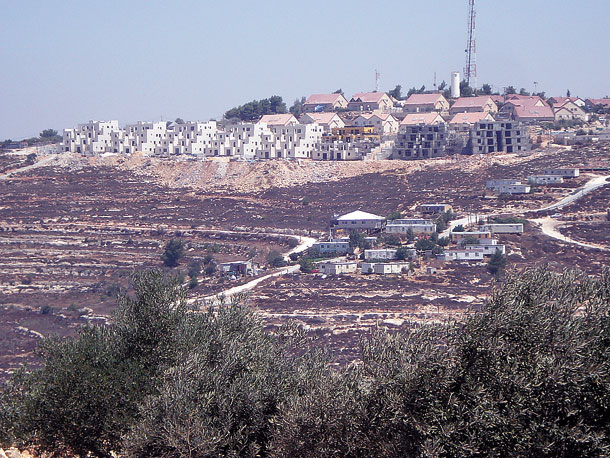 • Israeli hilltop settlements have almost completely surrounded Beit Ommar
The PSP organises a peaceful demonstration every Saturday against the occupation. In response, Israeli troops will launch night-time raids and arrest protesters. Mousa shows me a video shot in the town of a raid in October 2012. Heavily-armed Israeli forces flood into the narrow streets and kidnap a local Popular Committee member and his 14-year-old son. The shaky footage is punctuated by the constant boom and flash of stun grenades and sound bombs. Mousa says such arrests are a tactic to threaten and intimidate activists and their families.
"During our weekly protest the Israeli Army takes photos of the young people on the march. Later that night they will come to arrest them. Israeli soldiers don't want our kids to grow up supporting non-violent action. They want them to be violent."
Locals are convinced the Israeli military wants to use violence from Palestinian youths as a pretext to justify their ongoing illegal confiscations of Palestinian land.
I ask Mousa if it's difficult to convince the young people he works with in a war zone that peaceful resistance is the way forward.
"No," he says confidently. "We train these kids about how Israeli soldiers want to get a violent reaction from them. We tell them 'Please don't give them the reaction they are looking for. Sing or have a sit-down protest, then the soldiers will feel shame if they try to arrest you.'"
Mousa was first imprisoned for seven years in 1999. He and other students organised a protest against the Israeli military's occupation of their school. The students believed the occupation of the school, and later the university, was a deliberate attempt to frustrate young people from getting an education.
"We blocked the street every day and stopped the Israeli military jeeps. Then, one day, the soldiers in the jeeps opened fire on the protest. Two students were killed." Mousa was arrested at his home for organising the "illegal protests" and for removing an Israeli flag from his school and replacing it with a Palestinian one. Later, while imprisoned, Israeli newspapers claimed he had been involved in an armed group while others said he had thrown petrol bombs at a military vehicle. Neither claim was true.
"From my perspective, I was in prison for a good reason. I was protesting for my right to study and have an education," he smiles.
Mousa spent two years in prison under what is called 'administrative detention' in 2008. He was arrested and locked-up without any charge or trial. He was interned. During his interrogation he was subjected to beatings and torture, something he is reluctant to talk about.
"I found it very hard to be in prison without charge or any reason," he says. "I went to court many times to ask the judge why I was in jail. He never gave me an answer. It made me believe that there is no justice in Israel. The court is just a propaganda exercise. I was very angry that I spent two years in prison for no reason."
One of the main problems faced by residents of Beit Ommar is attacks from the Israeli settlers.
"The settlers attack our farmers and make them suffer. They cut down the olive tress and spray sewage water into the fields. They shoot dead the farmers' sheep."
In January 2008, a clash between Palestinians and Israeli settlers in nearby Kfar Etzion left two Palestinians dead. The next day, Israeli forces swamped Beit Ommar, which was covered in a heavy blanket of snow. As residents gathered to see what was happening, Israeli troops opened fire on the crowd with rubber bullets and live ammunition. 18-year-old Mohammed Awwad was shot dead. Mousa was shot in the head and wounded while five other civilians were treated for gunshot wounds to the legs. It is not an occurrence unique to Beit Ommar.
To help end the occupation, Mousa says people in Ireland and Europe should support the boycott of Israel.
"Boycott is not just refusing to buy the product," he says. "It is refusing to engage academically with them, it is divestment by companies."
Earlier this year the Teachers' Union of Ireland (TUI) pledged an academic boycott of Israel while Professor Stephen Hawking faced a torrent of offensive and vicious abuse from pro-Israel lobbyists over his decision not participate in the 2013 Israeli Presidential Conference in May. Hawking responded by saying that even if he had attended he would have told the conference that "the policy of the present Israeli Government is likely to lead to disaster".
Mousa says the international community has to realise that when they fund the occupation they are complicit in the killing of Palestinians. He says that a boycott will weaken the occupation and help to bring about peace. He calls on the international community to support the Boycott, Divestment and Sanctions (BDS) campaign and to put pressure on their own governments to do likewise.
"I also ask people to visit Palestine to see the reality on the ground for themselves. They should not just listen to the international media, which prefers to only focus on violence from Palestinians, thus justifying the occupation. They should come and see for themselves what Israeli occupation really means."
For more information on the Palestine Solidarity Project, visit: www.palestinesolidarityproject.org