30 June 2013 Edition
Labour TDs toe the Fine Gael line to support tax on family home
Pearse Doherty's Bill to axe the Property Tax voted down by Government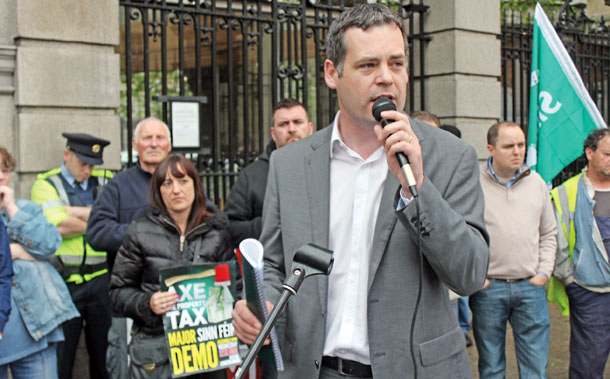 Fine Gael TD Mary Mitchell O'Connor said it is 'unthinkable for my constituents to be forced to subsidise Deputy Doherty's flock'
FINE GAEL and Labour TDs were left rattled in the Dáil during a stinging debate on a Sinn Féin Bill that could have seen the Property Tax scrapped and people who have paid refunded.
Sinn Féin and Independent TDs gave the Government benches both barrels as Labour and Fine Gael representatives floundered to deliver a coherent argument as to the benefits of taxing the family home. Some mininsters, such as Brian Hayes, only briefly appeared in the chamber to deliver their speeches before scurrying off to avoid the withering responses.
Moving the Local Property Tax Repeal Bill, Pearse Doherty highlighted the hypocrisy and doublespeak of the Taoiseach and Tánaiste, both of whom had outlined their strong opposition to taxing people's homes before entering government. Doherty said there was tremendous anger against the Government and this anger will only increase as this tax imposes an additional burden on families.
The main defence employed by Environment Minister Phil Hogan and the smattering of Government backbenchers who were finally allowed to open their mouths in the chamber was to point to the rates system in the North and claim it is a Property Tax. The Government reps failed to mention that rates actually pay for services including bin collections, school books, water, community centres, GP bills, street cleaning, emergency services, septic tank de-sludging and many other services which are paid for separately in the South.
Aengus Ó Snodaigh said it was "great to see Fine Gael and Labour finally taking an interest in the Six Counties" while Peadar Tóibín added:
"There is a book in Easons entitled, The Idiot's Guide to Constitutional Politics which explains clearly at Junior Certificate level the difference between the situations in the North and South of Ireland. We do not have fiscal powers in the North of Ireland. We are doing our damnedest to get them back and it would be great if the Minister got off his arse and helped us as well."
Cork East Sinn Féin TD Sandra McLellan also hit out at the diversionary tactics by the self-styled "United Ireland Party", saying:
"Fine Gael can blather on all they like about Sinn Féin in government in the Six Counties, an entity that does not control its own purse strings, but the fact remains that the policies of the Fine Gael and Labour Government are wreaking havoc on the lives and futures of people in every corner of this state."

• Fine Gael's Brian Hayes, Phil Hogan, Mary Mitchell O'Connor and Paudie Coffey
Throughout the debate, Minister Phil Hogan and his cronies spent their time childishly heckling and taunting those who spoke out against taxing the family home. During Gerry Adams's four-minute contribution he was interrupted no fewer than 15 times.
Fine Gael's Mary Mitchell O'Connor made a big fuss of how her constituency of Dún Laoghaire is the most compliant while Donegal has the lowest number of people willing to pay. She says it is "unthinkable for my constituents to be forced to subsidise Deputy Doherty's flock".
In a fact-free contribution, Fine Gael's Paudie Coffey said the unfair tax is a "progressive measure". Cork Sinn Féin's Jonathan O'Brien responded by saying the Government "dipping their hands into the pockets of people who have lost their jobs and are struggling to support themselves is regressive, disgraceful and despicable".
Laois/Offaly Sinn Féin TD Brian Stanley highlighted how the Property Tax was originally "Fianna Fáil's bright idea" and is now being implemented by Fine Gael and Labour.
"This tax doesn't discriminate between rich or poor. It punishes the poor and those on low incomes,"  he said.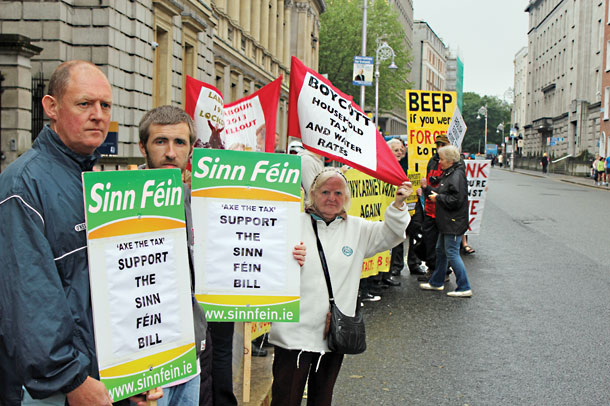 • Sinn Féin supporters show their opposition to the Family Home Tax
Dublin South West's Seán Crowe said struggling families felt intimidated into paying, noting that the tax – which he described as "arbitrary and crude" – will increase fuel and child poverty.
Addressing Labour TDs directly, Caoimhghín Ó Caoláin (Cavan/Monaghan) said:
"Fair taxation based on ability to pay is a just demand and one that you championed over many years. And make no mistake, in government, unlike Labour, we will damn well implement it."
Despite the Bill being defeated by 81 votes to 49, Sinn Féin deputy leader Mary Lou McDonald  promised that, in government, Sinn Féin will axe this unjust tax and she pledged to continue to campaign against it.