30 June 2013 Edition
It's what they do that counts
G8 summit in Fermanagh – The Lough Erne Declaration
'The G8 has come and gone. We now have a Lough Erne Declaration. The developing world still has poverty and hunger, and the Middle East still has war' – Gerry Adams after the G8's conclusion
THE G8 CIRCUS has left Ireland and left different impressions on a range of people. The heads of governments of eight of the world's eleven largest economies – Britain, Canada, France, Germany, Italy, Japan, Russia, and the USA (China, Brazil and India are not included) – have come and gone without riots in Fermanagh or Belfast, but how far-reaching will their words and, more importantly, their policies be?
The speech by President Obama at Belfast's Waterfront Hall lauding the Peace Process and the visits by his wife and daughters south of the Border – to Dublin City's Gaiety Theatre, the Glendalough monastic site in Wicklow, and Dalkey for a fish and chips pub lunch with Bono – were well-crafted events snapped up by a media obsessed by celebrity rather than political and economic policy affecting hundreds of millions of people across the globe.
Prior to the G8's arrival, Sinn Féin President Gerry Adams TD noted that the G8 is "the source of immense wealth and economic and political power" but its policies have been "clearly failing" and have deepened the problems facing many countries.
"This can be seen in growing unemployment, increased poverty, hunger and human rights abuses.  There needs to be an urgent change of direction by the G8," the republican leader said.
"A more enlightened and socially-conscious approach would assist those citizens in the developing world to eradicate hunger, malnutrition and preventable disease."
Protests
 Protests were nowhere near the scale of previous demonstrations such as at Genoa in Italy in 2001, the largest anti-G8 protest to date, with street battles when Italian anarchist Carlo Giuliani was shot by police and then run over by a police jeep. But there was peaceful public opposition to the G8 coming to Ireland.
Several hundred marched in Enniskillen on Monday 17 June, the first day of the two-day summit. The previous Saturday, 3,000 people – including Sinn Féin activists – rallied at City Hall under the banner of the Irish Congress of Trade Unions. (In a reflection of the paucity of vision in working-class unionist leadership, Progressive Unionist Party leader Billy Hutchinson led a small group of loyalists to hurl abuse at the G8 rally's calls for equality, justice and a better world for all.)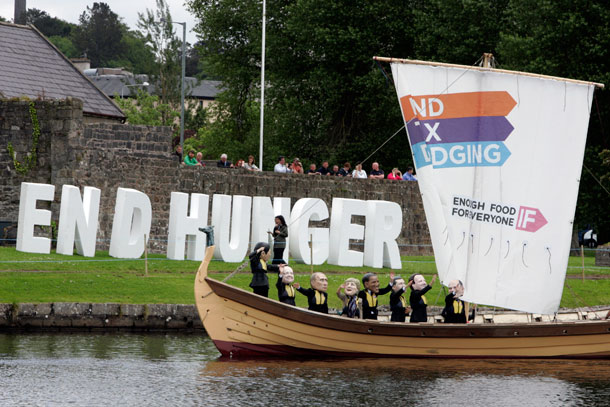 • The Enough Food for Everyone (IF) campaign protest on the River Erne calling for an end to world hunger and (right) 3,000 people – including Sinn Féin activists – rally at Belfast City Hall under the banner of the Irish Congress of Trade Unions – see more here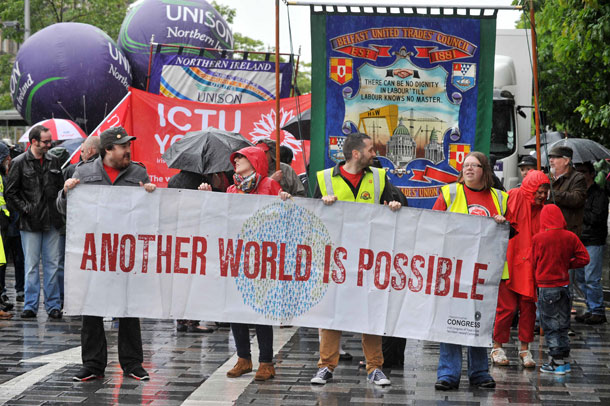 Forty members of the Sinn Féin Republican Youth Mairead Farrell Youth Committee set up an anti-G8 camp on the site of the old Andersonstown RUC barracks on Monday on Belfast's busy Falls Road to keep the G8 powers in the public eye.
In Dublin, 'Alternative G8' events were held, including a march to the American Chamber of Commerce.
Declaration
 The G8 leaders' meeting in Enniskillen in Fermanagh passed off without major incident except their failure to agree on arming the anti-government rebels in Syria.
They produced what they called 'The Lough Erne Declaration', which fits neatly into ten points.
Extolling the virtues of private enterprise, and claiming that it "drives growth, reduces poverty and creates jobs and prosperity for people around the world", the main focus of the G8's Lough Erne Declaration is on tax havens. It notes:
"Governments have a special responsibility to make proper rules and promote good governance. Fair taxes, increased transparency and open trade are vital drivers of this."
• Michelle Obama speaks at the Gaiety Theatre in Dublin
The G8 say they will "make a real difference" by implementing measures "to fight the scourge of tax evasion" and help developing countries "collect the taxes owed them – and other countries have a duty to help them".
The G8 also says:
"Minerals should be sourced legitimately, not plundered from conflict zones.
"Land transactions should be transparent, respecting the property rights of local communities.
"Governments should roll back protectionism and agree new trade deals that boost jobs and growth worldwide.
"Governments should cut wasteful bureaucracy at borders and make it easier and quicker to move goods between developing countries.
"Governments should publish information on laws, budgets, spending, national statistics, elections and government contracts in a way that is easy to read and re-use, so that citizens can hold them to account."
War on Want
 War on Want, the charity fighting poverty in developing countries "in partnership with people affected by globalisation, campaigning for human rights and against the root causes of global poverty, inequality and injustice", said of the Lough Erne Declaration:
"If all of these promises become reality this could have an enormous impact on tackling one of the greatest scandals of our time. But there is a long way to go and today all we have is a general statement of principles with no detail and no deadlines.
"As always the devil will be in the detail, and there's no detail here. Talk of stopping companies shifting profits to avoid taxes is a huge step forwards, but we've heard great promises from the world's heads of state before – it's what they do that counts."