31 March 2013 Edition
France's deadly pacific siege
Rebellion (L'ordre et la Morale). Director: Mathieu Kassovitz. Cast: Mathieu Kassovitz, Iabe Lupacas, Steeve Une, Malik Zidi. Cert: 15A. Runtime: 135minutes, Subtitled. Release date: 12 April
Images of the poor Kanaks contrast with the luxurious lifestyles of the decision-making French Establishment figures
MULTI-AWARD-WINNING director Mathieu Kassovitz's Rebellion tackles one of the most controversial incidents in recent French history: the 1988 siege and 'hostage crisis' after independence activists stormed a police station on the tiny pacific island of Ouvéa in the French colony of New Caledonia. The episode left more than 20 people dead.
French hostage negotiator Captain Philippe Legorjus (Kassovitz) of the French special force GIGN is sent to Ouvéa where an uprising by the indigenous Kanak people has left four gendarmes dead and 30 taken prisoner. When Legorjus arrives, he finds that 300 French soldiers are already on the scene, beating and humiliating the native Kanak people and making it far more difficult to reach a peaceful solution.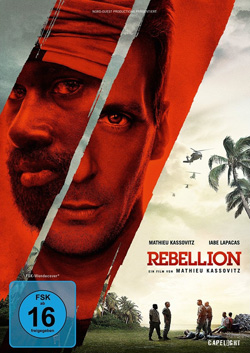 We move quickly to the site of  the fatal police station attack where a survivor of the assault, Sammy (Une), explains to Legorjus how the station was seized. The single-shot scene is visually stunning as the camera moves from inside, where three local fishermen have attacked two officers, to the entrance of the base where a car rams through the gates and rebels pour in and lynch the gendarmes.
The Ouvéa crisis comes just days before the French Presidential election of 1988 and the film pulls no punches, making it clear that the right-wing government in France wants a swift rather than peaceful solution and is willing to sacrifice the lives of its own military and those of the local Kanaks (French citizens too) to ensure the crisis is resolved before voters go to the polls.
In one scene it is explained that the Chirac Government has to be seen to come down hard on the rebels so that supporters of the fascist National Front back the Chirac candidate in the Presidential run-off.
Images of the poor Kanaks contrast with the luxurious lifestyles of the decision-making French Establishment figures.
Kassovitz is brilliant in his role as Legorjus, who struggles to reconcile his own morality and sympathy for the Kanak people with his duty as a soldier and his oath to defend the French state. Lupacas, who has never acted before, puts in a sterling performance as the Kanak and Socialist Liberation Front (FLNKS) leader Alphonse Dianou.
The climactic scene, where the cinema-goer joins the French commandos as they lay siege to the rebels is wonderfully done. An over-the-shoulder camera places the audience in the middle of the chaos, confusion and panic as troops crawl through the thick vegetation under fire before finally storming the rebel garrison trapped in the caves.
Rebellion has been praised by the families of victims on both sides and also by critics, and it's not hard to see why. Subtitled in the French language, Rebellion is unlikely to be a major box office smash here in Ireland, so if it's on in your local cinema or centre be sure to get down there to see it. You will not be disappointed.
Review by Mark Moloney