31 March 2013 Edition
South Armagh weekend tributes to 'The Two Brendans'
25th anniversary events for IRA Volunteers Brendan Burns and Brendan Moley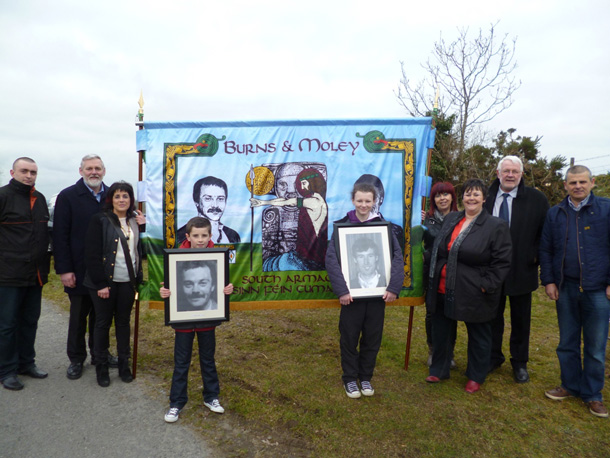 "We will never forget the sacrifice of these brave Volunteers 25 years ago. Their spirit and sacrifice spurs us on today to work even harder to achieve the goal of a united Ireland, a socialist republic. We will never let the antics of others in government detract us from achieving our goals though they try to blacken our name through dirty tricks. We will stand firm now as we have done, as the people of south Armagh have done for many years, and we will achieve our victory in the end. Onwards comrades!"
SOUTH ARMAGH was a hive of activity on the first weekend in March as local republicans organised a series of events to commemorate the lives of two local Volunteers who died in a premature explosion 25 years ago.
The names of Brendan Burns and Brendan Moley — 'The Two Brendans' as they are affectionately known — are luminaries of the republican struggle in this area and beyond.
Many will find it hard to believe that a quarter of a century has passed since that tragic day on 29 February 1988 when they were killed while on active service. In an effort to honour these two men, their former comrades and those who remember them came together to organise a weekend of events which would be a fitting tribute to their memory.
The weekend began on Friday 1 March when there was standing room only in Ti Chulainn Cultural Centre as local republicans Tommy McMahon and Seán Hughes launched Legends in their Time. This 80-page book documents the lives of Brendan Moley and Brendan Burns and contains memories and photos contributed by their families and their comrades in arms. It is also full of historical photos of the war in south Armagh that will bring back memories for some and will educate young people who have been born since the war ended. (The book can be purchased from the Ti Chulainn Bookshop and Crossmaglen Sinn Féin office.)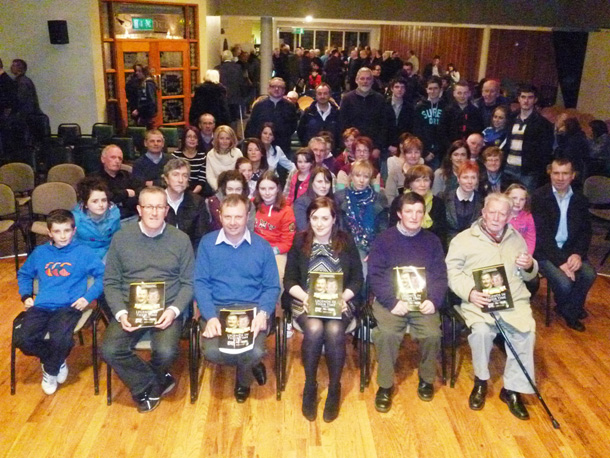 On Saturday, over a hundred people took part in the Twin Peaks Challenge, an annual walk that traverses Camlough Mountain and Slieve Gullion, countryside which the Two Brendans would have known like the back of their hands. The Watters family from Culloville were the winning team on the day with a finish time of 3hours 4minutes.
That evening, Silverbridge Harps took on Dorsey Emmets in a Gaelic football match. It was a very tight game with Dorsey Emmets emerging victorious after extra time. Later that night, there was music and dancing in Ti Chulainn with presentations to the Moley and Burns families, the Twin Peaks Challenge winners, and comrades from Scotland who had made a fantastic commemorative mirror that was raffled on the night.
On Sunday, in excess of 2,000 people travelled from all over Ireland, Scotland and England to take part in a march from the Cabin in Creggan to the 'Two Brendans Monument'. The Burns/Moley Sinn Féin Cumann banner led the march along with the Burns & Moley Memorial Flute Band. The event was chaired by Councillor Colman Burns with Aiobheann Moley reciting a Decade of the Rosary and Kevin Burns reading the South Armagh Roll of Honour.
The main speaker for the day was Kerry TD Martin Ferris who praised the Two Brendans and recognised their efforts to free Ireland. Martin Ferris also paid tribute to the Burns and Moley families, acknowledging the suffering they had endured at the time of their loved ones' deaths and since, saying:
"We will never forget the sacrifice of these brave Volunteers 25 years ago. Their spirit and sacrifice spurs us on today to work even harder to achieve the goal of a united Ireland, a socialist republic. We will never let the antics of others in government detract us from achieving our goals though they try to blacken our name through dirty tricks. We will stand firm now as we have done, as the people of south Armagh have done for many years, and we will achieve our victory in the end. Onwards comrades!"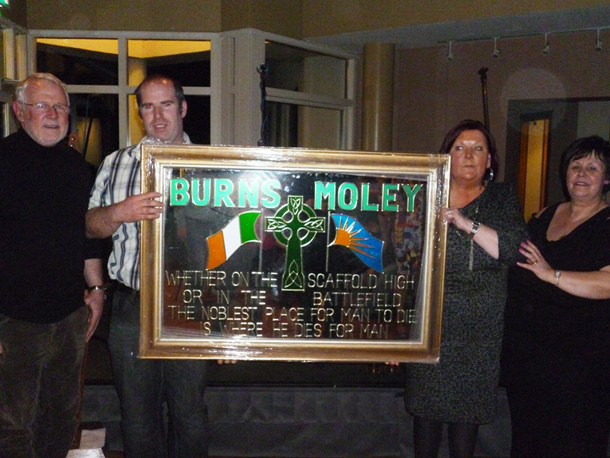 Councillor Colman Burns spoke of his satisfaction following the completion of the weekend:
"Republicans in south Armagh can be very proud of how they have remembered Brendan Moley and Brendan Burns. This whole weekend took many months of hard work to bring to fruition but what a weekend we have had. Members of the Burns/Moley Sinn Féin Cumann, Silverbridge, must be commended for the professional and poignant way they have conducted this weekend."