31 March 2013 Edition
Taking sides in Mali's civil war
Irish neutrality hangs by a thread as troops back coup regime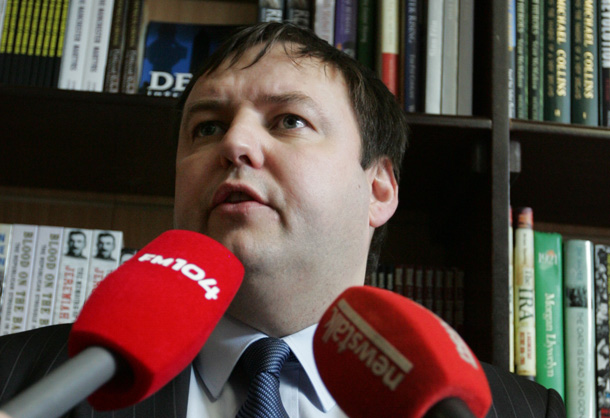 'Every day, Israel breaches United Nations Security Council resolutions but we aren't sending Irish Defence Forces personnel into Palestine to help the people there' – Pádraig Mac Lochlainn
THE Irish Government has claimed the state is merely acting in accordance with a United Nations Security Council (UNSC) resolution but Pádraig Mac Lochlainn is unconvinced. He points out a number of UNSC resolutions on Palestine calling for immediate withdrawal of Israeli forces from occupied territories and the removal of settlements. Every day these resolutions are breached by Israel, he says. "Yet we aren't sending Irish Defence Forces personnel into Palestine to help the people there. So UNSC resolutions do not require the Government to act," he says.
At the core of the issue is whether Ireland can remain neutral within the European Union. In a paper entitled Beyond Neutrality (published 2000, updated 2004) by Fine Gael's then Foreign Affairs spokesperson, Gay Mitchell, the party stated:
"Fine Gael believes not only should Ireland be part of the EU security and defence architecture, we should be one of the architects . . . It is time to realise there is nothing inherently moral in adopting a neutral stance on every issue, irrespective of the circumstances of each situation."
Pádraig points to comments made by Minister for European Affairs Lucinda Creighton in February when she said the policy of military neutrality was "narcissistic".
"Fine Gael certainly have a policy to work increasingly with NATO," he says.
But what about United Nations missions? After all, this is what the Government is claiming is taking place in Mali.
"In terms of UN peace-keeping operations, where the Irish Defence Forces are not taking any sides, I believe Ireland should be involved in those missions. For example, Irish people should be very proud of our involvement in peace-keeping in Lebanon.
• Fine Gael MEP Gay Mitchell, Fine Gael Minister for European Affairs Lucinda Creighton and Labour leader and Foreign Affairs Minister Eamon Gilmore
"The difficulty here is that we are clearly taking sides. We have a regime which has been heavily criticised by, ironically, UN human rights spokespeople, Human Rights Watch and international human rights organisations. UN forces are now backing them. It's bizarre."
The insistence by France and Britain on becoming more heavily involved in a military campaign in the mineral-rich north African country has also raised eyebrows across Europe.
"The plundering of resources in north Africa continues," says Pádraig. "But these days they use friendly regimes as vehicles for their continued exploitation of these states."
While Fine Gael appear to have little time for neutrality, the same cannot be said for their Government partners in Labour, who just months before entering coalition were issuing statements titled "Neutrality as important today as ever before" and "Labour will protect Irish neutrality". When Pádraig raised the Mali mission in the Dáil in March, Fianna Fáil, the United Left Alliance and many Independent TDs backed his call for a debate; Labour remained tight-lipped.
"The Labour position is very surprising," says Pádraig. "A range of progressive analysts have been very clear that there needs to be a peace process in Mali. The Tuareg people in the north have legitimate concerns that need to be addressed and it is poor practice to just go in supporting what is clearly a NATO-driven operation in the interests of France and Britain. The bottom line is that this clearly undermines Irish neutrality and the fact that we haven't had a debate and the failure of the Irish Government to allow a debate is reprehensible.
"Irish neutrality is hanging by a thread. How can we argue we are a neutral state when increasingly the Government decides to be part of EU Battlegroups and when the Government allows — and even  encourages — US troops to land at Shannon? It's clear that we are drifting towards an alliance with NATO. And that is deeply worrying."