31 March 2013 Edition
Sinn Féin National Youth Congress 2013
Youth groups, SDLP, Irish Labour Party and Alliance guest speakers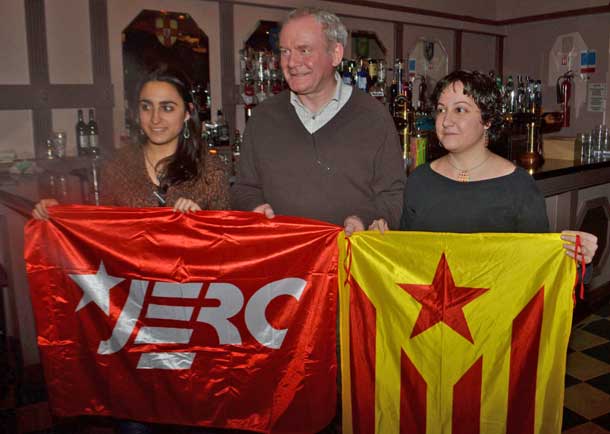 'You are the generation of republican leaders who have developed your politics and your aspirations on a political playing field that is for the first time level' – Martin McGuinness
THE 2013 Sinn Féin National Youth Congress in the Felons' Club in Belfast at the beginning of March attracted 200 young republicans to hear a wide range of speakers that included speakers from the Methodist Church, the SDLP, the Irish Labour Party, Alliance Party, Republican Left of Catalonia, Conradh na Gaeilge, the National Youth Council of Ireland, and youth website SpunOut.ie.
The weekend of events saw debates and discussions on issues as varied as the Irish language, unionist engagement, youth issues, women's rights and international affairs.
During a debate titled 'New Republics: Ireland and Catalonia' which saw contrbutions from Dominic Hannigan TD (Labour), Ted Howell (Sinn Féin) and Ariadna Jou (Republican Left of Catalonia), Colum Eastwood of the SDLP  faced tough questioning from the floor over his party's claim to support equality while at the same time voting in favour of a Stormont Bill that would see political former prisoners discriminated against in employment within the Assembly itself.
Heather Morris, President Designate of the Methodist Church of Ireland, gave a fascinating insight into the views of people within her own community on the issues of parity of esteem, equality and reconciliation.
Paula Bradshaw of the Alliance Party is a former member of the Ulster Unionists and she spoke of how the loyalist community has been consistently failed by the two main unionist parties, the DUP and the Ulster Unionists. Sinn Féin National Chairperson Declan Kearney outlined the work republicans have and continue to do in the area of reconciliation.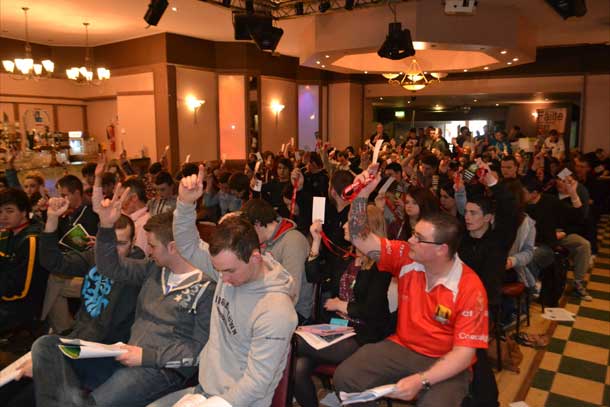 •200 young republicans attend the Sinn Féin National Youth Congress in the Felons' Club, Belfast     Photos by Joe Dunn
Cuthbert Artura, originally from Mozambique but now living in Belfast, spoke about the importance of using your "cúpla focail" in daily conversation.
There were robust contributions on issues as varied as women's rights, Palestine, policing, austerity, party development and unionist outreach. Two debates that provoked vigorous exchanges were those on abortion and on the possibility of Sinn Féin entering a coalition government in the 26 Counties. Delegates also spoke out against the arrest of Pádraic Wilson and Seán Hughes and unanimously called for the dropping of charges against the two republicans.
Giving the closing address, deputy First Minister Martin McGuinness told delegates:
"You are the first generation of young republicans since partition who have grown up without the scourge of war as a backdrop to your politics. You are the generation of republican leaders who have developed your politics and your aspirations on a political playing field that is for the first time level.
"Transforming our island is a massive challenge. Rebuilding broken relationships and creating new ones is central to that nation-building task. But as republicans it is our duty to reach out and to build. You can only do that if we are confident in our own vision and our own belief that a united Ireland offers the best hope for the future and for all of the citizens who live on this island."