31 March 2013 Edition
Violent undercurrents of Union flag protests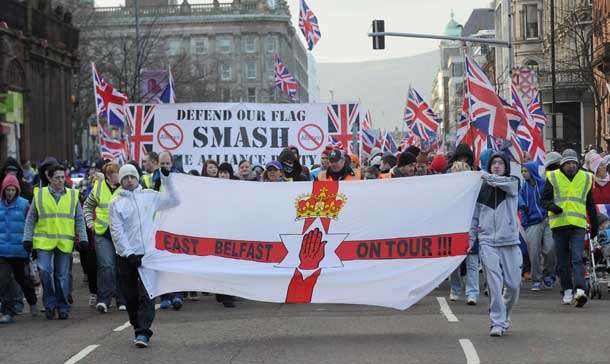 An Phoblacht's PEADAR WHELAN chronicles here some of the numerous attacks that have taken place, exposing the nonsense that that flags protesters have somehow been discriminated against.
WHILE MAINSTREAM MEDIA reports of unionist protests about new arrangements for the flying of the Union flag at Belfast City Hall have focused largely on high-profile events, people across all communities – nationalist and unionist – have had to endure an almost constant undercurrent of intimidation, threats and physical violence as they try to go about their day-to-day lives.
The abdication of responsibility by unionist political leaders who had fuelled the flames of the flags violence came to a head on Monday 5 March when DUP leader and First Minister Peter Robinson claimed that the PSNI had lost the confidence of large sections of the unionist community. He went to accuse the PSNI of showing favouritism towards nationalists.
"There is a perception that the PSNI have not been impartial in dealing with the flag protests."
Sinn Féin's Gerry Kelly challenged the DUP leader and the media to go beyond this alleged perception. Weekly unionist marches from east Belfast to City Hall and back past the Short Strand (often heralding violence and always menacing) were unhindered and even escorted by the PSNI. The blocking of streets by flags protesters and veiled if not open threats to commuters and locals was allowed to go largely unchallenged by the authorities.
An Phoblacht's PEADAR WHELAN chronicles here some of the numerous attacks that have taken place, exposing the nonsense that that flags protesters have somehow been discriminated against.
The attacks
2012
November – Unionists crank up tension, summoning crowds to protest at City Hall as the 'flag vote' is taking place.
3 December – Belfast: DUP and UUP councillors tweet proceedings to the mobs surrounding City Hall. Rioting erupts. PSNI officers and council staff are injured as unionists attack City Hall. Cars parked in City Hall car park are smashed.
As the mobs make their return journey to east Belfast, St Matthew's Catholic Church and homes in the Short Strand are targeted.
Sinn Féin MLA Gerry Kelly receives death threat.
4 December – Belfast: Alliance councillor Laura McNamee leaves her East Belfast home after PSNI warn of a threat against her life. Alliance East Belfast MP Naomi Long is forced to close her office due to threatening mob protest.
5 December – Carrickfergus, Antrim: Alliance MLA Stewart Dickson's office is burned out during widespread rioting. Union flags erected outside St Nicholas's Catholic Church and neighbouring primary school.
Bangor and Newtownards, Antrim: Alliance offices forced to close.
Bangor: Home of Alliance Councillors Michael and Christine Bower attacked by paint bombers.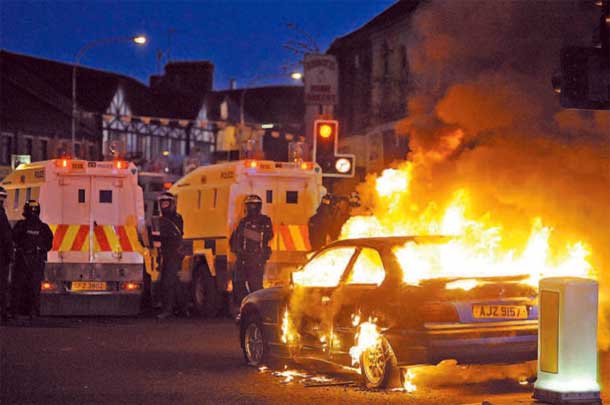 • Cars are damaged and petrol-bombed by flag protesters
6 December – Belfast: Union flags erected outside St Matthew's Catholic Church. Flags also erected on lamp-posts on Ormeau Road. Schools forced to close early amid fears of further rioting by unionists.
Glengormley: PSNI confronts crowd attempting to protest at office of Alliance leader and Justice Minister David Ford. Twitter warns of a demonstration outside the Irish-language school Gaelscoil Eanna.
Magherafelt, Derry: Union flags erected in town.
Ballymena, Antrim: Bottles and bricks thrown by mob outside council offices. Councillors under threat, including Sinn Féin's Monica Digney, escorted from building by PSNI.
7 December – Belfast: Van driver attacked as he tries to get through a road block on Shaftesbury Square, south Belfast. Two PSNI members injured in subsequent trouble.
23-year-old mother driving to Ligoniel, north Belfast, is threatened by unionists wielding a hammer and breeze block.
Reports of a further six motorists being threatened.
Rioting in north Belfast.
UDA leader Jackie McDonald says that loyalists are pulling out of a flags protocol that had removed flags from flashpoint areas.
Sinn Féin leader on Belfast City Council Jim McVeigh receives death threat.
Newtownabbey: Cars burned out as crowd attacks council office during Mayor's Christmas dinner and concert.
Antrim Town: Union flags erected.
• Masked loyalist thugs attack nationalist areas of Belfast

8 December – Newtownards: Home of Alliance Councillor Linda Cleland attacked by masked men. All the downstairs windows are smashed and car wrecked.
Belfast: Cars attacked at isolated nationalist Ligoniel  area.
Rioters confront PSNI at Alliance MP Naomi Long's office.
The first of nearly 30 illegal marches passes Short Strand en-route to City Centre rally attended by PUP and UDA leaders.
Ballinamallard, Fermanagh: Flag demonstration held on Ballinamallard soccer pitch during half-time. Neither PSNI nor stewards intervene.
Drumahoe, Derry: Cars attacked in village.
9 December – Derry City: Stand-off between unionist crowd and PSNI on Derry Peace Bridge.
10 December – Belfast: Masked unionists attempt to kill PSNI member guarding East Belfast MP Naomi Long's when they hurl petrol bombs into her vehicle.
Access to Dundonald Hospital disrupted as main roads blocked.
Armagh City: Cú Chuaillain Bar has windows smashed and fireworks thrown inside by unionists involved in illegal flag demonstration at city centre. Sinn Féin's Martin McGuinness accuses UDA and UVF elements of orchestrating the disruption.
11 December – Derry City: Attempts to hijack cars in Waterside area.
Portadown, Armagh: 200 unionists attempt to march along nationalist Garvaghy Road, resulting in skirmishes with PSNI.
13 December – Belfast: Known unionist paramilitaries direct roadblock at Springfield Road roundabout.
Sinn Féin Councillor Jim McVeigh is threatened for a second time.
Larne, Antrim: Alliance Mayor of Larne forced from her home after warnings about her personal safety. Flags erected outside her house.
17 December – Carrickfergus: Unionist mob disrupts council meeting, throwing chairs and threatening both DUP and Alliance councillors. Catholic Alliance member Seán Neeson requires a PSNI escort to safety after he is singled out for threats and called a "Fenian c***". Shoppers in a nearby supermarket have to be rescued when trouble flares.
Belfast: Rioting in Sandy Row, Newtownards Road and Shaw's Bridge. A taxi is surrounded, kicked and pummelled by youths blocking Crumlin Road. Separately, a taxi driver from a taxi firm based in nationalist west Belfast is pelted with bricks and bottles by a gang at Glengall Street, forcing the driver to mount a pavement to escape.
A journalist reporting on a riot in east Belfast is punched to the ground by a masked man.
Flags erected outside Holy Cross, Our Lady of Mercy and Mercy Primary schools near Ardoyne.
Lisburn: Serious trouble flares in the Longstone area.
Portadown: Unionist gangs again try to march onto Garvaghy Road.
18 December – A tour bus from Wexford is petrol-bombed near Sandy Row. Trouble erupts near Belfast City Centre.
21 December – Belfast: Disturbances across Belfast with petrol bombs aimed at PSNI, particularly in Newtownards Road area.
Whitehead, Antrim: Our Lady of Lourdes Catholic Church damaged in an arson attack.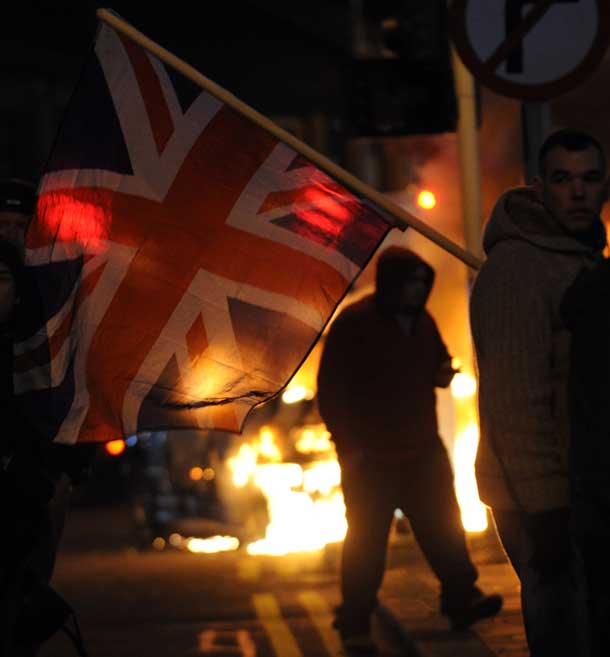 • The blocking of streets by flag protesters and threats to commuters went largely unchallenged by the authorities
2013
2 January – Glenarm, Antrim: Van driver beaten by two men who try to set fire to his vehicle. Sinn Féin's Oliver McMullan says a UVF gang is operating in the area.
3 January – Belfast: Rioting in east Belfast close to Short Strand. Houses on Mountpottinger Road targeted. Eight PSNI injured.
4 January – Belfast: Disturbances in east Belfast. Unionists tamper with electricity supplies. Petrol bombs thrown. Centra shop at Glengormley looted by protesters.
On Facebook, protest leader Jamie Bryson accuses PSNI of heavy handedness, saying: "The fact that a large number of these officers are Roman Catholic provides some explanation for their bloodlust."
Mallusk, Antrim: Package posted to SDLP MLA Patsy McGlone containing a 9mm bullet and a sympathy card discovered at Royal Mail sorting office.
5 January – Belfast: Unionists leaving City Hall protest attack PSNI in east Belfast. Shots fired at PSNI. Car hijacked.
6 January – Belfast: Rioting in east Belfast.
Shots from a high-powered ball-bearing gun fired at south Belfast home of SDLP Councillor Claire Hanna.
7 January – Belfast: Rioting and sectarian chants and songs by mob returning from City Hall rally ends in attacks on homes on Strand Walk. PSNI Chief Constable Matt Baggott says UVF "exploiting" protests.
8 January – Belfast: Rioting in east Belfast sees petrol bombs, fireworks and bricks hurled at PSNI. A community centre under construction in Templemore Avenue is vandalised during rioting.
9 January – Derry City: Unionists block roads in the city's Waterside area as Sinn Féin opens its new EU office in Spencer Road.
10 January – Flags protest leader Willie Frazer says he wouldn't condemn anyone who shot Martin McGuinness.
11 January – Newtownabbey: 33 petrol bombs thrown at PSNI. Bus hijacked and burned. In nearby Rathcoole, youths jeer and mock an elderly man as he pleads to be allowed through a roadblock to visit his elderly wife in hospital. The man is forced to turn back.
Carrickfergus: Rioting.
12 January – Belfast: Homes along the Albertbridge Road in the Short Strand damaged when unionist gangs returning from City Hall flag protest run amok. Nationalist residents defending their homes are attacked. One is identified and threatened via Facebook.
Loyalists twice prevent a GP attending to a terminally-ill patient. PSNI criticised for not doing enough to ensure doctor's safe passage. The man has since died of his illness.
13 January – Belfast: Rioting near Short Strand.
14 January – Belfast: Unionist mobs aim petrol bombs at St Matthew's Catholic Church and parochial house, forcing the evacuation of a group of children with learning difficulties. Homes along Strand Walk also targeted.
Two buses hijacked and the driver of one beaten, requiring hospital treatment.
15 January – Belfast: Unionists at a roadblock on the Springfield Road strike a car with a flagpole, damaging the vehicle. Driver criticises the PSNI who witness incident but fail to intervene.
• The homes and offices of Alliance Party representatives have come under sustained attack
16 January – Belfast: Unionist picket of BBC studios as unionists accuse broadcaster of bias against them. That evening's Stephen Nolan TV current affairs show descends into chaos as unionist protesters dominating audience hurl abuse at other audience members as well as panel.
Derry: In the run-up to 30 January and the 41st anniversary of the Bloody Sunday killings in Derry, unionists erect Parachute Regiment flags at the Fountain Street interface overlooking the Bogside.
18 January – Dungannon: Sinn Féin says protesters using the grounds of the South Tyrone Hospital as a rallying point are intimidating staff and visitors.
19 January – Belfast: Bullets posted to Sinn Féin MLAs Gerry Kelly and Alex Maskey as well as Alliance Party leader David Ford intercepted at Assembly post room.
20 January – Derry: PSNI prevent flag protesters attempting to storm opening ceremony of City of Culture programme.
21 January – Belfast: Judge orders Facebook to close pages of 'Loyalists Peaceful Protests Updater' and 'Loyalists Against Short Strand' after photos and the details of a Short Strand resident were posted online.
25 January – Newtownabbey: Petrol bombs and hoax pipe bomb thrown at PSNI after protests block roads.
26 January –  Belfast: Protesters attack First Minister Peter Robinson's car as he is driven away from meeting with church leaders and community representatives in east Belfast.
27 January – Newtownabbey: Fireworks and other missiles thrown at PSNI during several hours of rioting.
1 February – Ballyclare: Pensioner lifts bomb left outside Sacred Heart Catholic Church.
2 February – Belfast: TUV leader Jim Allister MLA joins former top BNP fund-raiser Jim Dowson for weekly rally at Belfast City Hall.
Greencastle, Antrim: Bombs discovered at St Mary's Star of the Sea Catholic Church.
3 February – Belfast: Cars belonging to Catholic families on Deerpark Road torched.
Dublin tourist posts on Trip Advisor website his car was attacked and paint-bombed by masked men before Christmas.
9 February – Belfast: Journalists believed by protesters at City Hall to work for a nationalist newspaper called "Fenian bastards" and "Fenian scum".
15 February – Garvagh, Derry: Nurse attacked as she travels to work. PSNI witness attacker throwing stone at vehicle but do nothing.
16 February – Belfast: Soccer game between Cliftonville and Crusaders cancelled as mob of unionist flag protesters block road leading to stadium. Three unionists arrested during scuffles.
2 March – Carnmoney, Antrim: Bomb left on disability access ramp in St Mary's on the Hill Catholic Church.
Dungannon, Tyrone: Bomb scare at home of Fermanagh/South Tyrone Sinn Féin MP Michelle Gildernew.
5 March – Dublin: Unionist supporters of Linfield soccer team chant sectarian songs and hoist Union flag on Shamrock Rovers stadium flagpole during Setanta Cup match in Tallaght. Garda injured when thrown from his horse after a flare is thrown at him. Second officer thrown to the ground by Linfield supporters.
6 March – Belfast: SDLP MLA Conal McDevitt third threat arrives with a bullet and a sympathy card sent through the post.
Ballyclare, Antrim: Two viable pipe bombs discovered at Sacred Heart Catholic Church.
7 March – Greencastle, Antrim: Bomb alert at St Mary's Star of the Sea Catholic Church.
8 March – Glengormley: Young woman is dragged from her car which is later burned as flag protesters rampage. Shop windows smashed and window in Alliance leader David Ford's office broken. Five PSNI members injured during rioting.
Greencastle: Second bomb alert in two days at St Mary's Star of the Sea Catholic Church.
11 March – Belfast: Linfield v Shamrock Rovers return leg of Setanta Cup tie at Windsor Park delayed by trouble after taunting by both sets of fans. Unionist mob attacks PSNI and sets fire to bins as Shamrock Rovers fans leave at end of match.