31 March 2013 Edition
A New Republic
Editorial | Eagarfhocal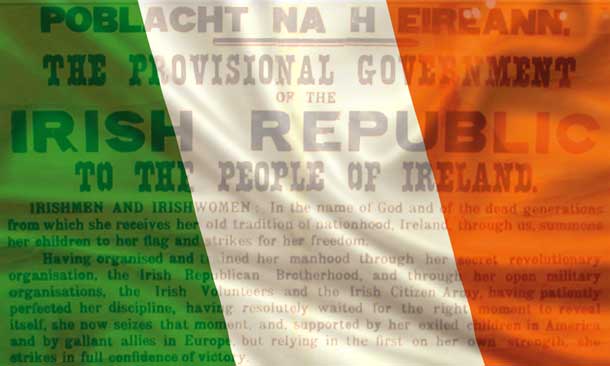 Sinn Féin's vision is of a New Republic for the 21st century which, like the Proclamation of 1916, guarantees religious and civil liberty, equal rights and equal opportunities for all citizens, cherishes all the children of the nation equally and is anti-sectarian
THIS MONTH marks the 97th anniversary of the Easter Rising – a coming together of nationalists, republicans, Irish-language activists, trade unionists and the women's movement in the cause of an independent Irish republic. This is a template for Irish republicans in 2013.
Partition continues to stunt Ireland's potential – politically, socially and economically.
Sinn Féin is the only party with a coherent, realistic strategy for the achievement Irish unity.
The Good Friday Agreement – 15 years old this year – is part of a process. The Agreement provides for a poll on Irish unity. This provides an opportunity for debate on the future of Ireland.
The political geography of the North is changing. The North is clearly no longer an Orange state. Politics across Ireland is in flux. A new Ireland can be what we make it.
A Border poll provides an opportunity to begin building a modern, dynamic, new Ireland.  Sinn Féin believes that it's time to let the people have their say.
The republican project today is about realising the vision of 1916 and making the noble ideals contained in the Proclamation a reality for Irish people.
Sinn Féin seeks a society and an economy run democratically in the interests of all citizens. This means undoing the "carnival of reaction" initiated by partition. It means "the reconquest of Ireland by the people of Ireland" – a real republic where the citizens and not vested interests, whether in politics, banking, the church hierarchy or foreign governments – are in control.
Republicans today, like those in 1916, will not settle for a sham republic dominated by the conservative politics of Fine Gael, Fianna Fáil and Labour. Nor one run in the interests of wealthy elites and Golden Circles or which surrenders sovereignty to the Troika: the EU, the IMF and the European Central Bank.
Sinn Féin's vision is of a New Republic for the 21st century which, like the Proclamation of 1916, guarantees religious and civil liberty, equal rights and equal opportunities for all citizens, cherishes all the children of the nation equally and is anti-sectarian.
This means equal rights for those in same-sex relationships, ethnic minorities and those of all creeds and none.
The new, agreed Ireland we seek to build is inclusive, where all the elements of the Irish nation, from whatever background or tradition, can find the fullest expression of their identity.
Join Sinn Féin in helping to build a New Republic.