3 February 2013 Edition
More than one way to 'rope a dope'
Between the Posts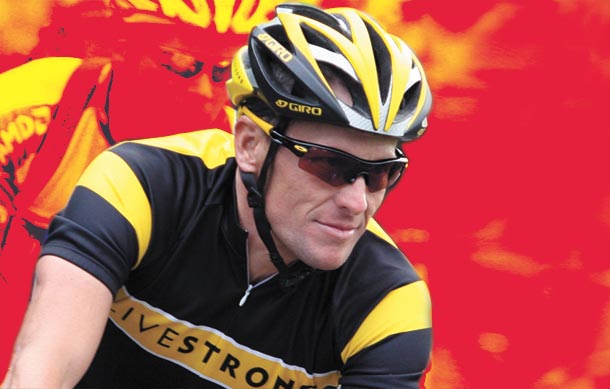 Whilst at the top of his cycling career and in the full gaze of the public, Armstrong was found to be engaged in an elaborate deception which he executed with aggression
WHEN PEOPLE or propositions seem too good to be true, it's often because they are . . . too good to be true. Consider Lance Armstrong.
The first time I ever heard about Lance Armstrong was from a cycling fan who lived nearby. He was an obtuse individual whose fogginess only seemed to clear when he talked about cycling. And when he talked about cycling, he always talked about Lance Armstrong. Always! Of course, we all have our own peculiarities which we have to learn to live with. So yer man was like our very own 'Lance'.
By October 2012, when the United States Anti-Doping Agency (USADA) published the findings of its investigation, the secret life of Lance Armstrong was already an epic public scandal. His lengthy, just-televised interview with Oprah Winfrey was unexpected. 
That is not to say that everything he admitted on TV was unknown, but the nature of his admission, his demeanour and disposition, the quality of his disclosure, and his selfish ambition to redefine a role for himself in sport — these made the Armstrong interview a fascinating spectacle. All of this came after 15 years of vehemently denying all of that which Armstrong has finally and publicly now come to confess.
To recap on what is now known: Armstrong was the main man in a sporting conspiracy on an industrial scale. It involved use of performance-enhancing drugs, cortisone, testosterone, EPO, human growth hormone, and blood doping.
On 10 October 2012, the long-awaited USADA investigation which painstakingly pieced together the truth of this conspiracy concluded it had found evidence of "the most sophisticated, professionalised and successful doping programme that sport has ever seen". Armstrong and 11 teammates were implicated in the scandal.
Armstrong at first threatened to contest the findings but then changed his stance. Talk of a fightback was replaced by news that he was to be penalised with a lifetime ban from cycling. Having won the Tour de France an unparalleled seven times, Armstrong was stripped of these accolades and every other title since 1998. Whilst at the top of his cycling career and in the full gaze of the public, Armstrong was found to be engaged in an elaborate deception which he executed with aggression.
During this time, those who dared to expose the truth had been sued, vilified and bullied. That included Emma O'Reilly, an Irish woman and a soigneur (an assistant responsible for feeding, clothing, and looking after riders) to Armstrong's US Postal cycling team. It also included two investigative journalists, David Walsh and Paul Kimmage, both sports reporters for The Sunday Times. In 2005, Armstrong took them to court and won £1million in damages plus costs because the burden of proof rested with the publishers to prove that Armstrong was a drug-taking cheat.
As we now know, the instincts and investigative work of the journalists were correct. Emma O'Reilly's testimony was honest and accurate. They were punished for telling the truth whilst Armstrong was richly rewarded for lying and cheating and able to carry on. Others in the sport also suffered silently during his total domination of cycling.
Throughout this time, Lance Armstrong was raising a family. Although his marriage broke down, he had five children. At one point in his televised confession, he described how his 13-year-old son, Luke, was taunted by other children:
"I saw my son defending me: 'That's not true. What you're saying about my dad is not true.' And it almost goes to this question of why [tell the truth] now . . . That's when I knew I had to tell him."
Perhaps, this story was the next chapter of Armstrong's narrative: one that promotes himself as an imperfect but remorseful father, no longer willing to let his children pay the price of his failings.
Many questions remain unanswered. How did he maintain the deception for so long? Should he ever be allowed to participate again in sport? Given poll ratings after his televised performance, was he right to own up? And has he told the whole truth?
Deception and betrayal are dark arts in which Armstrong has proven himself to be proficient. Despite this, irrefutable truths have now been revealed which can no longer be disguised or denied. Many people have paid a price for Armstrong's selfish excess, among them his family. The legacy of shame endowed to his children is one that they may struggle to understand, never mind accept or defend. The only redeeming feature is one 'Lance the Liar' refused to believe: in the end, truth will out.