3 February 2013 Edition
Does the Seanad have a future?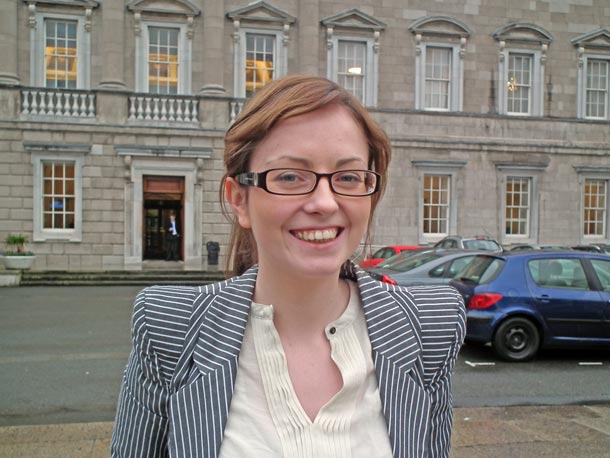 'Everyone should have a chance to vote in Seanad elections' – Kathryn Reilly, Sinn Féin Senator
A RECENT Ipsos MRBI opinion poll showed that more than half (55%) of people wanted to see the upper house of parliament in Dublin, the Seanad, scrapped. Many consider it a talking shop, a place where politicians go to either launch their career or to 'retire' from the Dáil with a cushy number. The costs associated with operating it is also of major concern. In their Programme for Government, Fine Gael and Labour pledged to hold a referendum on abolishing the Seanad. Sinn Féin has said the Seanad is "undemocratic" and called for it to be "scrapped in its current form" followed by a root and branch reform of the instiution.
An Phoblacht's MARK MOLONEY spoke to Sinn Féin Senator KATHRYN REILLY — at 24, the youngest member of the Oireachtas — about the Seanad's future.
KATHRYN SAYS the original intent of the Seanad — to act as an upper house to scrutinise Dáil Bills and offer real debate on issues — has been lost.
"From my experience as a general election candidate who narrowly missed out on a Dáil seat, the Seanad is a great place for raising your profile and 'dipping your toe in the water' of the Oireachtas but that was never its original function. It has been watered down and is not maximising its potential. Saying that, I do think there is a need to have two houses, but the Seanad must be reformed."
Kathryn says she knows that opinion polls show most people want the Seanad abolished. She cautions that people should consider what that would mean for the democratic process.
"I don't think people would be happy with power being solely vested in the Dáil chamber which is completely dominated by the Government." She says that the vocational panels mean there is expertise in the Seanad, something which is not guaranteed in the Dáil. She also highlights how certain EU Bills are passed by Oireachtas committees in a hasty fashion. A reformed Seanad could take this burden off the Dáil committees and allow a level of scrutiny of EU bills that has been lacking, as well as informing Government decisions on EU policy.
What about how the Seanad is elected?
"It's not fair. A major problem with the Seanad is that it is not universal suffrage. It's only senators, TDs, councillors and certain college graduates who can vote." And the Taoiseach has the gift of appointing 11 senators. "That's not right, it's not democratic. Everyone should have a chance to vote in Seanad elections."
The Seanad's abject failure to be representative is a theme constantly voiced by Sinn Féin deputy leader Mary Lou McDonald TD. She has argued for the Constitutional Convention to have Seanad reform on its agenda.
'The Seanad should be an elected forum for civic society – particularly for those sectors not adequately represented in the Dáil and more marginalised sections of our community'
Mary Lou McDonald
"The Seanad is not working," the Dublin Central TD says. "It hasn't worked for some time. Sinn Féin has advocated root and branch reform of the Seanad for over a decade. It is undemocratic. Its members are elected by an elite group with little or no regard to real representation of wider societal interests.
"A reformed Seanad could serve our democracy well and act as an important counter-balance to the political party-dominated Dáil. Ultimately, of course, this is for the people to decide.
"There is a place for a democratic second chamber in Irish politics but only if its representatives are elected by citizens, including those in the Six Counties and the Irish Diaspora. It is astonishing for a Government that so regularly looks to the Irish Diaspora to tackle its continued failure to energise the domestic economy denies the very same people such a basic right. 
"The Seanad should be an elected forum for civic society - particularly for those sectors not adequately represented in the Dáil and more marginalised sections of our community. The Seanad must be representative of our democracy and it must be effective. It must change."