3 February 2013 Edition
Does An Taoiseach have an achievable vision for Irish EU Presidency?
This is funded by the European United Left/ Nordic Green Left (GUE/NGL)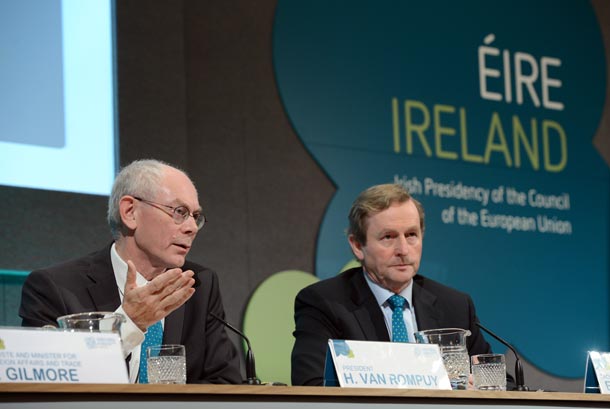 The Irish Presidency must make the EU relevant to the citizens once more by putting an emphasis on the untapped potential that can deliver job creation programmes and create a more equal society
DURING the recent visit to the EU Parliament by An Taoiseach Enda Kenny TD I challenged him on a number of issues affecting the people of Ireland.
The Irish Presidency Programme contains nothing socially progressive, no investment package, no concrete actions to address record unemployment figures, nothing to give hope to those thousands of young people and whole families participating in one of the biggest forced migrations in more than a century. The burden of austerity imposed on Irish citizens as a result of the actions of corrupt speculators, bankers and politicians must be alleviated. Eurostar figures show the South paid 42% cost of the EU banking crisis — €9,000 for every man, woman and child.
Does An Taoiseach have an achievable vision to tackle this burden?
While the economic crisis takes centre stage in Brussels, fighting poverty and promoting social inclusion at home must not be deprioritised during the Irish EU Presidency.
Too many Irish citizens' view of the EU is that it is currently simply about bank bail-outs, promissory notes and bond guarantees. The Irish Presidency must make the EU relevant to the citizens once more by putting an emphasis on the untapped potential that can deliver job creation programmes and create a more equal society.
We were also led to believe that there would be an all-Ireland dimension to this Presidency. But there is little evidence of it. Where is it, Taoiseach?
The Irish Government during its Presidency has the opportunity through EU programmes such as Horizon 2020, the EU's new programme for research and innovation aimed at creating new growth and jobs across Europe and an anticipated €80billion budget to promote job creation across the island.
I believe that there is great potential on an all-Ireland basis for SMEs to develop Research and Development activities and a more joined-up approach in this area by Dublin and Belfast. I believe that the Irish Presidency presents the opportunity to explore prospects for job creation with an all-Ireland perspective.
We have partner universities, SME organisations and other business bodies, North and South, and it is essential that there is collaboration between them during the EU Presidency to ensure maximum benefits across the island from Horizon 2020 and other similar programmes. We need a comprehensive and co-ordinated all-Ireland approach to promote R&D if we are to realise our potential to draw down funds and promote economic development across the island.
Sinn Féin has long highlighted the need to cut red tape for SMEs and to simplify rules and procedures. Horizon 2020 does just that, providing major simplification through a single set of rules and combining all research and innovation funding currently provided through present Framework Programmes for R&D
Given the reduced funding for business support by both coalition governments in London and Dublin, it is essential that we maximise the support from EU programmes. There are tremendous opportunities for improvement through fully developing an all-Ireland approach to these funding proposals.
Another issue where every opportunity should be exploited is lobbying support for Irish reunification. It is past time that the Irish Government accepts the key role it has to play in bringing about the reunification of the people of Ireland by pointing out the political and economic failures of partition. The EU also has a role to play in eradicating division and causes of conflict.
Finally, since all parties in the 26 Counties proclaim that they wish to see Irish reunification, I call on the Irish Government as part of its EU Presidency to promote the holding of a Border poll as provided for in the Good Friday Agreement and to seek support for it in Europe.