3 February 2013 Edition
Learning about the devastation of Gaza
Belfast teacher sees the damage done to Palestinian schools by Israeli war machine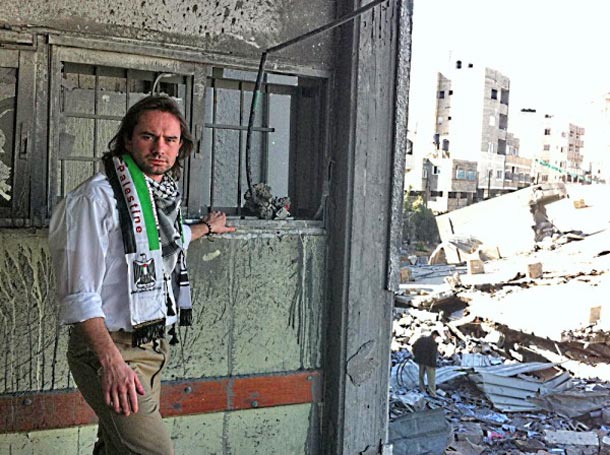 There were holes in the school classroom walls where shrapnel from the Israeli bombs had cut like a knife through butter
DAITHÍ BELL is a Sinn Féin councillor and a teacher in Belfast.
Daithí is currently working with the Irish Friends of Palestine Educational Committee on its successful School Twinning Programme and visited Gaza shortly after the most recent Israeli Army invasion.
I EXPERIENCED a mixture of emotions upon visiting the region. It was heartbreaking to see the amount of devastation caused by the Israeli attacks on the area, combined with the high levels of poverty that are a direct result of the continued siege of the Gaza Strip.
On our third day we were brought to the Ministry of Education and were shown one of the schools targeted during the attacks. I braced myself for the worst as I was already aware that, during the Israeli assault, children had suffered the most. The highest percentage of casualties was children.
Children's class books and work littered the floor. Huge sections of the walls and floors were missing. Tables and chairs were entangled in a mess of steel and iron. There were holes in the walls where shrapnel from the bombs had cut like a knife through butter.
• One of the many classrooms struck by Israeli missiles at Umm El Khura Primary school
I could not bare to imagine what the loss of life might have been had children been in the classrooms I saw. What I can say from seeing this is that there is no doubt that the Israeli statements saying that they were trying to target combatants is a barefaced lie. This eight-day-long bombardment was an attempt to break the spirit and morale of a determined, unbowed and unbroken Palestinian people.
I am a proud Irish republican but I believe it does not take a person to be politically motivated to realise right from wrong. It simply takes one to be human, regardless of your religious or political beliefs to see what has been inflicted upon the Palestinian people is nothing short of an act of genocide. I only hope that I in some way can make a difference.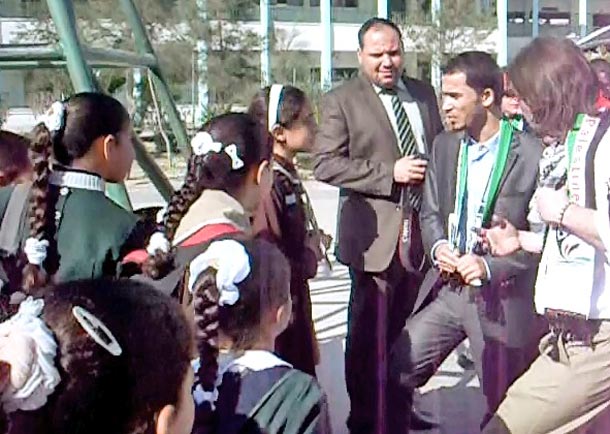 • Daithí meets some former students of the bombed school who tell about the devastating loss of their school and classrooms
Through the school twinning project that I will be working on I hope to share what I have seen with others. What we achieve as individuals may be small in the grand scheme of things, but as Bobby Sands once said: "Everyone, republican or otherwise, has their own particular part to play. No part is too great or too small, no one is too old or too young to do something."
This applies to every just struggle across the world, and it is with the thought of those smiling faces that greeted us upon entering Gaza, despite the oppression they have suffered, that we must have a renewed determination to work harder than ever for freedom, justice and equality. Tiocfaidh ár lá!
Palestinian farmers say: Don't buy goods from Israeli illegal settlements