3 February 2013 Edition
We need calm, measured dialogue – Gerry Kelly
Flags and unionist and nationalist identities
This is not about doing away with anybody's Britishness but recognising there are people who are Irish. Their identity and culture needs to be represented too
UNIONISTS need to talk to their nationalist neighbours to explore ways forward in a changing city, Belfast MLA Gerry Kelly has told An Phoblacht in an interview about the Union flag crisis.
"What we don't need is unionist leaders taking to their trenches," the Sinn Féin Assembly member says. "We need calm and measured dialogue among communities in a shared city and society."
The flags issue is not about taking away anyone's identity, Gerry Kelly repeats for the umpteenth time.
"This is about equality. Belfast is coming towards a 50/50 city in terms of pro-British unionist and Irish nationalist identities and City Hall is there to represent ALL the people. A shared city needs to cater for both identities, not just one.
"What we were proposing on the flag was on the basis of equality: of flying both flags representing both traditions, the Union flag and the Tricolour, together or flying none. What's being ignored or brushed over here is that unionist protests are against a compromise position, not a Sinn Féin position. And this was a democratic decision voted through by the elected Belfast City Council.
"This is not about doing away with anybody's Britishness but recognising there are people who are Irish. Their identity and culture needs to be represented too. Equality is a neutral word that should represent everybody, no matter where they come from or what colour, creed or gender they are. It is an issue of equality and a matter of trying to convince unionists that equality is good for them as well as anybody else."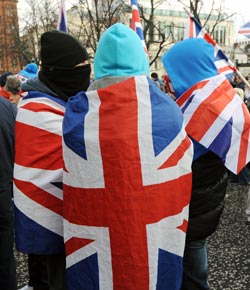 The process about flying the Union flag taken at the December meeting of Belfast City Council had been in the pipeline "for a very long time", Gerry Kelly emphasises, including an Equality Impact Assessment.
"It was a coincidence that it happened just before Christmas but if it had happened instead in January I'm sure critics would have been claiming it was the wrong time in the run-up to the marching season. There would always be a reason for not doing it."
The 40,000 leaflets about the flag distributed by the Democratic Unionist Party and the Ulster Unionist Party that fuelled the protests were in Alliance colours and targeted Alliance (not Sinn Féin), but this row was really about something else — it was 'a flag of convenience'.
"This was an unprecedented joint campaign by the DUP and UUP against Alliance and particularly Naomi Long, who isn't a councillor but is the sitting MP at Westminster — Naomi Long took Peter Robinson's seat," Gerry Kelly says.
This was a political manoeuvre "winding people up that this was about their Britishness" when it was really about getting Peter Robinson's seat back from Alliance.
"The unionist leadership let the genie out of the bottle for the street protests and they're having trouble controlling it and putting it back in again."
Policing of the unionist protests has been noticeably different from what people have experienced in nationalist areas, the north Belfast MLA says.
"If these protests had been republican or nationalist then, let's be frank, the police would not have allowed them to mushroom the way they did and they would not have allowed handfuls of protesters to block roads."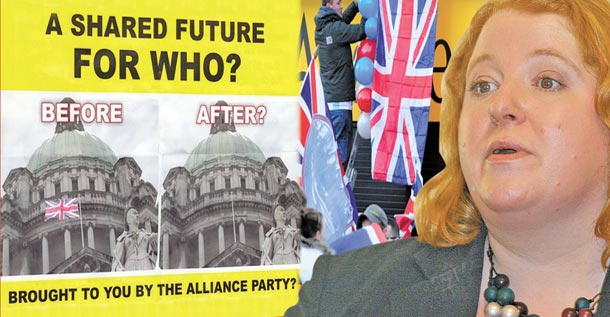 • The DUP and UUP have targeted the Alliance Party's Naomi Long
For six to eight weeks now, the police have also effectively usurped the job of the Parades Commission by allowing hundreds of masked protesters to stage illegal parades from east Belfast to City Hall and back again, he says, attacking homes in Short Strand afterwards. The PSNI very quickly needs to get this back to the Parades Commission and not be taking political policing decisions, the junior minister maintains.
Gerry Kelly questions what the flags issue has to do with the nationalist people of the Short Strand who are subjected to attacks. "Protesters were chanting 'If you hate the Fenian bastards, clap your hands.'" Protests need to be taken away from interface areas as a matter of urgency, he says.
Gerry Kelly is hopeful rather than confident that the DUP and Ulster Unionist Party higher echelons will start showing some thoughtful leadership. "There's a difficulty in the lack of leadership in unionism," he says.
DUP and Ulster Unionist Party leaders Peter Robinson and Mike Nesbitt have convened their own unionist forum, which is said to include unionist paramilitary representatives as well as community figures.
"Them coming together and discussing issues from the unionist community isn't a problem," Gerry Kelly says, "but none of these issues can be worked out without talking to their nationalist and republican counterparts and neighbours."