3 February 2013 Edition
Stopping the Property Tax: A tax too far
As the new Dáil term gets underway after the Christmas and New Year break, Sinn Féin deputy leader Mary Lou McDonald TD talks to An Phoblacht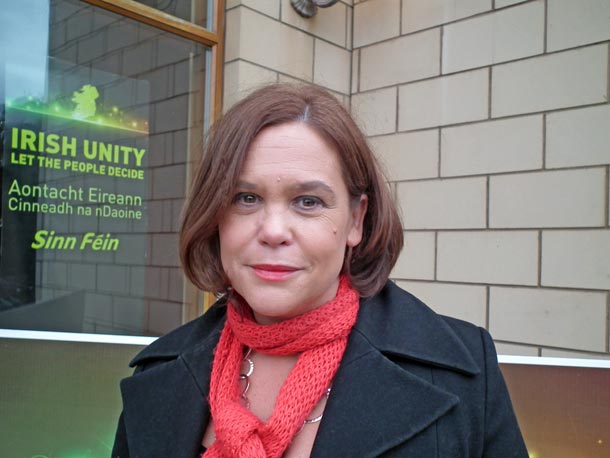 "I don't care who you voted for or if you didn't vote at all, find out who your TD is and phone, email or call down to their constituency office and tell them you want them to vote against the Property Tax"
THE ONLY WAY to stop the Property Tax being imposed on family homes by Fine Gael and Labour TDs is by people speaking out and making the Government and Fianna Fáil aware of the scale of public outrage, Mary Lou McDonald says. And they need to press their TD to vote for the Sinn Féin Bill to scrap the unfair tax – "a tax too far".
Non-payment will not work, she says. "It is not an option because Fine Gael and Labour ministers have it all stitched up that if it becomes law they'll get the money off of you one way or another, through the Revenue or other Government departments like welfare, rules and regulations or straight from your wages.
"If this Property Tax gets in, there will be no escape. We have to stop it getting in."
The Dublin Central TD tore strips off of Public Expenditure Minister Brendan Howlin in the Dáil in January and asked the well-paid Labour Party deputy how he thought people could afford the property tax when a survey by the Irish Credit Unions revealed that 1.6million people had just €50 or less to spend at the end of each month.
"So, Brendan Howlin, Minister, tell me where those individuals in those families, identified in that survey, are going to find the €300, €400 or €500 you are demanding."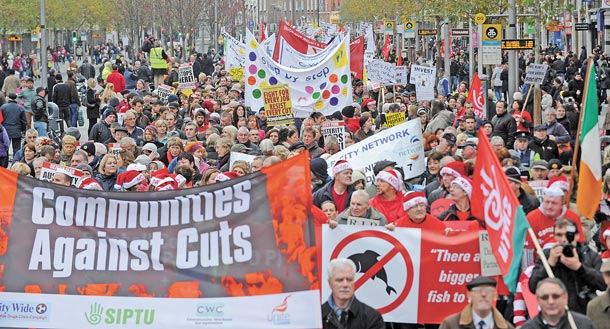 • The Property Tax could be the tipping point
Howlin claimed that his government is "acutely aware" of the pressure facing families — but he wasn't backing down. They would still have to pay the tax on family homes. We're sorry for you but tough, seems to be the Government attitude.
Minister Howlin said the problem is that Mary Lou McDonald simply doesn't listen when he pleads he understands how people are suffering. Mary Lou says Minister Howlin and his colleagues simply do not understand. "If they did truly understand the pressure people are under, they wouldn't be taxing the family home. It's simply not acceptable for those at the top and making Government decisions to say we understand the pressure and simply pile on more pressure. That's not acceptable."
People are struggling to make ends meet at the end of every week or every month, she told An Phoblacht at her Dublin inner city advice centre on a wet Monday afternoon as people were already queuing for help before the official opening time.
"Bear in mind," the Sinn Féin TD says, "we're not talking only about people on social welfare who are only struggling. In many instances these are people who are in work and in some cases you have two people out at work but they're still stretched. So where is this additional money the Government wants to squeeze out of them going to come from? They just don't have it!"
Sinn Féin has a Bill ready to have the Property Tax abolished but this needs the backing of TDs across the board and this is where people can make a difference on their own or as part of their residents' or tenants' association, trade unions or as individuals.
"This can only be defeated if people are active on the ground," Mary Lou says.
"I don't care who you voted for last time — whether it was Fine Gael, Labour, Fianna Fáil or Independents — or if you didn't vote at all, or who you're thinking of voting for next time around, find out who your TD is and phone, email or call down to them at their constituency office and tell them you want them, as your TD who is supposed to represent you, to vote against the Property Tax.
"Hold them to account."
Likewise with senators and councillors whose parties support the Property Tax, Mary Lou adds. "They'll be well aware that local elections are due before a general election."
A petition against the Property Tax by Sinn Féin activists will be taken door-to-door and available at stalls outside shopping centres.
The public backlash against Education Minister Ruairí Quinn's cuts to DEIS disadvantaged area schools forced a Government climbdown, Mary Lou reminds people. "They got it wrong on DEIS schools, they need to be made to admit they've got it wrong on the Property Tax on family homes."
Government claims that the Fine Gael/Labour tax is the same as the rates system that exists in the North under the Sinn Féin/DUP power-sharing administration at Stormont "is simply factually incorrect and a lie", Mary Lou says. "It's part of their Pinocchio Syndrome."
The rates system in the North "is an animal of a completely different type and colour to the Property Tax", the Sinn Féin deputy leader points out, "and Fine Gael and Labour know this".
The rates system covers public services and things such as school books; in the South, people are being asked to pay a Property Tax on top of bin and water charges, school books, healthcare and with no state-supported childcare system.
"This is not to say the North's system is perfect because it's not. It's a legacy of rule from London and that's why Sinn Féin wants economic powers moved from Westminster to Ireland."
The Dublin Central TD laments the fact that Labour has "completely run away from" the policy objective they shared with Sinn Féin of a Wealth Tax — "taxing the assets of very wealthy people".
"Instead, they're coming back again and again to the same set of people who have had their wages cut, their hours shortened or have lost their jobs in many instances, and who are struggling to get by while services are being cut at the same time.
"Labour and Fine Gael are draining the public well dry while the well-off still splash around with their cash."
In Europe, Enda Kenny needs to "stop tugging his forelock and defend Ireland's interests in the same way that Angela Merkel looks out for Germany's interests. "Whatever you think about her, she does her job of looking after Germany."
Mary Lou accepts that Ireland is one of the smaller countries on the periphery of the EU but that is no excuse for Fine Gael, Labour or Fianna Fáil before them acting as if Ireland is "a bit player on the European stage".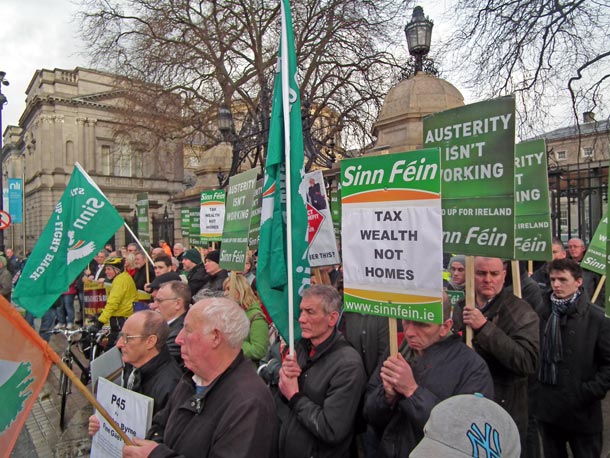 •  Sinn Féin hold an anti-Property Tax demonstration outside Leinster House
We are, nonetheless, a full and equal member of the EU, she points out. "For instance, the head of the Central Bank here sits on the ECB. We have access and we have influence and leverage — should we choose to use it. But you can only get a result from any negotiation or interaction if you pitch your position correctly in the first instance and it was bad politics from the Taoiseach and others from the word go to be tugging the forelock and parroting 'We'll pay, we'll pay, we'll pay,' when we can't pay and it's not 'OUR' debt anyway.
"When he was in Davos, the Taoiseach told the world when asked what had happened in Ireland, 'Well, we all went mad borrowing.' That's not what happened!
"You had outrageous lending and practices by the banks allowed to unchecked by negligent financial and government regulators who simply did not do their jobs.
"And the taxpayer gets lumbered with the consequences."
"I don't think it's lost on people that there is so much concern been given to the solvency of banks but not the solvency of families, their homes, daily domestic living. People on the ground are being disregarded while people in the boardrooms have been protected. Billions upon billions have been pumped into clapped-out financial institutions whose crisis is self-inflicted and allowed to happen."
Enda Kenny, Eamon Gilmore and their parties have let people down "in a very spectacular way", Mary Lou says, because of all the rhetoric and false promises before the election and their behaviour since.
And Fianna Fáil cannot be an effective Opposition to Government when it shares the same policy positions as the Government.
People who were promised a change during the general election campaign have seen "a continuation down the same track by Fine Gael and Labour who simply picked up and ran with the baton handed over by Fianna Fáil".
The Property Tax could be the tipping point, Mary Lou McDonald says.
"There is a view that people have become stoic, battle hardened or beaten down by all the austerity but there comes a time when people have to say 'Enough is enough' — I think the campaign to stop the Property Tax could be that time."